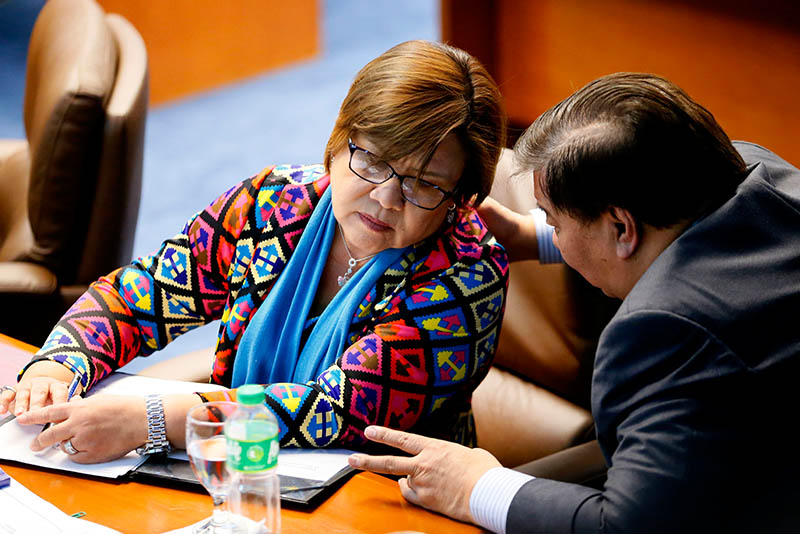 The opposition senators lauded Sen. Leila de Lima for remaining true to her principles despite being detained in Camp Crame. AP/Bullit Marquez, File photo
Opposition on De Lima's award: You can't put a strong woman down
(philstar.com) - December 7, 2017 - 8:59am
MANILA, Philippines — Opposition senators on Thursday congratulated their colleague Sen. Leila de Lima for being recognized as one of the leading global thinkers of 2017 by American magazine Foreign Policy.
They said De Lima's dedication to the cause of justice and human rights in the country, particularly her public denouncement of the government's war on drugs, has not gone unnoticed.
"Her steadfast convictions have captured the interest of people all over the world and have started a global conversation that throws into sharp focus the dangers and abuses happening under this administration's ruthless anti-drug campaign," opposition senators said.
They added: "This award serves as a reminder to all of us that you can never put a strong woman down, much less one who sides with truth."
The senators lauded De Lima for remaining true to her principles despite being detained in Camp Crame.
"We are proud to have such an indomitable spirit among our ranks, and we will stand by her as she carries on with her campaign against injustice and human rights abuses in our country," they said.
The opposition senators include Bam Aquino, Franklin Drilon, Risa Hontiveros, Antonio Trillanes IV and Liberal Party President Francis Pangilinan.
For two consecutive years, De Lima has been named as one of the leading global thinkers by the magazine.
The Malacañang on Tuesday said it respects the decision of the magazine to include De Lima as one of the 50 leading global thinkers of 2017 but said the recognition does not diminish the "serious" charges against her.
The senator, an outspoken critic of the administration, was accused of protecting and coddling drug traders inside the New Bilibid Prision during her stint as Justice secretary.
De Lima is facing three counts of violations of the Comprehensive Dangerous Drugs Act of 2002. She has repeatedly denied the charges.