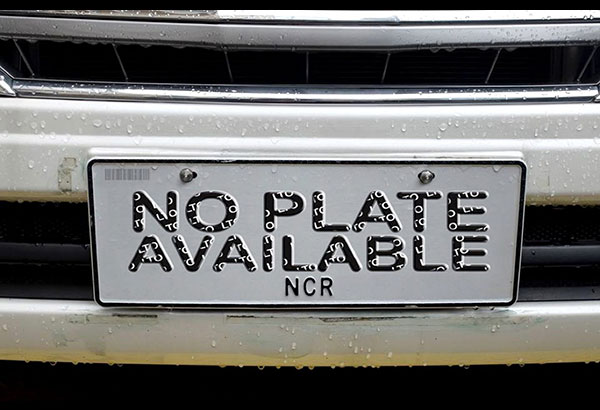 The Land Transportation Office said initial delivery of license plates is expected around March next year. File photo
LTO: License plates to be delivered March 2018
(philstar.com) - December 7, 2017 - 9:43am
Manila, Philippines — The Land Transportation Office on Thursday assured the public that its agency is working on the procurement of license plates amid the perception that it is not moving forward with the supply of license plates.
"The Land Transportation Office chief, Assistant Secretary Edgar Galvante, is on top of the situation and is proceeding with the procurement of license plates with dispatch and in accordance with existing procurement laws," the LTO said in a statement.
LTO said its agency has required the winning bidder, Trojan Computer Forms Manufacturing Corporation and J.H. Tonnjes E.A.S.T. GmBH & Co. KG Joint Venture to provide the performance security.
It added that the initial delivery of license plates is expected around March next year.
At a hearing into transport-related issues on Wednesday, House Speaker Pantaleon Alvarez called for the resignation of Galvez as LTO chief for his failure to provide license plates for new vehicles. He said he could not understand why the LTO has not procured and issued new license plates.
READ: Quit if you can't provide plates, LTO exec told
Alvarez cited that he was a transport secretary during the time of former president Gloria Macapagal-Arroyo and found the issuance of license plates an easy matter to resolve.
LTO representative lawyer Jane Leynes explained the agency could not procure license "plates because there were no funds for that purpose in our budgets last year and this year." She said the agency is slated to do the procurement during the first quarter of 2018. — Rosette Adel