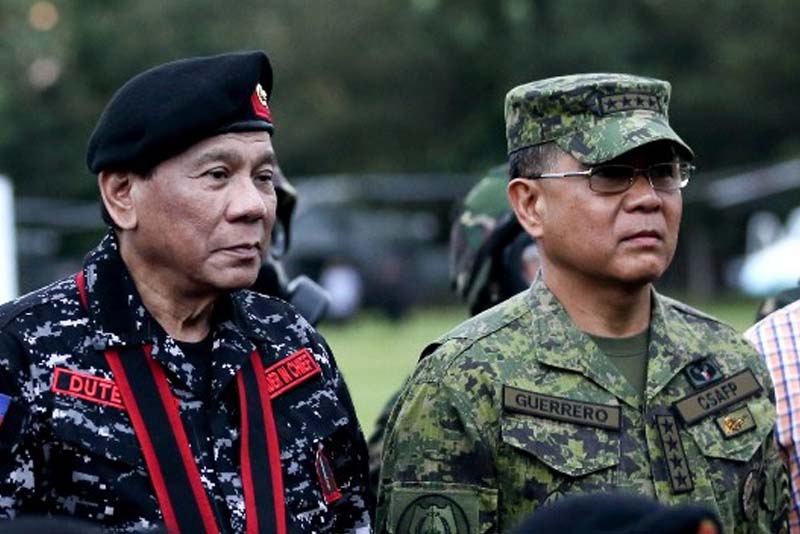 In this Nov. 24, 2017 photo, President Rodrigo Duterte poses for a photo with Armed Forces of the Philippines Chief of Staff General Rey Guerrero during a military capability demonstration during the 67th Founding Anniversary of FSRR at at Camp Tecson in San Miguel, Bulacan. PPD/Simeon Celi Jr., File
AFP chief gets 4 more months
MANILA, Philippines — President Duterte has extended the term of Armed Forces of the Philippines (AFP) chief Gen. Rey Leonardo Guerrero by four months.
Malacañang said Executive Secretary Salvador Medialdea, by authority of the President, signed the memorandum on Wednesday extending Guerrero's term of service.
"AFP chief of staff General Guerrero will reach his age of compulsory retirement on Dec. 17, 2017, and the President has extended his service to April 24, 2018," presidential spokesman Harry Roque said.
Guerrero assumed the top AFP post last Oct. 26, replacing Eduardo Año who retired on the same day.
Guerrero is due to retire on Dec. 17, barely four months into office.
Malacañang cited Republic Act No. 8186 giving Guerrero the full six months as AFP chief until April 24 next year.
"General Guerrero is profoundly grateful to the President for the latter's continued trust and confidence in his capability to lead the AFP," said Col. Edgard Arevalo, AFP Public Affairs Office chief.
Arevalo said the rank and file are in full support of the President's decision extending the term of Guerrero.
Arevalo said the extension of military service would allow Guerrero more time to implement important plans and programs of the AFP.
"Further, the extension also gives General Guerrero the opportunity to fast-track the upgrade of the AFP capability as it aspires to be a world class armed forces that is a source of national pride," Arevalo said.
With his term extended, Guerrero will be leading the AFP in its 82nd anniversary celebration on Dec. 21.
Guerrero is a member of Philippine Military Academy Maharlika Class of 1984.
He was commander of the Eastern Mindanao Command before being appointed AFP chief. – Jaime Laude