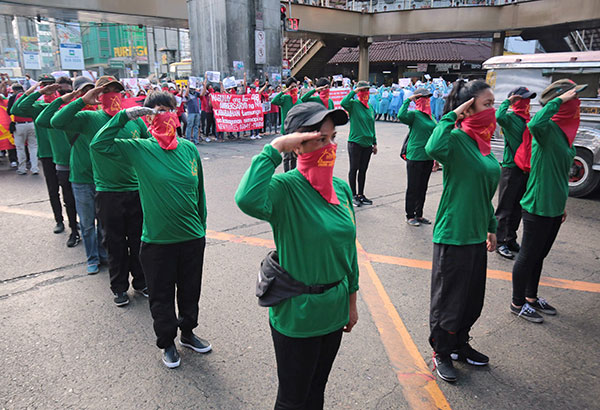 Sources said authorities are poised to make the arrests while awaiting completion of the legal processes and the official directive from Malacañang. Michael Varcas
Military prepares communist arrest list
(The Philippine Star) - December 7, 2017 - 4:00pm
MANILA, Philippines — Following President Duterte's order for the arrest of key left-wing personalities and members of progressive groups, the defense and military establishments have completed the list of individuals identified with the Communist Party of the Philippines-New People's Army (CPP-NPA).
Sources said authorities are poised to make the arrests while awaiting completion of the legal processes and the official directive from Malacañang.
"There's already a complete list of targeted personalities who are known supporters and sympathizers of the NPA terrorists to be arrested once the legal processes, as required under the Human Security Act 2007, have been completed," a security official said.
The official said the lists of targeted personalities came out in yesterday's meeting among defense and military officials while tackling President Duterte's declaration of the CPP-NPA as a terrorist organization and its relation to Republic Act 9372 or the Human Security Act.
The Human Security Act defines terrorism as a crime that "causes widespread and extraordinary fear and panic among the populace" and allows authorities to arrest the suspects without warrants and temporarily detain them without charges.
The official added the rebel leaders who were freed temporarily to participate in the peace talks as consultants of the National Democratic Front (NDF) are also included in the arrest list.
A number of NDF consultants were exempted from arrest for humanitarian reasons and old age, the official said.
However, these aging CPP-NPA consultants will still be required to report regularly to authorities for accounting purposes.
The official said that in all likelihood, left-wing party-list lawmakers in the House of Representatives, as well as members and leaders of the NDF and its legal front organizations, will be covered by the planned crackdown.
"There's no suspension of the writ of habeas corpus here, that's why everything will be done in the legal way," the official said.
Government peace panel chairman Labor Secretary Silvestre Bello III advised his counterparts in the scuttled peace talks to return to the country and surrender.
He said the CPP leaders should just surrender to avoid arrest.
"There is no more peace talks so those who were released should now return and surrender because if they do not, they will be arrested," Bello said.