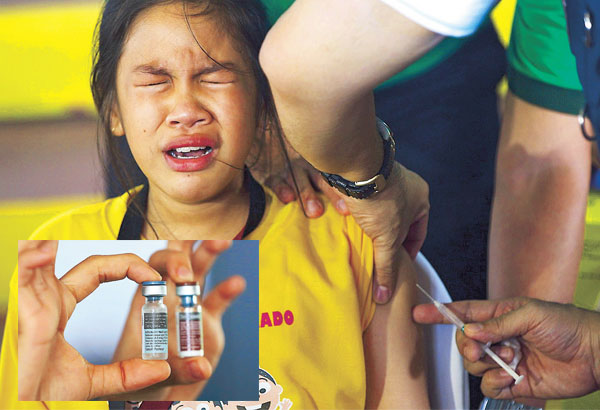 A pupil from Parang Elementary School in Marikina receives an anti-dengue vaccine from a Department of Health worker at the start of the nationwide dengue vaccination program in schools on December 1, 2017. Inset shows vials of the vaccine. The STAR/Miguel De Guzman
DOH eyes indemnity fund for Dengvaxia patients
MANILA, Philippines — The Department of Health (DOH) is planning to put up an indemnity fund for children who may be hospitalized after getting immunized with dengue vaccine.
In a television interview yesterday, Health Secretary Francisco Duque III said the government might demand that French pharmaceutical giant Sanofi Pasteur set up an indemnity fund.
"First, we are looking at returning the remaining P1.4 billion worth of unused Dengvaxia to Sanofi and getting a refund. From that amount, we will establish an indemnity fund to cover the cost of hospitalization and treatment of children who will get sick due to the dengue vaccine," Duque said.
Over 700,000 public school children were vaccinated with Dengvaxia.
The government is still determining the number of children who fell ill after the mass dengue immunization was launched in April last year.
The DOH is still checking reports that there were children from different areas in the country who were hospitalized after being vaccinated with Dengvaxia, Duque said.
He said a private hospital in Tarlac reportedly treated a child for severe dengue after getting a shot of Dengvaxia.
Duque said the child recovered from the infection.
The health chief said Sanofi may be held accountable after it withheld crucial information regarding the risks of Dengvaxia vaccine prior to the DOH's decision to mount an anti-dengue immunization campaign.
"There seems to be dishonesty somewhere," Duque said.
The DOH is backing the investigation to be conducted by Congress on the dengue vaccine mess.
Duque said health officials would face the probe to present evidence related to the anti-dengue program initiated under the presidency of Benigno Aquino III.
Former health secretary Paulyn Jean Ubial had vouched for the safety of Dengvaxia, presidential spokesman Harry Roque said yesterday.
"I have a video of an interview of Secretary Ubial saying Dengvaxia was safe and that the adverse effects were low," Roque said.
He quoted Ubial as saying that children in public schools in Metro Manila, Central Luzon and Southern Tagalog had been vaccinated with two doses of Dengvaxia and that the vaccine was "relatively safe."
Ubial said the adverse effects following immunization were few and the three reported deaths in Central Luzon were not caused by vaccination.
"It was also Ubial who signed the certificate of exemption that allowed Dengvaxia to be used for pilot implementation of the immunization program," Roque said.
He said the former health secretary's "flip-flopping on the dengue vaccine issue" was one of the reasons why he opposed her confirmation.
The Commission on Appointments rejected Ubial's nomination.
Roque said Ubial stopped the dengue immunization program on July 18, 2016 because the vaccine was "not proven safe."
But two months later, she allowed Dengvaxia to be used "despite her red-flagging certain issues," Roque said.
Other health officials and representatives of Sanofi assured the House of Representatives committee on health that the vaccine was safe.
Quezon Rep. Angelina Tan, committee chair, said health and Sanofi officials gave her panel and the public no warning at all on the potential risks of Dengvaxia to children who had not been afflicted with dengue prior to vaccination.
"Sanofi did not tell us that it was still conducting clinical tests or evaluating test results. – With JessDiaz