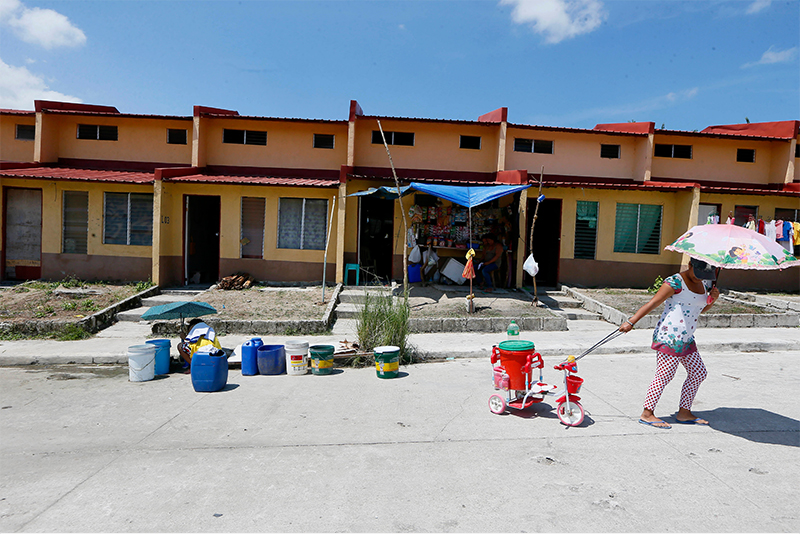 "We kept the Senate proposal to realign this money to housing. But we will try to give the PNP additional funds for its police stations throughout the country," Davao City Rep. Karlo Nograles, appropriations committee chairman, said yesterday. AP/Bullit Marquez, File
Bicam realigns P900-M Tokhang fund for AFP, PNP housing
Jess Diaz
(The Philippine Star) - December 7, 2017 - 4:00pm
MANILA, Philippines — The Senate-House of Representatives conference committee on the proposed P3.8-trillion 2018 national budget has realigned the P900-million fund of the Philippine National Police (PNP) for its anti-drug campaign dubbed Tokhang to housing for soldiers and policemen.
"We kept the Senate proposal to realign this money to housing. But we will try to give the PNP additional funds for its police stations throughout the country," Davao City Rep. Karlo Nograles, appropriations committee chairman, said yesterday.
He said the committee also agreed to give the Philippine Drug Enforcement Agency (PDEA) more funds.
President Duterte has returned the PNP to the anti-drug campaign, which will still be led by the PDEA.
The conference panel is trying to reconcile the divergent Senate and House versions of the proposed budget for next year. Nograles chairs the committee jointly with his Senate counterpart Loren Legarda.
The realignment of the Tokhang fund is one of the Senate-approved changes in the budget.
Though senators allocated the money for the housing needs of soldiers and policemen, they gave the PNP a net budgetary increase of P800 million, bringing its funding for next year to P132.1 billion from the House-approved level of P131.3 billion.
On the other hand, the PDEA was given an additional P1.2 billion by the Senate. The augmentation nearly doubled the agency's budget from P1.4 billion to P2.6 billion.
Meanwhile, House lawmakers have approved the Malacañang-proposed Joint Resolution 18, which seeks to increase the basic pay of military and other uniformed personnel (MUP).
Nograles said yesterday the lowest-paid MUP like a private in the Armed Forces of the Philippines (AFP) or a Police Officer 1 would receive an increase of more than 100 percent.
Their basic monthly salary would go up from P14,834 to P29,668 starting Jan. 1.
Nograles said those with higher rank would get an average adjustment of 58.70 percent.
The MUP refers to personnel of the AFP, the Philippine National Police, Bureau of Jail Management and Penology, Bureau of Fire Protection, Philippine Public Safety College, Philippine Coast Guard and National Mapping and Resource Information Authority.
Nograles said the pay hike "is in recognition of the critical role of the military and police in maintaining national security and peace and order, as they exercise their duty to ensure the safety of our citizens being exposed to various high peril environments and life-threatening risks, in the discharge of their functions."
He said the adjustment would cost taxpayers P64.24 billion a year.
It was President Duterte who proposed the increase to fulfill his oft-repeated promise to soldiers and policemen.
In several visits to military camps last year, the President repeatedly told soldiers: "Check your pay envelope in December, your salary will be double."
However, the doubling of pay did not happen, prompting Duterte's critic, Sen. Antonio Trillanes IV, to say the President made an empty commitment.