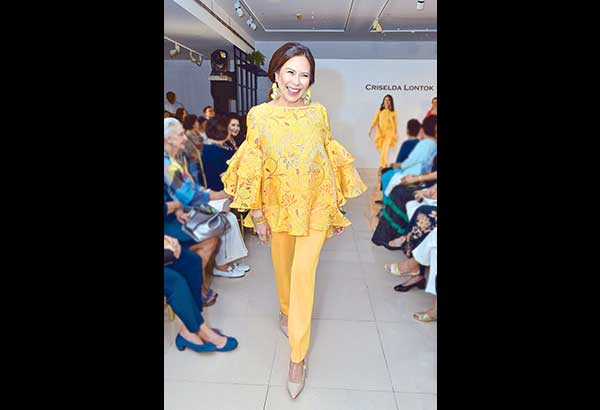 We are lovers of love and life, so we should celebrate in ways that bring us the most joy." Words of wisdom from the iconic Criselda Lontok, who recently staged a successful fashion show "Life in Bloom" at Rustan's Makati.
With over three decades in the industry, Lontok, a grand dame in Philippine fashion, presented a garden full of captivating blooms through her 60-piece Holiday 2017 collection of timeless romantic and feminine classics.
Romantic silhouettes formed effortlessly in ultra-chic fabrication such as lace, Mikado, chiffon, organza and jacquard. The beauty of flora was presented through a celebratory exposition of detail as seen in prints and embellishments such as embroidery and appliqués that showcase the designer's aesthetic and love for flowers. "I have found that nature and blooms give me the most profound joy. Just seeing the fresh flowers, touching their petals and smelling their sweet scent instantly lift my spirits," Lontok said.
Romanticism fills the air of the season as the collection presented a range of sweet tones to deep and dramatic hues in modern creations. The designer said, "My designs, while conservative and for the sophisticated woman, is always playful and exciting."
Lontok's designs transcend all generations. For her "Life in Bloom" collection, she introduced 10 muses who represent the women she designs for today. These elegant women were Marivic Vazquez, Bettina Osmeña, Mia Borromeo, Dina Tantoco, Patricia Prieto, Marilou Batchelor, Alana Montelibano, Linda Ley, Erica Concepcion Reyes and Toni Abad. It was a fashion statement of modern design, romantic femininity and timeless elegance.
"Life in Bloom" is a collective that makes women look and feel good about themselves, what with contemporary wearable pieces. The collection showcases a joyful mood that puts fun into dressing up or even practically adding a classic touch into one's wardrobe. More importantly, Lontok instills the relevance of fashion to our day-to-day lives.
"With all that's happening today, I believe we have to constantly remind ourselves to be positive, and what better way to do that than through what we wear," she said.
(The Criselda Lontok Holiday 2017 Collection is available in Rustan's Makati, Shangri-La, Alabang, Gateway and Cebu.)