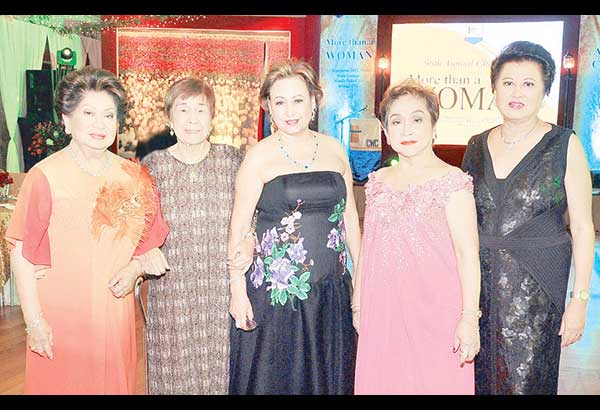 The Catholic Women's Club (CWC) 2017 Annual Ball committee (from left) co-chairpersons Tessie Rodrigo and Carmen Carag, chair Tessie Amparo, co-chairpersons Lulu Castañeda and Estela Lopez.
OH YES, IT'S JOHNNY!
-
Johnny Litton
(The Philippine Star) - October 28, 2017 - 4:00pm
The Bee Gees hit song More Than a Woman was the theme of the Catholic Women's Club's (CWC's) recently concluded 2017 Annual Ball held at the Manila Polo Club in Makati City.
Organized by Annual Ball chair Tessie Amparo with co-chairpersons Tessie Rodrigo, Carmen Carag, Lulu Castañeda and Estela Lopez, the fundraising event was for the benefit of the various causes that CWC supports.
The program focused on the many accomplishments of the women who have served the CWC through their talents and capabilities. All in all, the evening was a lovely homage to mothers, wives, widows and single women, who have gone above and beyond their comfort zones to serve their families, country and brothers and sisters in Christ — all while raising funds for the most worthy of causes.
Congratulations to the Catholic Women's Club for a successful Annual Ball!
Greetings
Happy birthday to our celebrators today, Titang Montinola, Louie Kierulf, photographer Lorna Llanes and Jeanette Reyes.
Advance birthday greetings to Joe Rebano, Nov. 1; Victor Rufino and fashion designer Ito Curata, Nov. 2; Batangas Rep. Vilma Santos-Recto, actress-producer Armida Siguion-Reyna and Jerni May Camposano-Gomez, Nov. 3; Dr. Raul Fores, Ed Lacson, Edd Fuentes, Le Lagdameo and Letty Hahn, Nov. 4.
So, how was your week?
(For comments and inquiries, please e-mail me at jjlitton@indanet.com.)