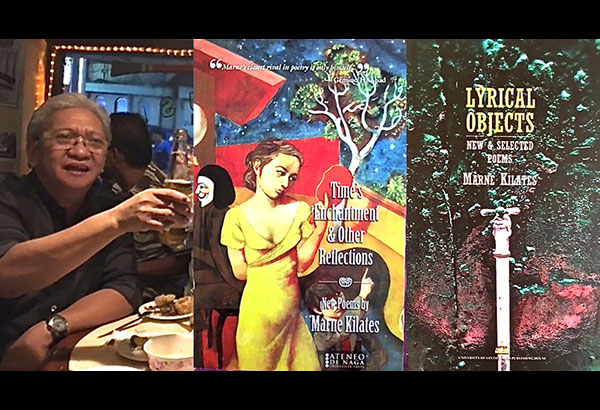 The poet raises a toast at Oarhouse Pub.
Marne Kilates: Lyrical enchantments
Launched two Saturdays ago at National Artist for Literature F. Sionil Jose's equally iconic Solidaridad Bookstore in Ermita was Marne Kilates' fifth collection of poetry, Lyrical Objects: New and Selected Poems, from University of Santo Tomas Publishing House.
Many friends attended, of various origins, stripes, and literary and art circles, including current visiting Fil-Am writers Oscar Peñaranda and Miguel Syjuco. Then some of the party partied on at the Oarhouse Pub of Manila, where I caught up with the revelry.
There we were hosted by the bar proprietor and photographer Ben Razon, even more hospitably than he did recent visitor Anthony Bourdain. Ben had also come from the launch, where he received the copy due him for having provided the photographic image that served as the book cover.
Marne's been on a roll with his wide-ranging poetry, of which he now has six collections dating back from his debut title Children of the Snarl (Aklat Peskador, 1987), followed by Poems en Route (UST Publishing, 1998), Mostly in Monsoon Weather (UP Press, 2007), and Pictures and Poems and other (Re)visions (UST Publishing, 2012).
Time's Enchantments & Other Reflections: New Poems (Ateneo de Naga University Press, 2014) came out earlier than this latest one, but I believe some hopscotch involving production vis-à-vis copyright date allows Marne to regard the last two as interchangeable, as his fifth and sixth collections or vice-versa.
Kilates has won Palanca and National Book Awards and the SEAWrite Prize. He has worked vigorously as a translator for National Artists for Literature Virgilio S. Almario and Bienvenido Lumbera, as well as Rogelio Mangahas and Jess Santiago. A major translation work is the bilingual UP Centennial Edition of Balagtas' Florante at Laura (UP Press, 2008).
The cover art for Time's Enchantments… is by Marcel Antonio, while complementing some poems are black-and-white renditions of the works of other Filipino artists, among them National Artists for the Visual Arts Arturo Luz and BenCab, as well as Carlos (Rocha), Alwin Reamillo, Dan Amaranto, Ana M. Lorilla and Migs Villanueva.
This complementation by way of images is linked with Kilates' fondness for ekphrasis, where poetry confronts other artworks. Ekphrastic poetry often delves into a painting or a piece of sculpture, amplifies or speculates on its conjured meanings, or simply lauds or takes off from the objet d'art.
In Time's Enchantment…, an extended, sectioned poem is "Sixteen Ways of Looking at Monet's Water Lilies," preceded by an epigraph from Ninotchka Rosca, something she posted on Facebook. "My David's Head" is about Michelangelo's sculpture of David, while "Il Porcellino" describes then ruminates on "The Mystical Boar at the Florence Market":
"… I wonder why they haven't/ Had a copy made of it for Manila, since/ It had spread its luck from Alaska/ To Australia, where they have sort of/ Enshrined it like a miraculous icon.// Maybe they should put it at the entrance/ Of the Senate or Batasan, where/ The clerks, the protesters, the senators/ Or congressmen can rub its nose/ Every election year?..."
In "Three from the Prado," Marne takes on "Goya's War," "Velasquez's Mirrors," and "The Panels of Hieronymus Bosch": "Who remembers paradise?/ What memory of it/ Remains in our fragile flesh?// In the middle of the garden/ We think we own and that we so flagrantly/ Waste, how much of it can we give up?// We will never be scared of hell/ No matter in our fantasy we give it/ Such wondous shapes."
This devotion to images was also manifested over several years when Marne produced online poetry and visual art journals, starting with The Poet's Picturebook, which evolved into Electronic Monsoon magazine, and subsequently the blogsite nameabledays (as hommage to poet-buddy Jimmy Abad's line in a poem, "all our nameable days."
It isn't so much appropriation that Marne practices, but a constancy of intellectual and aesthetic curiousity that is sated only by dipping into the other arts as well as various other wellsprings for his own poetic imagery: places of haunting beauty, boyhood memories, cultural dispositions evoked with cerebral rigor. He is ravenous in his explorations across a broad timeline, as much as when he stakes a claim on fresh delights.
And always, the visual rapture evokes translucence, as in the ending lines of the first poem, "Diaphanous": "Our love/ Fold of piña/ Crinkle of jusi// Curlicue of callado/ Embroidery/ Over our horror vacui."
While grounded in native lore and motifs, personal recollection and familiarity, in particular of his beloved birthplace Daraga in mythically brimful Bicol, the poet is indefatigable in embracing everything of poetic potential beyond home turf. He explores extensively, draws everything in, from books and the Internet, from travels all over our islands and beyond.
Myriad have become his comfort zones of exploration — from Bolinao to Bangkok to Barcelona, from Mt. Mayon to the Museo del Prado in Madrid, alongside the memory of a jukebox in the old town, Bicol's culinary delights, flora, old houses and plazas, a postman, a handyman, uncles and aunts, remembered old folk, even yayas.
When it comes to poetic form, Marne is also quite democratic, employing quartets, tercets, couplets, septets, the long single stanza, as well as serpentine linear arrangements, with haiku and ghazals thrown in — his adroitness of form not just following function but bending it to his words' will and whimsy.
Epigraphs appear with frequency, quoting in particular from fellow writers Alice Guillermo, John Silva, Luis Cabalquinto, Tito Valiente, Resil Mojares, Ambeth Ocampo, even the GMA News.
For Lyrical Objects, Marne's themes and topics still retain that all-encompassing appreciation, his inspirational rangefinder as busily involved as that of his equally peripatetic camera. There is no containing of his choice of sundry subjects, or the sustained eye of wonder he casts on everything around him in a world that can turn enchanting anytime.
In this abiding exploration, where no furtiveness is exercised, it becomes an open search for what can and will move him to cast words into visual transfigurations, into music, into marriages with other arts until a web of lyricism is entirely woven.
Here's the full title poem, "Lyrical Objects": "No music but in things/ WC Wlliams did not say this// It's what I hear/ When I stumble in the middle// When I am stumped/ For a poem// Things naturally/ Make music// The most obvious being a score/ Whose harmonics// Can only be Greek or hieroglyphic/ To the note-blind// The guitar waiting to be strummed/ Or plugged into the amp// The dragonfly wing/ Flapping infinitesimally (electric)// The petal beaded with dew/ Its veins vibrating// The piano foot with its curlicue/ (Like the shoe of Chopin)// The valve and spigot/ Holding the tank back like a bladder// And the release of echoes/ (Give it all you've got)// Caesuras rhythm meter/ In the mottling of things// The speeches of silence"
This, then, is Marne's metier: a wide, warm embrace of motley stimuli: orange parasol, rocking chair, old-fashioned windowpanes, hallelujahs in situ — Candaba, Mt. Samat, Argao in Cebu, Legaspi City, the Daraga Theater (both returned to again and again, understandably).
The ghazals are on flora: Cadena de Amor, Kanda, Meliguas, Dama de Noche, Camia, Sampaguita, Rosal, Cogon… In place of haiku are "Dionysian Dionas" — a vernacular poetic form of three lines with seven syllables each, as with: "Let the mind behold Mayon:/ All the slope it's ever known,/ Whatever typhoon has blown." There's also a pantoum, as well as fine translations from Spanish, of Jose Rizal's "Mi Retiro" and "Canto del Viajero," and from Filipino of a poem by late lamented friend Mike Bigornia.
Juan Luna's "Spoliarium," Botong's "After the Nose Flute," Anita Magsaysay-Ho's "Women with Birds of Paradise," Guillermo Tolentino's "Monumento" and a photograph by Rod Samonte provoke ekphrastic poems, while epigraphs are attributed to fellow writers Pablo Tariman, Rochit Tañedo and Lizza Guerrero Nakpil. Photos by Reuel Molina Aguila, Vic Nierva, Vincenz Owen Ang, Elmer Castigador Grampon and by the author are part of the book he himself designed.
The zest for the accretion of knowledge is exemplified by the footnotes on the Latin names for plants and fish. There is an evident urge to refract what may just be regarded by most as trivia curiousa through the proprietary prism of surrogate lenses, so that factoids join the filaments of familiar memory. Thus the past flows with the present, as a sparkling river of reverence running through everything around him. As poet Marne Kilates does not seek cynosure status, albeit the energy he unleashes is centripetal.
Listen to "Tacada de Pinangat," the longest poem in this book, a paean to Bicol's most favored dish: (from Section 13) "Each packet, steaming and tender/ And rich with a coat of natuk,/ Only the hungry Bikol eye knows// And can imagine the unique nanam/ That inside each pinangat resides,/ Enchanted by the pork fat, seasoned// By the black and hard smoky agon,/ Or the salt of dried fish moderated/ By the restrained delight of natuk,// And then, half-expected, half feared/ The explosion of lada—that sudden spread/ Of heartbreak from the tongue to the roof/ Of the mouth, down the throat and/ Ultimately to sting the heart and make it/ Leap! …And that is the source of tears// For the child but of that one passion/ For the adult who may have been the same/ Child. Thus is Bikol memory made."
In 2014, Marne Kilates was named Outstanding Citizen for Literary Arts by his home province of Albay. This year, on March 18, he will receive the Bulawan na Bikolnon Service to Bikol Award from Ateneo de Naga University for his achievements and contributions to literature. So richly deserved. Mabuhay ang oragon!