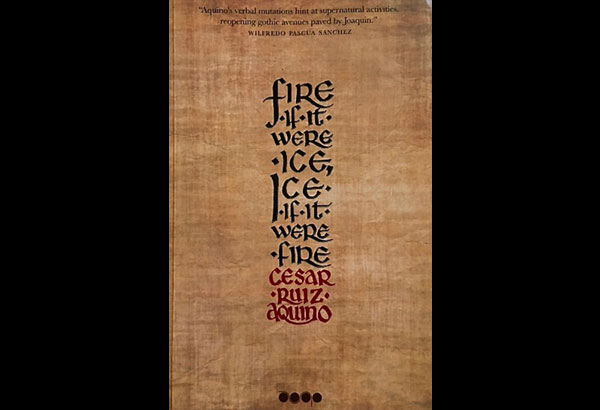 Two recent poetry books establish that singular aspect of poetry as a rewarding path for personal reflection. Both happen to be authored by senior Visayans who have of late been prodigious with their poetry in English.
The first is Partly Cloudy: Poems by Simeon Dumdum Jr., released by University of Santo Tomas Publishing House, while the second is Fire If It Were Ice, Ice If It Were Fire by Cesar Ruiz Aquino, published by Ateneo de Naga University Press.
Dumdum Jr. retired from the judiciary three years ago. A resident of Mohon, Talisay City, Cebu, he tends to special bushes, listens to sacred music, and spends the afternoons with his wife Gingging, also a poet, "in a coffee shop by the sea, watching the movement of ships in the channel."
His ninth collection comprises 39 poems that unravel insights beyond mere curtsey to a radius of visibility. The introspection is often a response to observable objects, or what equally appear to be mundane around us, such as the weather in general, or the sea.
"There where waves perish south of us/ Us and the whitest whitecaps there/ There can we find the when and where/ Where we may cross the crying waves/ Waves that know they're about to perish/ Perish with tidings from the south/ South farther than we can think of/ Of which there's none but both of us." ("By the Sea")
A covert smile conducts the exquisite musicality via metrical rhythm, cadence, end-rhymes and internal ones. Listen: "We felt light, seeing there no bluer blue/ That morning and the sky, and too, coeval/ With it, the sea, which had as edge a few/ White egrets, heads held up in pure approval/ Of a day marred by not the least upheaval,/ All of which I took back, for all too quickly/ The sky had turned from clear to partly cloudy." ("Seacape with Growing Raincloud")
Poems such as "Treading on Weather," "Walking on Water," and "The Sea Defines a Small Dog's Love" partake of similar lyricism that leaps beyond levity, while pieces that purvey places' gravitas ("A Song for Paris," "Hiroshima," "Mamasapano") still arrive at an equipoise of delight. Here's another that claims this summary balance:
"The land has claims on my umbilical cord/ Because I am lumad, a native fed/ With my own father's corn and with his word/ And if they come and force me out of bed/ I shall not leave my home alive or dead—/ My soul will silence them amidst their scoffs,/ A finger aimed at their Kalashnikovs." ("A Young Manobo Speaks of War")
For his part, Aquino's lyricism may be said to be of the solipsistic sort, with the perennial conceit of love or desire itself becoming the muse, albeit he too recognizes the environment past and present.
"God made the mountains/ and the oceans/ the clouds nimbus, cumulus, stratus// to remind me of the distance/ that divided us/ face to face" ("Title in Progress")
Limbo rock agility has this poet of Dumaguete often taunting the bar closer to the ground, with minimalist verses scoffing at the challenge of saying much with brevity.
"The wind in Dauin/ on a dawn like this, I don't/ know if I miss it,/ with it blew a little bit/ say on your hair, imagine." ("Love You Just the Way You Are")
Aquino's fifth book of poetry assembles 181 poems that also hop, skip and jump with frolicsome finesse over wide-ranging territory, at the center of which is often a girl or "you." Personal circumnavigation suggests that a poet is raised by a global village, as peopled by Robert Graves, Demi Moore, Manuel Arguilla, Pynchon, Brautigan, Sandra Dee, Nastassja Kinski, Keats, Borges, Tom Jones, Quasimodo, Heraclitus, Duchamp, Hafiz, Rumi, Ava Gardner et al.
Word wizardry habitually spins arcs of mischief out of ruminations just as motlrey as the iconography, fantasized or implicitly recast as long-tooth memories gnashing at extrapolation. Jedi metaphors are of a cerebral sepia, as against any mocha type of symbolism.
"This miracle has ever escaped us./ In an unambitious picture, girl/ perfectly replicates the stillness/ of the trees and objects behind her/ that seem to just momentarily/ keep still, for a pose, but are ready/ any moment to resume the whirl,/ the motion of everything that's there." ("On a Chance Photograph")
For a reader, both collections offer mediation and meditation. Latin provenance cites, respectively, mediatus, or "placed in the middle," and meditat or "contemplated," from the verb meditari that suggests "measure." Why, as sloganeered last summer at the Writers Village on Camp Lookout, "Etymology, come home!"