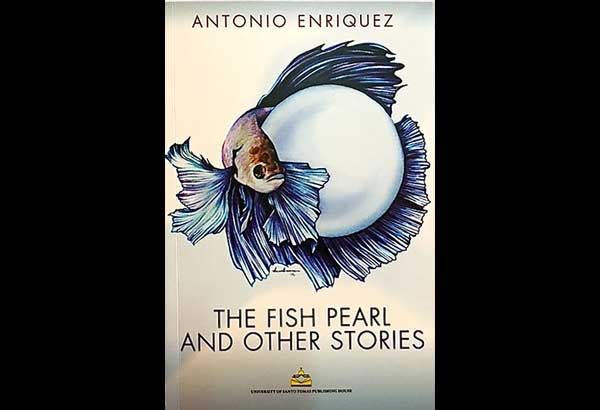 Virile fiction on Mindanao machismo
It was fellow writer Antonio Enriquez who first welcomed me to Dumaguete a lifetime ago, in May of 1968. From the airport, we took a tartanilla that clip-clopped quaintly all the way to the acacia groves of academe that composed Silliman University's enchanting campus. Tony dropped me off at Oriental Hall, where the writing fellows of our batch were to be lodged for the duration of the 7th National Writers Summer Workshop.
It was part of my fortune that Tony had been assigned to greet me upon arrival. He was a genial guy from Zamboanga who had earned a literature scholarship in Silliman, where he had also been a workshop fellow.
He reappeared occasionally during the course the three-week workshop conducted by Drs. Edilberto and Edith Tiempo. But it wasn't until a couple of years later, when Mom Edith prevailed on me to teach a poetry class for a semester, that the friendship grew with Tony and his wife Joy.
Both were also teaching in Silliman. They stayed a good distance from the city proper, in a pondside bungalow within a lush garden compound occupied by DYSR radio station, right by Banilad Beach. The Enriquezes offered a couch in their lanai for my use for several weeks until I found an apartment closer to the university.
Meanwhile, I rode pillion on Tony's motorbike three days a week to get to my class. And we'd motor back at the end of the day, sometimes having to alight from his 75cc Honda when high tide created a little stream to cross.
On my non-class days, I just enjoyed pounding away on my portable typewriter in that lanai, alert to any tug at a fishing line that extended from a rod I had spiked into the earth by the pond. Or just wandered about the garden with its arching bridges, or sunned on the beach in the company of fishermen plying Tañon Strait.
On some weekends the Tiempos would visit for a picnic lunch, bringing along the formidable writer Kerima Polotan with some of her children. It was a memorable idyll in paradise, thanks to Joy's and Tony's hospitality. We became friends for life.
At that time, Tony had already gained publication in the Philippines Free Press, where his virile short stories on Mindanao machismo was championed by literary editor Nick Joaquin. As part of a survey team that explored Liguasan March in his younger days, Tony Enriquez had amassed a wealth of experience relating to his fellow Christians, Moros, the lumad, and all kinds of characters in the touted Land of Promise. He started to win numerous prizes for his fiction, so that we'd often reunite in Manila.
The University of Queensland Press chose to publish a collection of his short fiction after one by Nick Joaquin, as prideful representatives of Philippine literaure. Tony won the Palanca Grand Prize for the Novel, the SEAWrite Award in Bangkok and a Gawad Balagtas from UMPIL or Writers Union of the Philippines for lifetime achievement, and a writer's grant to Hawthornden Castle in Scotland. And he kept on writing and authoring books.
We kept in communication through the years. A couple of decades ago, while I was on a visit to Cagayan de Oro where he and Joy and daughter Vanessa had settled, he brought his first two grandsons, Anton and Julien, to meet me at the hotel. After sending the kids home, Tony fell back on uproarious old times that we revived over booze and much laughter.
Antonio Enriquez passed away in 2014. Late last year, his wife Joy followed suit. I remain in touch with Vanessa. She and her husband Ulysses Madelo have raised five kids in Iligan City. I just learned that the eldest, Anton, is now pursuing a Master's degree in Silliman. And that he's staying at a boarding house in Banilad.
Well, he and siblings Julien, Nikka, Mikee and Andrei will be happy to know that their lolo's posthumous book, The Fish Pearl & Other Stories, has just been brought out by University of Santo Tomas Publishing House. Following are excerpts from the Intro that I wrote:
It must be noted that one of Enriquez's strengths was the ability to further flesh out a character through repeated use in separate fictions. Indeed, he was also a master at recycling more than just leitmotifs.
Alberto Gonzales, descendant of a proud Spanish ruling family of Zamboanga, is first introduced as the young surveyor in "Dance a White Horse to Sleep." Three more stories — "The Surveyor," "The Old Bridge" and "Spots on Their Wings" — also employ his character…
… It is the same Alberto Gonzales in these stories who serves as the main protagonist in Enriquez's first novel, Surveyors of the Liguasan Marsh, since retitled Green Sanctuary. And it must have been this landmark novel that occasioned a letter, dated December 31, 1998, sent to the younger writer by master fictionist N.V.M. Gonzalez, an excerpt of which reads:
"What our dream reader will need to do is be attentive to the authorial authenticity which informs the novel while reining in the intrusions of vernacular syntax and preserving the rhythm and color of the dialogue even as precision and economy of language remain functional all throughout. I do not know of any Asian prose at this writing that works toward originality and power of this kind."
… In this new collection — of three novellas and four short stories, Antonio Enriquez employs and revivifies the same features that have become his literary trademark.
… Enriquez's prose simulates the twists and turns of a roller-coaster portage. "The Moro guide Oto turned pale, then red, then scarlet, then the color of coffee beans forgotten under the inglorious sun, and he was fuming and tearing at his hair."
A character is named Commander Nuay Sapatos because he is "without shoes." The epithets in the vernacular sparkle: "Coño su nana!" And the rebel returnees, or those who have conversely given up on temporary peace, are known as "Volve-monte," meaning that they went back to the mountains.
The local color is multilingual, thus investing the narratives with authenticity. In effect, everything happening happens in situ — with genius loci as much a central protagonist as the human ones. The prevailing atmosphere or character of a place is also the presiding god or spirit of the place. And it is multi-form and hydra-headed, given the gamut of backgrounds and faiths the subjects typify — with a welter of matrices reeling and rebounding after frequent collisions with one another.
… Antonio Enriquez orchestrates the discordant music as if the brutish can also be blessed. As indeed they are, in these stories peopled by contrapuntal characters made familiar, even intimate, even as they are all beholden to tyrannies of place.