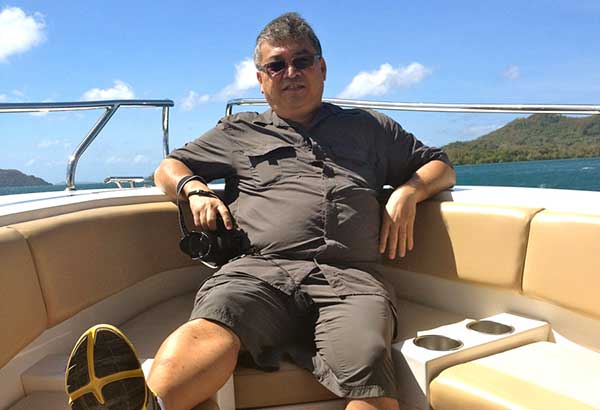 The author Krip Yuson will miss sharing fabled islands with good buddy Mike Marasigan.
Forgive me if in my waning years a chunk of my continuing chronicles is taken up by homages to contemporaries or much younger friends who have gone on ahead. It's part of a survivor's territory: to remember and to sing (as NJ wrote), of everything we may have held dear.
The past month claimed a couple of literary writers: Carlos Arejola of Pili, Camarines Sur, and Francis Macansantos of Zamboanga and Baguio. The much younger Carlos I knew briefly from workshop sessions, primarily at Silliman University. Francis or Butch was a dear friend through the years, some of those also shared in Dumaguete.
Way back in 1976, Ermita magazine published a couple of his poems, and our next issue featured a minimalist reaction from Tita Lacambra Ayala, lauding Butch's poetry thus: "He's daguerrotype."
In 2003 I served as a judge in the NCCA Writer's Prize contest where his entry won first prize and went on to be published as his second book: Womb of Ocean, Breasts of Earth. My recollections of Butch in Dumaguete, Baguio, and at the Palanca awards night are filled with laughter sourced to his quick and often sardonic wit — which either belied or complemented his fine lyric poetry.
Early this month, another writer-friend left us, in a terrible way. I had known Mike Marasigan for only a decade, but his company privileged me the way it did so many others of our common friends. A hail-fellow-well-met, he certainly deserved all the tributes recently posted online by those who knew him as a top-class journalist, editor, and eventual mentor to so many young people he had guided and inspired through their careers.
Now I can't help but join this grateful tribe in not allowing Mike Marasigan to leave us without sharing how he had a telling influence on our lives, summarized as this may be as an abundance of memories.
I met Mike in Sarangani in 2007. We happened to be there for different writing projects. We found ourselves lodging at the same hotel downtown, which had a bar where we repaired for smokes, drinks, and musical entertainment.
It was easy to make friends with Mike. He laughed a lot, he was cool and easy, and exuded that special EQ facet that marked him out for quick buddy-hood. He didn't hog table conversation or project himself as an alpha male in a company of rogues. Rather did he readily lend an ear to whatever disclosures one thought nothing of sharing because he was so open himself. Before the night was over, we clicked and crested in quick camaraderie.
The next few days, he helped me out with contacts in Sarangani, where he evidently had a long-running network. His background as a business newspaper hotshot who eventually established a tourism video content provider (ourphilippines.tv) spelled many common grounds that it was a wonder we hadn't crossed paths earlier.
But we wound up sharing this ever-expanding commonality of friends. And travelling much together. Whenever he could, he invited me along on trips to Mindanao and Palawan. These invites took an even more idyllic turn when Mike introduced me to the legendary Steve Tajanlangit who had pioneered in establishing a beach resort in Boracay.
Steve acquired a cruise ship he renamed M/V 7001 Islands, which began operating in August of 2008. From its maiden voyage from Manila to Coron, the five-deck cruise vessel sailed on to Puerto Princesa and back. The series of cruises through the summer of 2009 expanded the itinerary to include Boac in Marinduque in time for Holy Week, and on to Boracay. Eventually it started anchoring off fabled islands in the Calamianes Group in northern Palawan, at some point including El Nido on the northwestern side.
We got to invite other writer-friends along, in exchange for promotional articles. Two of my then teen-aged sons came along, on separate occasions, and enjoyed the dream cruises that introduced all and sundry to "virgin" white-sand islands with near-mystical names such as Malcapuya, Maonsonon, Ditaytayin, Debutunay, Calauit…
Steve's daughter Maria published a glossy magazine, also named 7,011 Islands, to which Mike and I contributed, and brought in other writers and photographers. Her brother Armand TJ, a wiz on guitar and piano, jammed with guest chanteuse Princess Velasco, with former recording star Aris Demavivas, who became the cruise ship's GM, also taking his turn at the love boat's Piano Bar.
Throughout those memorable cruises, the company became family. I got to meet many new friends, among them photographers Ben Razon and Angie de Silva, and in Boracay, Dong Alegre and Steve's entire family, plus Binggoy Remedios whose restaurant Dos Mestizos became a pilgrimage stop.
Beyond those cruises, Mike was also responsible for taking me to Puerto Princesa and Dos Palmas Resort, San Vicente Beach, St. Paul's Undeground River, Siargao to cover surfing competitions, with frequent re-runs of Sarangani and Coron, including a dream weekend at Two Seasons Resort.
One time, ensconced the first of the Twin Lagoons on Coron Island, Mike and I watched the rest of our company, mostly women, be guided into the second lagoon through difficult access that required swimming. We took our time until we spotted a boatman with a bamboo raft, which we used for comfortable entry, with Mike puffing on a dry cigar like the don he often was.
Throughout these jaunts with Mike, I got schooled on delicacies like tamilok or wormwood at Kinabutch in Puerto Princesa, bandi or cashew nuts encrusted in hardened brown sugar (our fave take-home from Coron), wonderful breakfast of lamayan which was a more fleshy type of danggit, and the difference between sea urchins with long spindly nettles — the variety locally called takong — as against the shorter-thorned tirik that rewards one with scoops of delicious orange roe.
Our last trip together had us join in the commemoration of Steve Tanjalangit's death anniversary at Boracay Terraces Hotel. We also overnighted at Binggoy and Niña Remedios' Finca Verde riverside spread in Malay, where again the exceptional meals downed with single malt whisky reprised our seasonal enjoyment of life's simple pleasures.
Oh, I'll miss Mike and his brother Chris, both of whom have been convivial guests at our own modest place.
Did I say family? At the wake, I recounted to Mike's widow Cynthia, who with their kids Tetep, Sasha and Tam have alternated as two of my MTRCB deputies over the past several years, how my son Alaric remains grateful that his first job after college was to help out the Marasigans in filing travel video footage. And how they always had him join family dinner. Sasha in turn revealed how the main dish always seemed to have been bangus whenever he ate with them. We laughed over that one. But I had to tell them the next night that Aric said he always loved their bangus. That's how much of family it had become with the Marasigans.