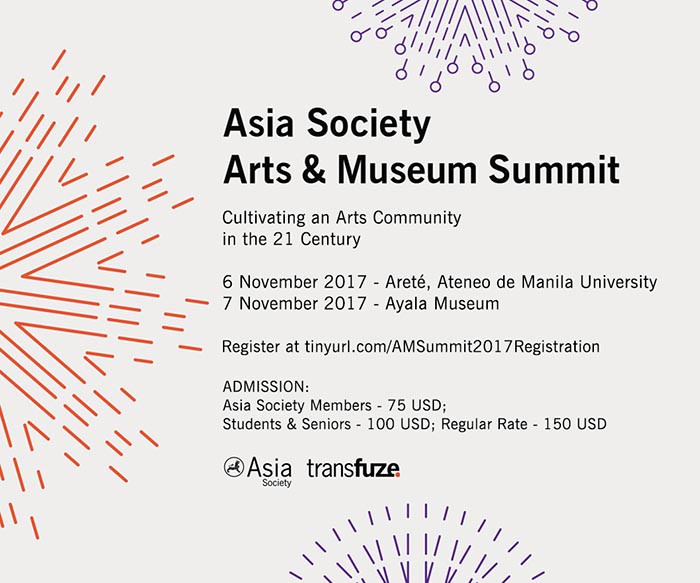 Global arts, museum leaders coming to Manila
(philstar.com) - October 30, 2017 - 5:19am
More than 20 art professionals from 13 countries from Asia Pacific and Beyond are coming to Manila for the Asia Society Arts & Museum Summit.
The speakers will share insights on audience engagement through community and educational programming at cultural institutions, as well as the outreach strategies to build new audiences.
Organized by Asia Society Philippines and Asia Society, New York, the 2017 Summit focuses on "Cultivating an Arts Community in the 21st Century." The two-day program from November 6–7 is hosted by the Areté in Ateneo de Manila University and the Ayala Museum respectively. Previous editions of the Summit have been held in Hong Kong in 2013 and 2015.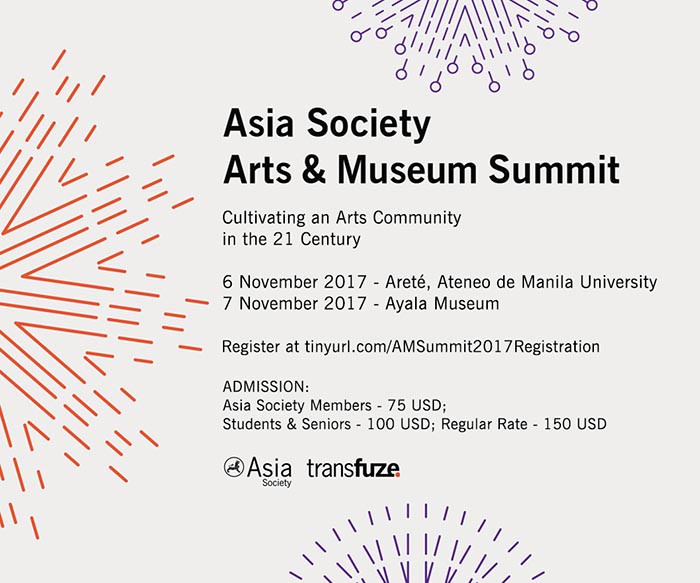 "We are thrilled to bring to the country leaders of internationally-renowned institutions across the globe," shares Suyin Lee, executive director of Asia Society Philippines.
Established in 1956 by John D. Rockefeller, Asia Society seeks to improve greater understanding between Asia and the West. Through its programs in public policy, business, and arts and culture, Asia Society Philippines, established in 1999 by Washington SyCip, aims to make a meaningful contribution in the work toward a more united, peaceful and progressive world.
"Asia Society wholeheartedly supports the arts and arts education as one of our main pillars. This summit is a reflection of that. We are excited at this unique opportunity for Filipino museum professionals, employees of cultural institutions, and supporters of the arts to share their experiences and best practices," she said.
Growing art-loving audiences
Audience engagement and community building have become the new focus for arts organizations in Asia. In stark contrast to the increasing success of international and regional art fairs and biennials, a grass-roots movement has been underway to rebuild local identities, provide practical training for artists and arts professionals, and promote public awareness and international recognition of regional culture.
Arts organizations are charged with sustaining incumbent audiences and attracting new, more diverse visitors, while striking a balance between crowd-pleasing, social media-oriented programming and scholarly, educational content. Meanwhile, digital technology has changed visitor expectations, affecting how exhibitions are designed.
Speakers
Designed for arts enthusiasts and professionals at any level, the 2017 Arts & Museum Summit convenes the leading figures in the arts to share how organizations of different scales can attract and sustain audiences. Among these are:
Jack Persekian (Founder and Director, Al Ma'mal Foundation for Contemporary Art in Jerusalem)
Melati Suryodarmo (artist and Artistic Director, 2017 Jakarta Biennale)
Kennie Ting (Director, Asian Civilisations Museum, Singapore)
Rhana Devenport (Director, Auckland Art Gallery Toi o T?maki, Mary Jane Louise A. Bolunia (Officer in Charge, Archaeology Division, National Museum of the Philippines)
Patrick D. Flores (Professor of Art Studies, National University of the Philippines and Curator, Vargas Museum)
Norberto Roldan, (Cofounder, Green Papaya Art Projects)
"Manila alone has a host of museums and galleries offering diverse exhibitions. Arts professionals from both traditional and contemporary training will be well-served to learn from their international peers, and to share insights and experiences from a Southeast Asian perspective, especially since previous editions of the Summit have only taken place in Hong Kong," Lee shares.

Philippine participants can register at tinyurl.com/AMSummit2017Registration. More information can be found at summit.transfuze.org.