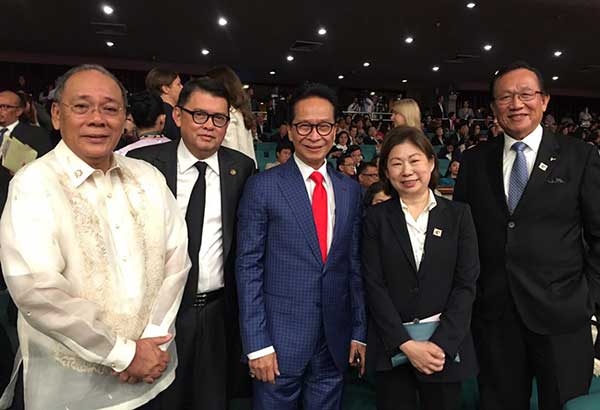 Presidential Spokesperson Ernie Abella, ASEAN BAC chair Joey Concepcion, legal counsel Sec. Salvador Panelo, ASEAN BAC Philippines' Tessie Sy-Coson, and George Barcelon during the ASEAN@50 Philippines celebration at PICC?
ASEAN @ 50: Pushing prosperity for all
PILIPINAS: NOW IS OUR TIME
-
Joey Concepcion
(The Philippine Star) - August 13, 2017 - 4:00pm
Back in 1967, the Association of South East Asian Nations (ASEAN) was formed to create a bond among its members that would help each other in economic growth, social progress, and cultural development.
Forward to today: we just celebrated the 50th anniversary of ASEAN last Tuesday. This is the third chairmanship of the country, with the first in 1987 and the second in 2006. We are lucky to host the 50th founding anniversary of the association.
President Rodrigo Duterte led the celebration at PICC on Aug. 8. He briefly shared ASEAN's background and how the history of cooperation among its members has worked well to advance our values and interests.
He also recognized the efforts of the private sector, specifically the ASEAN Business Advisory Council, in supporting the government in its mission to alleviate people from poverty. He said, "Public-private partnerships must be harnessed fully to lift up our people from poverty. Indeed, the ASEAN Business Advisory Council's Alliance for Prosperity for All is showing how an inclusive business model will help achieve the growth of our MSMEs and our people in the grassroots."
The Alliance for Prosperity for All was created with the mission to build a multi-sectoral, multi-disciplinary alliance of organizations and individuals and to pursue prosperity not just in the Philippines, but also across ASEAN nations.
We look forward to contributing more to the development and growth of our MSMEs and the members of the low-lying communities.
Additionally, I was part of Malaysia's celebration of ASEAN50. On Aug. 4, a conference was hosted by ASEAN BAC Malaysia, led by Tan Sri Dr. Mohd Munir Majid. In a forum, I shared the importance of MSMEs in ASEAN.
Afterwards, Malaysia's Prime Minister Dato Sri Mohd Najib Tun Abdul Razak attended the dinner.
ASEAN has indeed proved that, despite our differences in culture, religion, and political views, we can all have solidarity in pushing for prosperity for all. We look forward to another 50 years of continuous growth and progress.