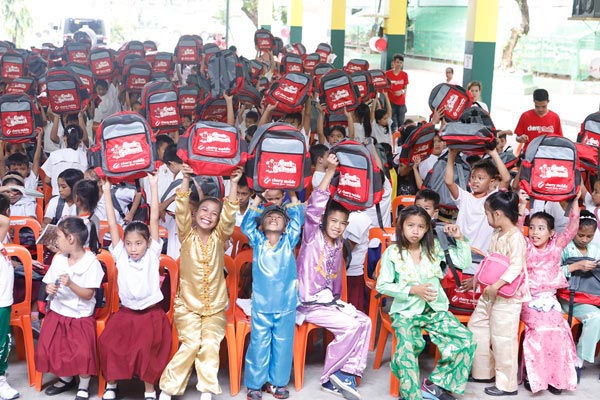 A total of 500 recipients, including selec Sama Bajau and indigent pupils of Aurora Quezon Elementary School in San Andres, Manila, received Cherry Mobile's Bags of Hope containing school supplies like notebooks, pens and pencils, and also symbolizing dreams for the future. Cherry Mobile/Released
Sama Bajau students in Manila receive 'Bags of Hope' symbolizing their dreams
(philstar.com) - September 27, 2017 - 10:00am
MANILA, Philippines — What ought to be an ordinary day turned out to be a delightful and heartwarming surprise for selected Sama Bajau children and other indigent pupils enrolled at Aurora Quezon Elementary School in San Andres, Manila.
A total of 500 recipients received Cherry Mobile's Bags of Hope containing school supplies like notebooks, pens and pencils. The project, held in non-government organization Sun For All Children, is part of the mobile company's "Be Cool in School" nationwide campaign.
The meaningful gift-giving activity inspired everyone, volunteers and beneficiaries alike. The "Bags of Hope" symbolized the kids' dreams that they hoped to achieve in the future.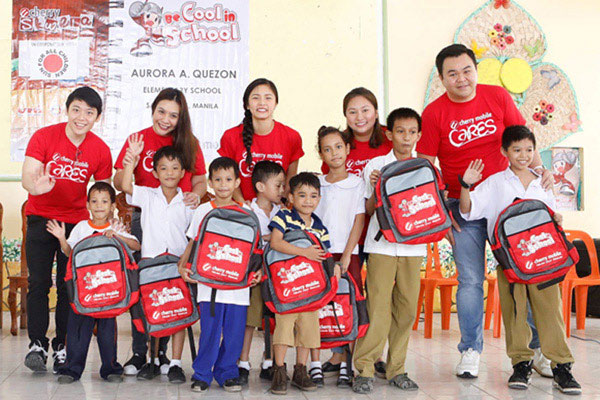 Cherry Mobile Brand Ambassador Kim Chiu took part in the event held especially for the Sama Bajau kids residing in Metro Manila. Cherry Mobile/Released
It then became exciting when Cherry Mobile Brand Ambassador Kim Chiu took part in the event held especially for the Sama Bajau kids. "Today, through the Be Cool in School, we have given these bags of hope courtesy of Cherry Mobile. I'm so happy and honored to have been part of such great cause. It's one heartfelt event as I witnessed these students who are very eager and happy to receive the bags from us. I hope, together with Cherry Mobile, we have given them hope to pursue their dreams," said the celebrity brand ambassador.
For his part, Cherry Mobile's CEO Maynard Ngu said, "Quality education is not a privilege. It is a right. We want to at least lessen their burden of going to school by providing these kids a decent set of school supplies that can be of help to their studies. Through that, and all the other programs under our corporate foundation, we will continue to intensify our role as an advocate of social change, and be an instrument in building a better society."
Cherry Mobile's Corporate Social Responsibility, through its MSN Foundation, had been reaching out to the underprivileged communities in the country since it was established.
"We have different programs under the MSN Foundation such as health, livelihood, disaster response, environmental concerns, and more importantly we have different projects and long-term programs for the education sector," said Venus Tan-Ngu, chairman of MSN Foundation Board of Directors.
She added, "The Be Cool in School is just one of the many programs we have for the students and youth. In our fifth year of implementation, almost 60,000 indigent school kids from different parts of our country have received these 'bags of hope.' It includes notebooks, pens, and pencils, but there's more to it than being just school kits given to them. Inside the bags are our hopes and dreams that they may have a better and brighter future."
Be Cool in School targets a minimum of 10,000 indigent kids per year enrolled at public schools. Besides distribution of Bags of Hope, it also gives scholarship grants, builds classrooms, provides educational equipment, supports teachers' training, and organizes youth camps, and among other related projects. It is a nationwide campaign in partnership with the Department of Education, National Commission on the Indigenous Peoples, and Lupel Marketing, sole distributor of Uni writing instruments in the country.
As Be Cool in School continues to unfold in the coming days, Cherry Mobile seeks to champion not only the basic right to quality education but also better access to opportunities that would improve the well-being of Filipinos, wherever they are in the archipelago.
Cherry Mobile Cares and it's offering its heart to all of the country's people.