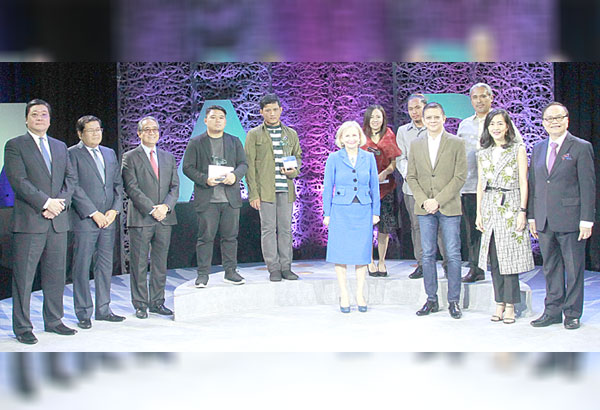 The 2017 Metrobank Art & Design Excellence (MADE) grand awardees and special citation recipients for Painting and Sculpture Recognition Programs accept their cash incentive and trophy from guests of honor Australian Ambassador Amanda Gorely (7th from right) and Sen. Francis Escudero (4th from right). Leading the presentation are Metrobank Foundation Inc. (MBFI) president Aniceto Sobrepeña (rightmost), Metrobank president Fabian Dee (leftmost), MBFI corporate secretary Anjanete Dy Buncio (2nd from right), Federal Land Inc. president Pascual Garcia (2nd from left) and Metrobank vice chairman Francis Sebastian (3rd from left).
Creative works of imagination at 2017 Metrobank Art and Design Excellence
(The Philippine Star) - November 4, 2017 - 4:00pm
MANILA, Philippines — The tradition of celebrating Filipino artistry and creativity continues as Metrobank Foundation Inc. (MBFI) recognized another batch of promising artists for the 2017 Metrobank Art & Design Excellence (MADE) in awarding ceremonies held last Sept. 21 at the at the Le Pavillon, Metropolitan Park, Pasay City. Joining the roster of MADE awardees that have been recognized since 1984 are three young painters and two professional sculptors.
Australian Ambassador Amanda Gorely and Senator Francis "Chiz" Escudero were the guests of honor. Distinguished art personalities and officials from the diplomatic community, government, academe, civil society and business also graced the event.
This year's MADE carried the theme "Imagine," challenging Filipino painters and sculptors to root their creative work on the very seedbed of their artistic genius – the human imagination. MBFI believes that as artists, they hold the power to imagine things anew. Through MADE, they are empowered to showcase and render their creative side to become true works of art.
"The theme affirms our advocacy to empower artists across the country to create new worlds and alternative realities rooted in every seedbed of creative genius: the human imagination," said MBFI president Aniceto Sobrepeña. "But more than that, it is a call to action. It poses a challenge to every Filipino far and wide to use the power of their artistic judgment to bring color to our nation" he continued.