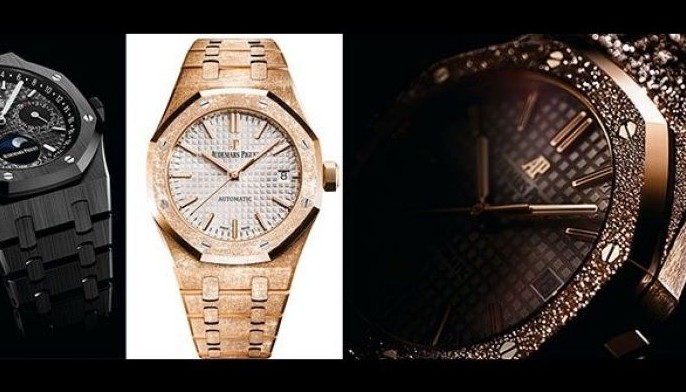 Hammer time: Audemars Piguet Perpetual Calendar in black ceramic, a Royal Oak Frosted Gold watch for ladies, and detail of a Royal Oak that underwent a hammering method called the Florentine technique
A journey through space and timepieces
Igan D'Bayan
(The Philippine Star) - April 19, 2017 - 12:00am
MANILA, Philippines - Inside the Audemars Piguet Collectors Lounge were a few landmark watches created by the brand.
A pocket watch made in 1884. It has a perpetual calendar that automatically adjusts for the number of days, months, as well as leap year; it tracks the phases of the moon with exact accuracy; and it has a minute repeater.
Michael Friedman explained, "You activate that slide in the middle and it chimes out the hour, the quarter hour and the minutes. So if it's 1:01, there is a low note for the hour — 'Bong!' — and a high note for the minute — 'Bing!'" And if it's 2:17, there will be two notes for the hour, one note for the quarter hour, and two high notes for the minutes. Think about it: you have 12 hours and 60 minutes. Twelve times 60 is 720. That means that watch is programmed for 720 unique melodies.
The world's first Perpetual Calendar wristwatch with a leap year indication. One of these watches came up at Christie's in 2015 and got triple its estimate ($650,000) because of its aesthetics and rarity.
A piece introduced in 1978, which was designed by the first iconic female watch designer, Jacqueline Dimier. A lot of people associate watch-making and watch collecting as masculine and a male-oriented field. Wrong, said Michael. "The history of watch design is linked with jewelry-making and driven by people from all aspects of life." Dimier succeeded the iconoclastic designer Gérald Genta (creator of the original Royal Oak) when he left in 1972.
A Royal Oak Perpetual Calendar watch made in black ceramic (with bits of titanium). A combination of both traditional, classic features with very contemporary aesthetics. "This what our founders did and what we continuously try to do at AP — to push that envelope. You know the watches made in 1910 and 1912 were already touching the Art Deco aesthetics that came later. This is the challenge of designers today."
The made-to-order Trilogy pieces: Diamond Punk in 2015, Diamond Fury in 2016 and Diamond Outrage in 2017. Here, AP wanted to outdo itself in terms of exploring gemology, with what's possible when it comes to gem-setting. Fury comes off as talismanic. Outrage boasts some futuristic-looking spikes. And Punk shares its aesthetics with the Sex Pistols and the London punk movement in the late Seventies — anarchy can be a beautiful thing.
Friedman concluded, "By the way, AP exhibited watches at the 1889 Paris Exposition — this was the year the Eiffel Tower made its big debut. Van Gogh was there. Degas was there. Munch was there. Thomas Edison and Nikola Tesla were there. Audemars Piguet was there. This relationship with art is part of the origins of the company."
You can just imagine the after-party of that shindig.