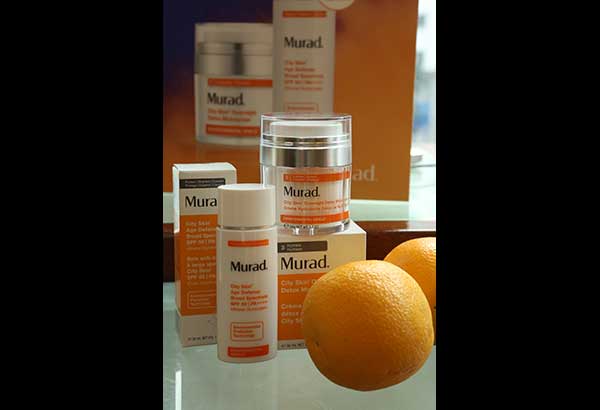 Dynamic duo: City Skin Age Defense Broad Spectrum SPF 50 and Overnight Detox Moisturizer protect our skin from being wrecks in the city, available at Murad in Rustan's the Beauty Source. Photos by WALTER BOLLOZOS
Put down your device: Here's how to shield from its aging blue light
Most of us think nothing of taking our cellphones and other devices to bed. Personally I like curling up with my laptop to write articles or watch Netflix.
But, according to David Whyte, Asia-Pacific global educator for Murad, we've been unwittingly sleeping with the enemy.
"Research has found that blue light coming from our devices can be more damaging to the skin than UVA and UVB rays can be," he reveals. "Four days in front of your laptop equals 20 minutes in the noonday sun without SPF protection."
For those of us who work in front of a computer every day (myself included), that's a really scary thought. Add to that the number of times we check our phone — 110 times a day, on average — and that's a lot of blue light we're exposing ourselves to, which doesn't just cause lines and wrinkles; it also has more insidious effects on our bodies.
"In terms of the brain, blue light can disrupt your sleep patterns and cause insomnia," Whyte says. "We all love to take our devices to bed and check social media and news, but we're doing ourselves a huge disservice. Research shows that blue light can damage the retina (Whyte has a blue-light filter in his glasses); it can also stir up hormones, damage the immune system, and excessive exposure can cause depression."
But before you renounce your devices permanently, know that Murad, which has been researching the effects of cultural stress on aging and health for 10 years, has developed an antidote — two, in fact, that they've added to Murad's orange Environmental Shield collection.
Their new City Skin Duo protects and detoxifies us from environmental aggressors we may not even be aware of: UVA and UVB rays from the sun; infrared radiation from microwaves, stovetops and other heat sources; pollution, which is not just dirty air but also particulate matter that can be up to 200 times smaller than the human pore — "so it penetrates our skin via our pores, damaging it, stirring up free radicals and creating inflammation," — and, of course, blue light from our devices.
City Skin Age Defense Broad Spectrum SPF 50 is a sunscreen that protects us from all these aggressors thanks to lutein, a plant-derived ingredient that literally blocks blue light (Whyte demonstrated how by shining a blue-light pen through vials with and without lutein; the one with lutein stopped it cold).
The mineral sunscreen also contains a polymer matrix that physically shields us from tiny pollution particles; zinc and titanium oxide to block UV rays; and iron oxide to protect skin from infrared. "It gives the product its slight peachy tint," Whyte says. "It's almost like a CC so it's designed for all skin tones."
Clinical trials proved that City Skin Age Defense blocks 96 percent of pollution, 89 percent of blue light from devices, and 52 percent of infrared light.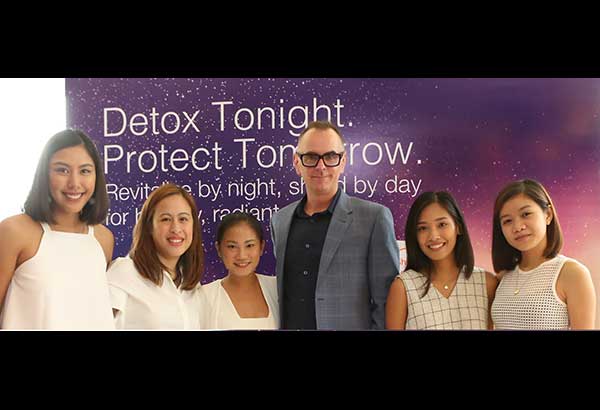 Murad Asia-Pacific global educator David Whyte with (from left) Murad brand managers Cristina Dizon and Aiem Ong, Rustan's ad and PR manager Mica Agdamag, Rustan's ad and PR specialist Anika Leongson, and Rustan's events specialist Pepper Limpoco
"If you want to get the full 'connected beauty' treatment, you can actually eat your sunscreen," adds Whyte. "Dark leafy greens like spinach are natural sunscreens."?Environmental skin damage doesn't stop when we come home at night. The damagers stay in our skin and continue while our bodies are at rest, so Murad also developed a night cream, City Skin Overnight Detox Moisturizer. "It's loaded with supercharged antioxidants, vitamin C for brighter, younger-looking skin, and most exciting are the Marrubium plant stem cells," enthuses Whyte." We were able to retrain them to detoxify the skin and neutralize the free radicals during the day."
Marrubium is an herb that was used by the Romans and Arabs thousands of years ago as a remedy for respiratory conditions and digestive dysfunctions. In Overnight Detox it works as an antioxidant as well.
To get ideal results, Whyte recommends a regime of Essential-C Cleanser, a Murad day cream tailored to your skin concern, City Skin Age Defense on top of that, then Overnight Detox in the evening.
"An hour to two hours before you go to bed, don't use a device," he advises. "Leave it out of the bedroom. And drink your detox: lemon, ginger and turmeric together to create a tea is the perfect combination."
* * *
Murad's City Skin Duo is available at Murad counters in Rustan's The Beauty Source and Murad Spas in Rustan's Makati, Shangri-La, Alabang Town Center and Cebu.