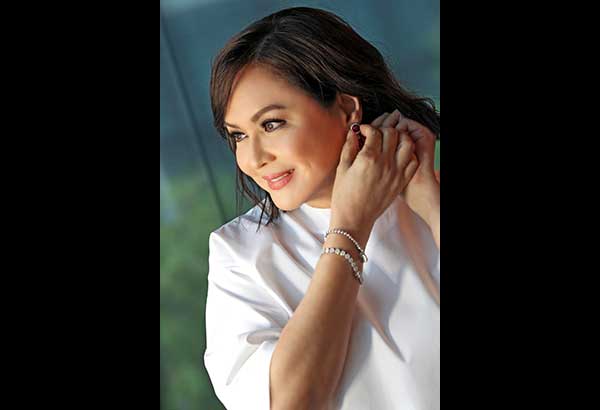 Charo Santos-Concio, the newest brand ambassador of MyDiamond, says owning a piece of diamond jewelry makes you feel good and empowered. Photo by JUN MENDOZA
Charo Santos-Concio: 'Don't wait for your man to buy you a diamond ring'
Everyone knows that diamonds are a girl's best friend, but why wait for a man to get down on one knee?
"Buy the bling yourself! You deserve it," says Charo Santos-Concio, the newest brand ambassador of My Diamond, one of the country's premier diamond retailers, during the launch of its latest campaign dubbed "Choose True Brilliance" at Manila House.
"Owning a piece of diamond jewelry makes you feel good and empowered," she adds.
When she had to choose between buying a car and a diamond jewelry in her 20s, Charo chose the latter.
"It's an investment piece. If you can't afford yet to buy a property, a new car or go into investment funds, you could start with diamond jewelry. The value of diamonds appreciates through the years," she explains.
The lady boss purchased her first diamond ring in her mid-20s, a time when others are still figuring out a way to balance all the craziness of this age: the work, the lack of work, the bills, the drama. Charo worked day and night to save money, not just to have that precious rock, but so she could also buy her mom a new house.
"I did 10 films that year. Lagare talaga," she relates. "When I finally bought the house, I likewise gifted myself with a diamond ring."
But the most treasured jewelry she owns is the pair of diamond stud earrings she got from her mom.
"You can never go wrong with stud earrings," Charo shares.
Charo is no stranger to wearing some of the most fabulous pieces of jewelry (the diamond earrings she wore at the Oscars made fashion insiders' jaws drop), but she still prefers simple and classic pieces.
"I've been in the industry for 28 years and people often see me wearing a pair of pearl earrings. You don't have to call too much attention to yourself. I reserve the fab pieces for special occasions," she adds.
For Charo, diamonds aren't just material possessions, they carry good memories, too — "stories that I could share with my daughter-in-law and granddaughters," she says with an impish grin. "Diamond jewelry is an heirloom piece, which I could pass on to them as well — if they behave."
Charo is the perfect endorser for MyDiamond because she is so passionate, not just about the stone but also the brand.
"I'm proud to be chosen as MyDiamond's brand ambassador. I think it's a privilege to be able to endorse a brand that's trusted by both men and women," she enthuses.
Every piece of MyDiamond jewelry is elegantly designed and finely crafted by internationally trained craftsmen. MyDiamond offers diamond pieces of top-tier cut, clarity, color, and certification from the Gemological Institute of America.
"So you're assured that what you're buying is real and will last," Charo adds.
* * *
MyDiamond concept stores are located at Shangri-La Plaza Mall, SM Megamall, Robinsons Place Manila, Festival Supermall, Glorietta 4, Greenbelt 3, Gateway Mall, SM Mall of Asia, SM Aura Premier, Lucky Chinatown Mall, Ayala Center Cebu and SM Lanang Premier Davao.
For inquiries, like and follow MyDiamond on FB at https://www.facebook.com/MyDiamondPH and on IG @mydiamondph.