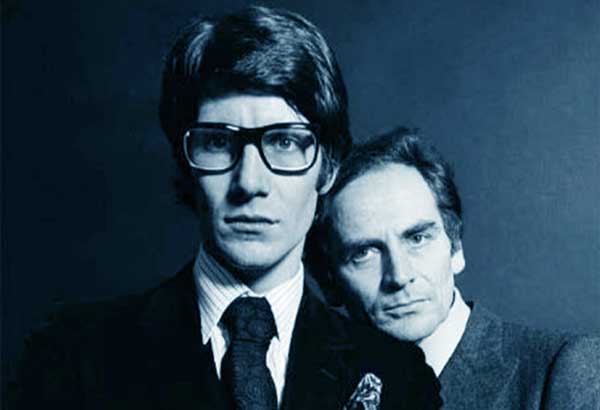 Yves Saint Laurent and Pierre Bergé
How business & love unions are crucial to fashion industry shifts
The recent passing of Pierre Bergé, the industrialist who founded YSL with Yves Saint Laurent, his longtime lover and business partner since 1961, brings to the fore a union crucial to shifts in the fashion industry's structure as we know it today. Going head to head with the ruling luxury conglomerates and the ebb and flow of the times, what other compelling force could be strong enough to bolster and survive through it all but love?
Saint Laurent is credited with expanding the modern woman's range of fashion expressions with swagger in the '70s, with pea coats and motorcycle jackets and Cossack coats to haute couture — but it was Bergé's managerial genius that allowed him this creative free rein, expanding the maison's operations from haute couture to the lucrative ready-to-wear, accessories and beauty categories made available to as many women as their boutiques around the world could reach. Buying, selling and buying YSL back, plus footing insider trading fines aside, Bergé endured it all. By this time, 1976, their romance had already ended. But even after he was CEO of the company in 2002, Bergé was protective of Saint Laurent's legacy and reputation. He stood by Saint Laurent's side until the day of his death in 2008.
"It was a dynamic partnership. Neither one interfered with the other's task. Business versus creativity," Inno Sotto comments.
It was a passionate partnership that, in some ways, mirrored Inno's own with the singer Richard Tann. Inno would have stayed in the US for the rest of his life — and denied us his magic as the prince of Philippine couture — had he not met Richard on a vacation in Manila. They first became friends until they realized they couldn't live without each other. Until Richard passed away from a heart attack in 2005 on the eve of the designer's birthday.
"When you lose your life partner who is also your business partner, it's like losing your right arm. You take little steps again. It was always him planning things. After he passed, I still fulfilled his unfinished plans which included two shows," Inno tells The STAR. "But I was somewhat distant from the projects. Without him being around, I was at a loss and had to consult a priest." It was not so much that there was no one to help him with everything else. He had lost his only constant, the first person in his life.
A life together included reviving the fashion industry through Fashion Watch. Richard is known for his husky yet smooth voice, but he always allowed Inno to shine. With Richard's production background, they took a chance on then-young designers who are now our favorites: Patrice Ramos Diaz, Jojie Lloren, Rajo Laurel, and Dennis Lustico, to name a few.
Does mixing business with romance work when it's a match between complementary personalities? For instance, the intense and introverted self-destructive genius of Saint Laurent balanced by the rational yet prickly personality of Bergé?
What's certain is Bergé did it all for love. His ambitions had been in politics; he was a lifelong patron and arbiter of culture and the arts. He had set out to become a journalist in Paris and edited contributors Albert Camus and Jean-Paul Sartre for a left-wing magazine. The eminence grise stepped out of Saint Laurent's shadow with his support for the Socialist Party — albeit the "caviar left" — and contributions to liberal causes. He had been a close friend of Francois Mitterrand, who named him president of the Paris Opera in the 1990s. He influentially backed Emmanuel Macron in the latest French presidential elections. (Upon learning of Pierre's passing, Macron tweeted, in French, "He was on the side of the artists, the oppressed, the minority. In Pierre Bergé a passerby, an activist, disappeared; a memory of the century.") Back in 2013, Bergé had said to the New York Times after the screening of the documentary L'Amour Fou that he became a businessman only because that was the role Saint Laurent needed him to play.
On the other side of the Mediterranean Sea, there are two other ex-lovers and lifelong friends: Domenico Dolce and Stefano Gabbana, and notably Giancarlo Giammetti, the great enabler of Valentino Garavani.
Valentino had once praised Giammetti's acumen by enumerating his: "There are only three things that I know how to do: make a dress, decorate a house and receive guests…" If you've ever done your business on a Valentino toilet seat, it was this licensing deal with a Japanese company in the '80s that helped subsidize the haute couture collections of the time. Giammetti beat the titans at their own corporate game; it only meant Valentino had more room to grow the brand, establishing its flourishing legacy of romance and drama, even under today's new creative directorship. (Sixty to 65 percent of the profits of Valentino, owned today by the Qatar royal family, still come from the clothes.)
They, too, were lovers until jealousy got the better of them and they instead became friends — but stronger together. Giammetti told Vanity Fair it was because they have never lived together. Wanting their freedom and wanting to (literally) be able to close their doors on one another, however, is what has kept the respect — and perhaps a measure of mystique? — intact and allowed their love to blossom into a friendship that is now the epitome of glamour, leaders of a glitterati tribe that encompasses entertainment royalty like Madonna to actual royalty, yachting together regularly, sailing into the Mediterranean sunset.