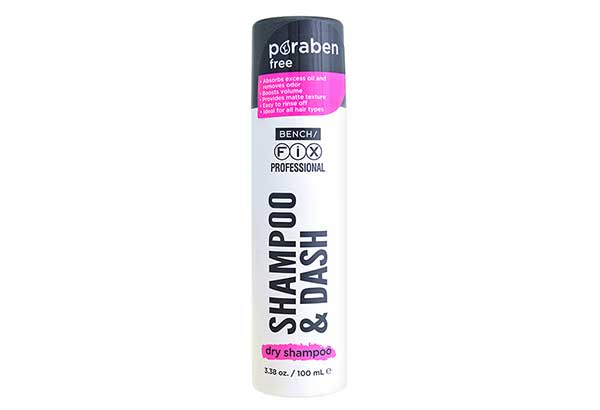 Make your blow dry last longer and give instant volume for your hair even on-the-go! The Bench Fix Professional Shampoo & Dash Dry Shampoo, P175, is available at Bench boutiques and at Studio Fix by Alex Carbonell, 4th floor Greenbelt 5, Makati, tel. no. 501-3062.
Dry shampoo: A quick fix for limp hair
(The Philippine Star) - September 12, 2017 - 4:00pm
Dear Rissa,
I noticed my hair is always limp. What's an easy way to give volume to hair? I have no time to blow dry.
Zattie
Have you ever tried using a dry shampoo? It's a hair powder that's often thought of as a convenient way to clean and refresh hair without water, but it's also the secret solution to giving volume to hair. I always shied away from it, thinking it only comes in handy for bedridden patients or when you're traveling or camping with no access to water or are just in a big rush. But take it from celebrity hairstylist Alex Carbonell, dry shampoo works wonders on fine or limp hair. Dry shampoo acts as your anti-oil product, and we know how oil and grease on the scalp can cause limp roots. Even if your hair type is not oily, I love how this amazingly gives volume and texture to fine hair, or to the limp hair you get when traveling and your hair is not cooperating with the weather.
Check out Bench Fix Professional Shampoo & Dash Dry Shampoo (P175 at Bench boutiques). It's super affordable but promises a matte finish to get rid of excess oil and boost volume. It also features a light fragrance to balance out odor. I love that you simply have to spray this on the roots to revitalize hair in minutes during a busy day. Plus points because it's handy and portable — and it's paraben-free, too!
Rissa
* * *
Oil is not all that bad
Dear Lucy,
Is oil really bad for the skin? A friend of mine says I need oil to make my skin smooth because my face is too dry and that is why I constantly break out. Does that make sense? QUEENIE
No, I would not say oil is bad for the skin. In fact, especially if it is pure oil, it can be very good! It is not entirely strange for people to swear by the skin-clearing effects of oil because it works by tricking skin into thinking it should not produce more because you already have enough of it.
If you choose to try this regimen, start slowly. Don't change too many things in your routine all at once. Introduce an oil first, choose something pure and organic preferably, and ask your derma just to make sure it is not comedogenic (tending to clog pores).
Jojoba is good, pili also apparently. The best way to apply it would be to use just a few drops, two or three should be enough — rub gently in a circular motion into skin that is still damp from washing. A little goes a long way, please do not overdo it. Especially if you like using purifying clay masks which can be very drying, be sure to moisturize your face with oil. Remember, dry skin will also make you break out.
Lucy
* * *
Send e-mail to Lucy Torres-Gomez at ltg@pldtdsl.com. E-mail Rissa Trillo at stylesos_rissa@yahoo.com or follow her on Twitter @RissaMananquil.