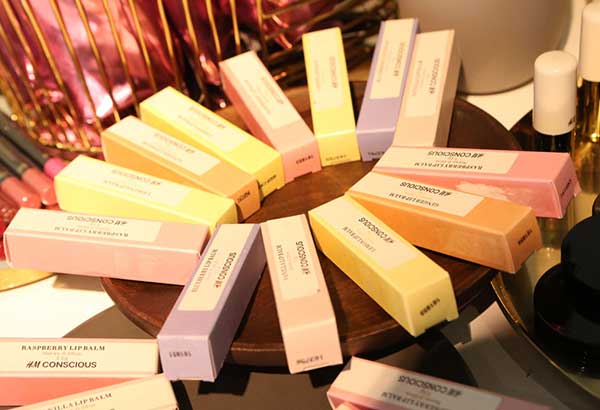 H&M Beauty's line of sustainably sourced and produced Conscious lip balms will be available at H&M SM Mega Fashion Hall on Sept. 15, and six other H&Ms this September. Photos by WALTER BOLLOZOS
Fast-fashion emporium H&M is now offering "fashion for your face," as H&M Beauty will be rolled out at the flagship SM Mega Fashion Hall branch on Sept. 15, followed by six more branches nationwide.
"Along with clothes and shoes, we wanted to give our customers the full look that changes with every season, that was why we came up with a department just to support cosmetics, body and hair," says Nikki Verzo, H&M Philippines' pressroom manager.
Set to drop first is the fall makeup collection, with which you can achieve the latest trends without breaking the bank. Want the glowing skin that dominated the runways? Try H&M's Halo Illuminiser, a liquid highlighter that you can layer over or under H&M's All-Day liquid foundation with SPF 15.
For a more matte look there's Hi Definition Invisible Powder, while for defining and sculpting there's Solar Flair bronzing powder in Universal Mocha.
Prefer making a statement with your lips? There are dozens of matte and creamy lipsticks in nudes, pinks, reds and browns. Personally I'm always on the lookout for the perfect red, and a makeup artist at the event suggested one of the best candidates so far: True Falu, a red that not only flattered my medium, yellow-toned skin but also felt soft, creamy, and moisturizing on the lips.
"Some of the major trends we see are jewel tones," notes Verzo, "and for nails, metallics and very loud colors." To meet the trend, H&M has issued shimmering gemstone polishes in gorgeous hues: there's Moonchild, a sparkly sapphire-blue that goes on sheer; Purple Aura, a deep amethyst-lilac; and Witching Hour, a bewitching emerald-green.
"The hottest sellers are usually the nails, which get awarded for the most usable product out of the line," Verzo says. "There is a wide array of colors that changes with every season. The eye shadows are also a favorite, as well as the lip colors, so anything that showcases range and colors — that's kind of where we hit the hotspot."
Also hitting the hotspot are the affordable prices — makeup puffs go for as low as P99, nail polishes and eye shadows are P349, while lipsticks, fragrances, and some of the body products cost a midline P599.
"We have a premium body-care line that's made of conscious, Ecocertified ingredients," Verzo points out. Called "Conscious," like H&M's sustainable fashion label, these body-care products and lip balms are not tested on animals, use the minimal number of ingredients to reduce consumption and production volume, and are packaged in recycled materials.
Verzo says we're lucky to have H&M Beauty in the Philippines because it only started two years ago globally, and some mature markets don't even have it yet. "H&M has always had beauty tools and little trinkets but in 2015, that's when they started to revamp and rethink the whole offering, and really come up with this range of options, colors and products across the spectrum," she says. "Considering that we're young in the H&M family — only three years old — it's a good indication of how the brand's been performing here for us to be able to welcome H&M Beauty."
* * *
Following the Sept. 15 launch at H&M SM Mega Fashion Hall, H&M Beauty will also be available within the month of September at Robinsons Place Manila, SM North Edsa, Festival Mall, Ayala Center Cebu, SM Mall of Asia, and Greenbelt 4. Follow @hmphilippines on Twitter and Facebook for details on opening dates and exciting offers.