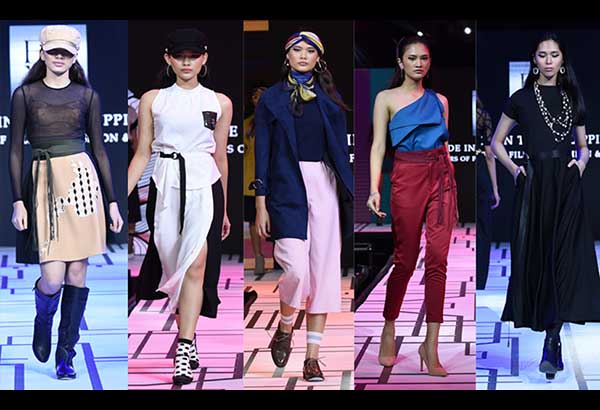 Made in the Philippines: Francis Libiran designs a special anniversary holiday collection for Bayo inspired by the beauty of Filipinas across the globe.
No Insta-girls here: Talent is power at Bayo's 25th anniversary celebration
I'm always glad to report that the Filipino fashion revolution is in full swing — not just on the indie/slow fashion and ready-to-wear/custom designer side of the spectrum, and not just in getting our name out there.
"We really want to improve," Bayo CEO Leo Lagon candidly shares over cocktails at the Bayo 25th anniversary event, aptly called "Made in The Philippines." He and wife, Bayo VP and chief creative officer Anna, were manufacturers before they took over Bayo; they'd be the first to admit they needed help on the creative side. "We can't fight with the international fast-fashion giants coming in. We just have to find a way to coexist." And, as more Filipino brands focus on going global, Lagon says, "We had to differentiate ourselves."
Being 100-percent Filipino-made was always Bayo's strength, fronted by world-renowned Lea Salonga (spotted in the front row wearing an FL x Bayo shift) in the early 2000s.
"Made in the Philippines" also means more Filipinos have jobs they can be proud of. It means they always have food on the table — and more Filipinos are able to do more of what they love.
It's been a yearlong process. Part of it is collaborating with Francis Libiran for limited-edition summer and holiday collections, FL x Bayo, and elevating 100-percent-local manufacturing practices.
They've recently invested in printing machinery that, for now, they've only learned to use on white fabric, which would explain Libiran's proclivity for customized prints, as seen on Miss International 2016 Kylie Versoza's palazzo pants as she closed the Luzon-, Visayas- and Mindanao-inspired holiday show.
The anniversary event also saw the launch of the Bayo Manila Foundation. They awarded 25 social entrepreneurs and achievers whose advocacies Bayo will actively support.
"Their success is because they wanted to share their success," Anna explains.
Joining Verzosa is fellow beauty queen, Miss Universe 1999 first runner-up and TV host Miriam Quiambao-Roberts; professional ballerina Candice Adea and Ballet Manila's Lisa Macuja-Elizalde; Department of Agriculture Undersecretary Berna Romulo Puyat; NGO founders Alexandra Eduque of MovEd, Kara Magsanoc-Alikpala of ICanServe Foundation, HOPE founder Nanette Medved-Po, CARA welfare Philippines president Nancy Cu-Unjieng; social entrepreneurs Tali Handmade's Liza Crespo and Marielle de Leon-Lazaro, Anthill Fabric Gallery's Anya Lim, Rags2Riches' Reese Fernandez-Ruiz; executives and founders advancing Filipino products, GMA Network's Annette and Maritess Gozon, EMotors CEO Elizabeth Lee, Fish Forever's Rocky Tirona, Malagos Farmhouse Cheese's Olivia Puentespina, Tesoro's Maria Isabel "Beng" Tesoro, DestileriaLimtuaco & Co.'s Olivia Limpe-Aw, Fino Leatherware's Rose Anne Bautista; and global creatives/interior designers Ivy and Cynthia Almario and visual artist Olivia D'Aboville.
The foundation also sees Bayo opening up their facilities to upstarts like fashion students who need help on the manufacturing side as another contribution to promote Filipino workmanship and keeping the industry growing. Beyond everyday fashion with a heritage twist, "Made in the Philippines" means progress is more inclusive.
* * *
FL x Bayo is available at select Bayo stores nationwide and online at styleshops.com.ph. Learn more about the Bayo story and the 25 Bayo women on Bayo.com.ph or follow @bayoclothing on Facebook and Instagram.