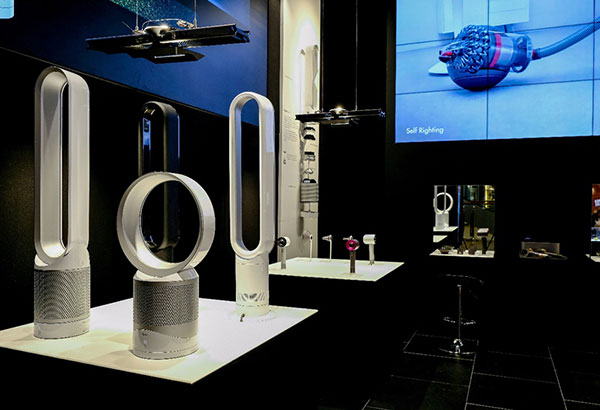 Dyson Demo allows customers to experience Dayson product first-hand, located at SM Aura Premier and Greenbelt 5.
Did you know that Dyson's groundbreaking V8 and V9 digital motors, the core of the pioneering British company's portfolio of key technologies, are made in Laguna?
"There are very many talented people here, skilled operators, technicians, and engineers," says Dyson head of Southeast Asia electronics Jim Roovers. "Also, the location. Dyson is increasing supply around the world."
In early 2016, Dyson started and has already produced its one-millionth motor in the Philippines in May after just one year of operations. "We'll have four million by the end of the year," continues Roovers. "Dyson hires more than 380 people in the Philippines and by the end of 2017 we will have 400 people."
Locally, humidity and air pollution are top concerns, so people prefer to stay in. "Southeast Asia generally has haze issues, so when there's no haze, people don't understand that indoor air is five times worse than outdoor air," notes Roovers. "You have a lot of allergens and pollutants particles as small as 0.1 microns, so small that they can enter your bloodstream and cause all sorts of diseases."
The Dyson exec is in Manila for the opening of the second Dyson Demo in the Philippines at SM Aura Premier. Conceptualized to allow customers to experience the products, it first opened in Paris in 1999 but it wasn't until 2015 that it expanded internationally, starting with the flagship in Tokyo. Jakarta, London, and Greenbelt 5 in Makati City followed in 2016. SM Aura Premier opens along with Kuala Lumpur and Dubai.
He points to the smoke-box demonstration machine of the Pure Cool Lin purifying fan to help us visualize how its hardware-meets-software mechanism filters pollution, making a cloud of smoke- and dust-like particles vanish. "It removes 99.95 percent of particles from the air. Using an app (called Dyson Link App), you can not only control the fan but also tell what the live air quality is inside and outside."
He adds it can also absorb all odors. "Odor smells are tiny particles. It stays in the filter and never gets out."
A surprising crowd favorite during the opening is the V8 cord-free vacuums. Cleaning house is quite the chore, but because the vacuums are so light at just 2.6 kg, testing out the machine's fade-free suction on three different floor surfaces with a variety of dust and debris is as fun as playing house. Also, no question is too technical or too trivial for the in-store attendants as you try the vacuum out for yourselves.
The third star in the Demo is a styling essential of pros like celebrity hairstylist Jing Monis — who demonstrates the ease of styling with the Supersonic hair dryer during the event — as well as lazy beauty girls like myself. The Supersonic is the result of a £50-million investment wherein Dyson engineers studied the hair from root to tip for years and developed the V9 motor, the coin-sized wonder inside.
Book a complimentary in-store styling appointment for one of SM Aura Dyson Demo's two styling stations and see what the hype is about through the @DysonPhilippines Facebook page. These are products that work in fundamentally different ways compared to other offerings on the market today. I suggest that you experience it to believe it.
* * *
Whiteplanet Inc. is the authorized distributor of Dyson in the Philippines. The new Dyson Demo is located at the 2nd floor of SM Aura Premier, 26th Street corner McKinley Parkway, Taguig. Dyson Demo is also at the 3rd floor of Greenbelt 5, Ayala Center, Makati, and will soon open at The Podium, Ortigas. Follow @DysonPhilippines on Facebook and @WhitePlanetInc on Instagram for updates.