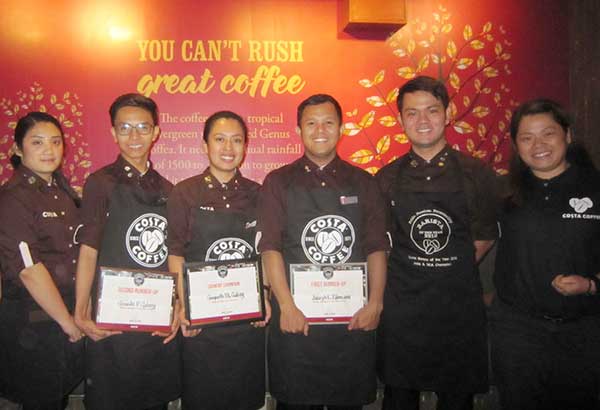 Baristas of the year: BOTY 2015 Gladys Fornoles, Gerry Golong, BOTY 2017 Gwen Gabay, Joseph Palmiano, BOTY 2016 Justin de la Fuente, and Costa Coffee training officer Julie Evans
There's a rose petal in my Costa Coffee!
MANILA, Philippines - Rose Spiced Latte" — that's what Costa Coffee's Barista of the Year (BOTY) country champion Gwyneth "Gwen" Gabay called her winning drink in the Speciality Challenge.
An Ilocana from Isabela, Gwen was inspired by Panagbenga, the annual flower festival in Baguio, where she went to school.
"It brings back memories," she said.
She loves flowers. She also collects herbs and spices. For her iced coffee drink, she mixed Costa espresso with rose syrup, milk and cinnamon powder, and garnished it with a cinnamon stick and rose petals.
"The nice thing about Costa's Mocha Italia is it's so versatile," Gwen says.
The Speciality Challenge showcases the barista's skill in creating their own signature coffee using different tools and techniques to enhance the Mocha Italia blend. Mocha Italia is a unique blend of slow-roast Arabica and Robusta coffee beans, which is the secret behind the smooth, round, rich taste of every cup of Costa coffee.
BOTY 2017 first runner-up, Joseph Palmiano, a former bartender from Marikina, created a fruity sparkling coffee that he called "Frutato Café Spumante." He was thinking of a mocktail when he created the cool, citrusy summer drink, which features a shot of espresso mixed with watermelon syrup, fresh lemonade and tonic water.
For his signature drink, BOTY 2017 second runner-up Gerardo Golong mixed a Ristretto shot with pandan and lemongrass leaves, honey and lemon juice, and called the refreshing coffee drink "Pandan Sale d' Italia." A native of Tarlac, Gerry says his simple but unique drink represents his personality.
The Speciality Challenge was just one of three grueling segments that comprised the Costa barista country finals. All three finalists had to go through a series of in-store heats and area skills tests to earn a slot in the country finals, which was held recently at the Costa Coffee store in Eastwood. Gerry Golong represented the flagship store, Robinsons Galleria, while Joseph Palmiano represented Eastwood, and Gwen Gabay represented One World Place in BGC.
It was Gwen's first time to join a barista competition. "I joined the competition because I wanted the experience," she said. Just like the other two finalists, she found the Technical Challenge to be the most difficult part of the competition. Under time pressure, the baristas were tasked to make four cups each of Costa's four core drinks: Espresso, Cappuccino, Latte, and Flat White. They were assessed in all areas of drink preparation, including appearance and taste.
"The 'grind and dose' technique is an aspect of the challenge that requires highly technical skills," Gwen remarked. "Everything has to be according to the Costa standard. We must have consistency. It is difficult to get the perfect grind since we do everything manually. If your 'grind and dose' is not nice, all of your drinks will not be nice."
Julie Evans, Costa Coffee's training officer, explains, "It's a very important part that we do religiously, at least three times a day. We have to check our grinder. That's where we get the espresso, and espresso is the heart of Costa. So it has to beperfect, using our standard blend, Mocha Italia, the central pillar of the brand."
All the baristas in all the Costa Coffee stores are given 35 days of intensive training. "Most of the days, they are in the store, while half of the training days, they are in the classroom to learn all the technical parts. So they are all expertly trained, and that is what sets our baristas apart from any other barista," Evans says.
Unlike others that rely on automatic machines, all their coffees are done manually — extracting, steaming, frothing, and texturing for the perfect cup.
"Visually, we can tell if it meets the Costa standard," Evans says. "Just by looking at it, we can tell if it's a perfect espresso or not."
The third segment in the country championship finals was the Espresso Race, which was not only a test of speed but also precision, as the baristas had to produce the most number of espressos following Costa standards.
Justin de la Fuente — who competed in Singapore as the Philippines' wildcard winner in 2016 and went on to the world competition in London, where he impressed the judges with his "Sparkling Café Mojito" made with Filipino dalandan — tells us what makes a perfect espresso: "It should be 30 ml. The crema thickness should be a minimum of 33 millimeters. It should be hazelnut brown in color and have tiger stripes, by which you can tell if it's a good shot or a bad shot. There should be no bubbles. The cup should be spotlessly clean."
And what does Costa look for in a barista? "Pride, passion, personality," Evans says. "They should have pride in their work. They have to love what they do."
As the Philippine representative, Gwen will showcase these qualities when she competes at the regional championships in Dubai this November. The regional champion will move on to compete at the "World Barista of the Year" to be held in London next year.
"Our mission is to save the world from mediocre coffee," Evans says, "and to inspire the world to love great coffee."
* * *
Costa Coffee is located at Citywalk 1 Eastwood; Robinsons Place Manila; One World Place, BGC; Tera Tower, Bridgetown; Robinsons Place Antipolo; The Block, SM North Edsa; Robinsons Selections, Venice Grand Canal; Robinsons Supermarket, Robinsons Galleria; UP Town Center; Robinsons Equitable Tower; and Robinsons Galleria.