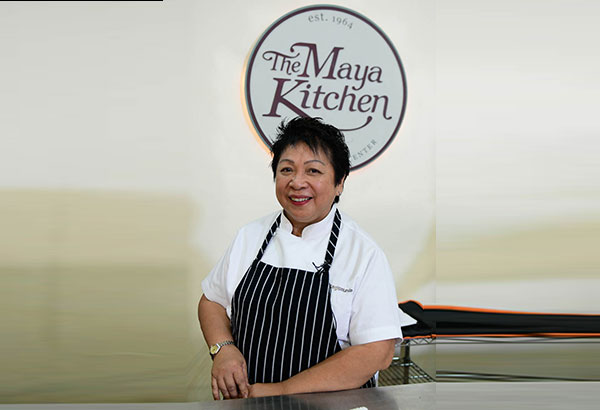 Myrna Segismundo shares her passion for Filipino food with The Maya Kitchen Culinary Elite Series participants.
Myrna Segismundo cooks up a Pinoy christmas feast
Yep, it's beginning to smell a lot like Christmas! The air is laced with the glorious aroma of lemon-scented morcon baking in your kitchen. As in many delicious Christmases past, you're dreaming of your favorite holiday treats from your cherished heirloom family recipes. Just like what chef Myrna Segismundo grew up with, Christmas after Christmas, in her hometown Lipa, Batangas.
This morning at the Maya Kitchen in Makati, Myrna shares some of the Segismundos' treasured Christmas recipes that bring back many heartwarming childhood memories.
"Having worked in restaurants, corporate dining, I feel very lucky that to this day, my family continues to enjoy the family meals and traditional recipes we grew up with," Myrna relates as she rolls up her sleeves and prepares to regale us with a home-cooked Filipino Christmas feast. "I'm lucky to be the youngest in a family of 12. Maybe when my daddy was singing the 12 Days of Christmas, he meant something else. My parents, both pure Batangueños, came from the pre-war generation when raising big families was very welcome. To this day, our food is very simple but I'd like to think it's very flavorful. We come from a very rich land where a lot of dishes like the calderetas, the adobos, the bulalos, and fresh fish like the maliputo and tawilis, the sinaing na tulingan, make our food — although very simple — very unique to us and also very flavorful."
Being the youngest of 12 children, Myrna would often be left in the kitchen with her yaya, who eventually became the cook, and mayordoma. And having grown up in a family who ate well ("not necessarily expensive food," she clarifies), Myrna started developing her taste buds "based on what was served to us at home."
And then there were the fiestas when all the kusineros from the farm would cook all day and there was an open house. "Without realizing it, I was imbibing all these traditions and my cooking, whether it's international or Filipino, is based on the development of my taste buds," says Myrna.
Not formally schooled as most chefs are but a proud graduate of the Segismundo kitchen, Myrna declares, "My taste is based on all those flavor profiles and memories from childhood. I create food on the basis of what tastes good for me. A schooled chef would have a formula but a chef who didn't go to culinary school would have his taste, his own personal touch. As they say in the teleseryes, may hugot!"
Myrna feels lucky she's still able to cook her family's traditional Christmas recipes, whereas the younger generations may encounter difficulties looking back at traditions and what they grew up eating. Luckily, during those Christmases when her mother was still alive, she was able to document step by step her mother Emilia's prized beef morcon recipe.
She relates, "Defying the proper principles of cooking, I decided I would follow exactly the way she did it, hoping I would be able to duplicate the taste. From the results, I might have accomplished 95 percent of my mom's cooking. I leave the five percent to your imagination. And I hope by the time the sauce and morcon are heated up, my mother would have blessed it and said, 'O, 100 percent!' From my taste recollection, I'm proud to say I might have achieved it. But I'm sure she'll say, 'Ako pa rin!'"
For The Maya Kitchen Culinary Elite Series, Myrna whips up, before our delighted eyes (and taste buds), her Christmas table menu: adobo paté with pepper jelly and toast points; salad of young ubod and pomelos with honeyed-patis dressing and kinilaw of shrimps; Beef Morcon a la Emilia (stuffed with sweet pickles, chorizo, pork fat, queso de bola, ham strips, boiled eggs, etc. and garnished with potatoes and olives); and Turrones de Manila with Vanilla Gelato Spazzacamino (spiked with a dash of whisky and dusted with coffee powder); pears and apples poached in red wine.
Myrna tells us that these recipes are not really complicated and the flavors are familiar to us all. "Like, who doesn't know how to cook adobo? Don't you dare raise your hand! But I will not attempt to give you a traditional adobo — I will tweak that recipe and give you an adobo paté, which we created by virtue of the fact that sometimes, you have your lazy moments deciding what you would feed your family. There's the French influence in your cooking, Mediterranean, Asian, and what have you. So, you decide to put together the principles of cookery, apply French cooking technique to a classic Filipino recipe called adobo, and we have what we call adobo paté, which you can replicate in your own kitchen, or you can make your own personal recipe to share with friends or members of your family."
Where to find the ingredients for your Christmas feast? Why don't you scrounge around your pantry or fridge? You just might find all the ingredients you need! Myrna believes that the morcon was created by someone who saw all the leftover stuff in the kitchen and decided to put them all together.
She stresses, "Every time I work with dishes, I always think of ingredients that are readily available, in my pantry or the market. Sometimes, I can't stand that I fill up my shelves and refrigerators with half bottles of honey, half bottles of olive oil or mustard and you never know what to do with them, they start to get crusty on top, nanghihinayang kang itapon. Just think of all the basura in your pantry, concoct something with what you have there, and you will be surprised to discover you have invented something. Start with 40-percent formula and 60-percent imagination. Believe me, this is how I created my ubod and pomelo salad with honey-patis dressing. I decided to add a kinilaw because kinilaw is a very memorable dish for me because it was our first attempt to promote Philippine cuisine abroad, in Madrid Fusion, when we were invited for the very first time to present a dish that would introduce our cuisine to the world."
Si, the chefs attending Madrid Fusion were very interested in our ingredients, they marveled at our calamansi, our patis, and our suka — sukang may sili, paombong, pinakurat, sinamak! Spanish chef Elena Arzak of the Michelin-star restaurant Arzak thinks we have the best vinegars in the world, beating even the balsamic vinegar.
To cap Myrna's Christmas table menu is the turon. "When the turon is served vs. the cakes, the No. 1 dessert is always the turon. I tried to teach this to the cooks everywhere I go, but nobody can do it. So I think I'm blessed and I will go down in culinary history as the turon maker, although it's really very easy."
Whatever you're serving this Christmas, be it ever so humble, do it with lots of love for some of the happiest memories are those shared by members of the family at the dining table.
* * *
For more information on Chef Myrna at The Maya Kitchen Culinary Elite Series and other course offerings, log on to www.themayakitchen.com, email contactus@themayakitchen.com, or visit The Maya Kitchen Culinary Center Tuesday to Saturday at 8F Liberty Building, 835 A. Arnaiz Avenue (Pasay Road), Makati City, with telephone numbers 892-1185 or 892-5011 local 108 or 0929-6796102. Like and follow Maya Kitchen on Facebook and Instagram @TheMayaKitchen1 and on Twitter @TheMayaKitchen.