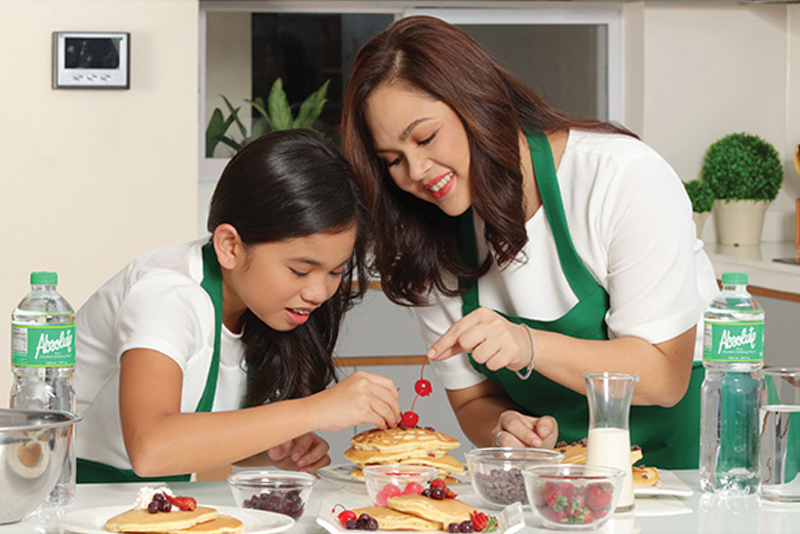 Judy Ann Santos-Agoncillo with her eldest child Yohan. Absolute Distilled Drinking Water/Released
Give back the absolute love to the woman who gives her all
(The Philippine Star) - May 12, 2017 - 7:55am
MANILA, Philippines — Among all the great love stories that have been told, there's only one that connects deeply to every human being; and it is no less than the love that matters most, but a mother's love.
Absolute Distilled Drinking Water pays tribute on this special occasion to celebrate all kinds of mothers we have known; to the ones who give birth, to the ones who didn't need to bear a child, but lived up to the role, to the ones who did it on their own, and to the ones who assumed both parenting roles.
As we go about and spend the day praising and honoring mothers, Absolute gives three simple ways on how to create day-to-day meaningful celebrations, extending the love to more than just one day in a year, to daily moments of Thank You's.
Take time to listen
A mother's language of love can come in different forms. It can be through a breakfast prepared before you wake up, or a text message asking for your location, and sometimes, a scold when you least expect it. Pay attention to what mothers do that translates into how much they love, and give it back through a tight hug that delivers the same message.
Take time to say thank you
One of the most rewarding gifts of motherhood is through appreciation. As moms can agree that great sacrifices begin once a woman becomes a mother, putting aside their own interest to put their child's first. A simple "Thank you mom" goes a long way, and it sure hits that tender spot. Do it every day to show how much you value every sacrifice our mother's make.
Take time to let them in
In this hectic world, time goes by so fast that sometimes, we fail to let our moms become a part of our lives. Take time to create daily conversations that bring the bond closer together, allowing our no.1 cheerleader to be part of our daily adventures and misadventures.
Absolute Distilled Drinking Water encourages everyone to give back the love every mother deserves to have. Today is a good start to show how much moms are appreciated, and whether it is through a tight hug, a thank you note, or a meaningful conversation, it is how we make them feel every day that counts.
Thank you to our Superheroes who taught us all about the absolute love. Happy Mother's Day!