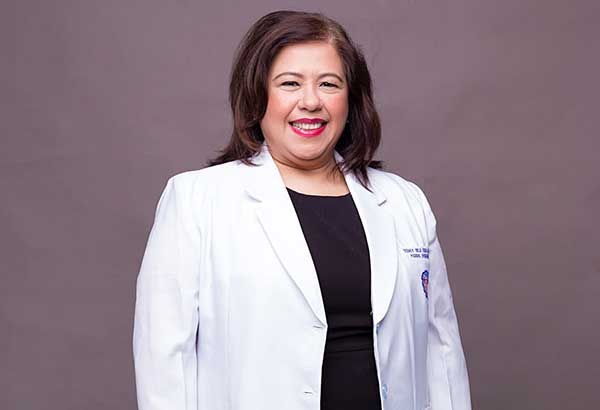 Doc Denky: Let's beat cancer together.
There's good news about cancer
You're probably vigorously shaking your head and raising your eyebrows now, knowing that cancer and good news don't belong in the same page, let alone in the same paragraph. Being diagnosed with the Big C is like a death sentence. But here's a doctor who has some good news to share about cancer.
"The good news is there have been many developments in cancer management and treatment in the past decade," says medical oncologist Dr. Denky dela Rosa who hates cancer and cares enough to devote her life to helping cancer patients beat the Big C "Treatment is no longer a 'one size fits all' type because now, there's personalized medicine."
Goodbye chemo?
Doc Denky tells us during a lecture and getting-to-know-you affair, "Before, for women with breast cancer, chemotherapy was the standard, default treatment, but now, there are already ways for us to be able to lessen the number of people who would require or benefit from chemotherapy. Now, less and less women with breast cancer would require chemotherapy because we're able to study the characteristic of the tumor. In the past, the only basis was the stage of the cancer. With the new development, we study the tumor and combine its stage and characteristic for us to know if the patient would benefit from chemotherapy."
Miriam's case
Doc Denky cites, as an example of the advances in recent drug development, the case of the late Senator Miriam Defensor-Santiago who did not undergo chemotherapy but was instead given an oral drug (which is why she didn't lose her hair). "Recently, it was discovered that lung cancer is of different kinds and it responds to different types of treatment, too. In Miriam's case, typical for women who are non-smokers and have lung cancer, they would benefit more from this oral drug (magic pill). This has been available since five or more years ago, but by the time Miriam was diagnosed, it was already in the late stage. But we have to test the tumor, if you're a candidate for that treatment; it's not something that is prescribed just like that."
Vis-a-vis the conventional chemotherapy, now there's targeted therapy, which is what the late Senator's magic pill is. Doc Denky clarifies, "There's a misconception among lay people that targeted therapy only targets cancer cells. Unfortunately, it's not like that. But the good thing about it is the side effects are not as bad, they're more tolerable and patient-friendly. Targeted therapy may come in the form of a pill, an IV (intravenous), or a subcutaneous (under the skin) injection."
Doc Denky believes that genetics plays a big role in cancer. "In the future, we may be able to detect the presence of cancer cells in the blood without having to go through procedures to sample the tumor or we may be able to detect through these blood tests if the tumor is still responding or has already developed resistance. But that will come several years or one or two decades down the road."
Mastectomy is not always the answer
Doc Denky tells us that the most common question women with breast cancer ask is: Is it possible not to remove the entire breast? "That has been the default surgery for patients with breast cancer. But now, puede naman not to remove the entire breast, particularly if it's small; just take out the tumor and a certain amount of tissue around it. But for that to be equivalent to a mastectomy, the patient usually has to undergo radiation therapy. Some patients are afraid to go to a doctor because they're afraid to have a mastectomy. Puede kasi hindi naman mastectomy. But if they don't go to a doctor, the more they might have a mastectomy. Even if they don't have to have one, they have to have the tumor monitored."
Revolutionary treatment
Strengthening the patient's immune system to be able to fight off the cancer cells is going to revolutionize cancer treatment and management because it is expected to be effective agai nst a wide range of cancer. "Although fighting for them does not always mean prolonging life. Sometimes, it involves saving them from the excesses of medical care," Doc Denky points out.
The lady doctor stresses, "Although there are new advances in cancer treatment, there is a side to the cancer journey that we do not frequently talk about, which is the chance of its success... Whether it's early stage or advanced stage, cancer treatment not only involves application of the most up-to-date tests and treatment, but also understanding what steps are worthy of consideration. Another factor that the patient and family should understand about cancer care management is the importance of a compassionate and holistic cancer care. The physician's quality time and listening ears make an immense difference in the cancer journey since it's a disease that brings emotional, psychological, and financial toxicities to both the patient and his/her family. An oncologist's goal is not only to give treatment but also to prolong life and maintain quality life, which can only be achieved when an oncologist knows how to use both his brain and heart in coming up with a cancer battle plan."
Help for indigent patients
As for indigent patients, Doc Denky says they get help in terms of treatment, with the Philippine Charity Sweepstakes Office (PCSO) as the No. 1 source. And there are some drug companies that also pitch in and supplement the help of PCSO, like if PCSO gives one medicine, the drug company will match that, so that the patient can sustain the treatment.
"Now, PCSO has been very generous, a significant amount of the treatment is given, compared to many years before," notes Doc Denky. "Another advantage is, whereas before, the line was already long as early as dawn, they now already relegated the PCSO desk to different hospitals."
Doc Denky shares the latest cancer update: "One of the things that will be in bloom in the next few months or years is what we call bacteria in our gut. All of us have bacteria in our gut. Now, there's a lot of discussion that bacteria in our gut have a role in many of the diseases in our body. There are different types of gut bacteria. If we eat a plant-based diet, have more vegetables in our diet, we'll be able to shift our bacteria towards the good bacteria."
The trouble is, we don't eat enough vegetables, if we do at all. But what vegetables should we at?
"Any gulay," Doc Denky quickly replies. "Broccoli? You cannot eat broccoli every day. The greener the vegetable, the better, like malunggay, mura lang yan."
Anti-cancer diet
Could you prescribe an anti-cancer diet? Doc Denky says with a sigh, "It's wishful thinking, but people don't behave like they really want to prevent cancer. If you look around, people consume very low fiber. If you go to the cafeteria, sampung ulam, dalawa lang ang gulay, may natira pa. Pag ulam, ubos lahat yan. The repolyo, carrots in the pancit, which are very little, don't count. It's not enough. The common sense anti-cancer diet is a plate that consists of 1/2 vegetables, 1/4 protein, and 1/4 starch. But remember that potato is not a vegetable."
Juice ko po!
What about juicing?
"Eat fast food and then juice? Parang hindi tama," Doc Denky shakes her head. "Eat sensibly and juice. But if you're going to juice, juice the vegetable."
What about fruit juice and soft drink, which is better (or worse)?
"For me, there's no difference between drinking the same amount of orange juice and the same amount of soft drink," says Doc Denky. "Because God did not intend you to drink orange juice, He intended us to eat the orange fruit. You can easily drink four to five oranges in a fruit juice in one sitting. But you can't eat four to five oranges in one sitting. Plus, when you eat the orange, the body absorbs the sugar slowly because of the fiber."
She adds, "The principles of eating recommended for a person with high blood pressure and diabetes are the same principles that will apply to cancer prevention, there's no difference. There are some cancers that may actually increase among persons who have diabetes. For example, colon cancer may be higher among diabetics. That's why sometimes, my recommendation for a person with diabetes is to undergo colonoscopy earlier than if that person did not have diabetes."
Take double note: Too much sugar, says Doc Denky, may increase the risk of developing colon, breast, endometrial, and pancreatic cancer.
Doc Denky is positive that while cancer is no laughing matter, we can beat the Big C with a big smile.
* * *
Dr. Denky Dela Rosa is a member of the Philippine Medical Association, Philippine Society of Medical Oncology, and European Society of Medical Oncology. She can be contacted at 0947-9425688 or at the following clinics: Mondays, Tuesdays, and Thursdays, 10 a.m. to 1 p.m., St. Luke's Medical Center, Bonifacio Global City MAB 820, Rizal Drive corner 32nd Street and 53th Avenue, Taguig, call 715-0861 local 7820; Wednesdays and Fridays, 10 a.m. to 12 noon, University of the East Ramon Magsaysay Memorial Medical Center, Aurora Boulevard, Sta. Mesa, Quezon City, call 715-0861.
For more tips, follow Doc Denky on Facebook and doc_denky on Instagram.