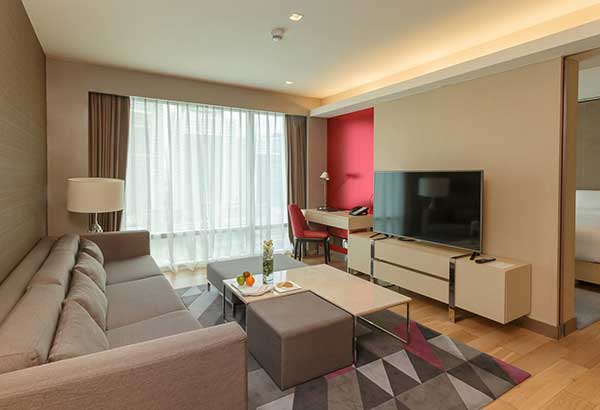 The suite life: The living room in my 23rd floor suite for the day at Novotel Manila Araneta Center
Relaxing weekends are made of this
There are long weekends when the need for relaxation is best for my health.
And so it was that during the last long weekend, I did what was best for my health — took a long drive along the traffic-less streets of Metro Manila and spent the day in a suite — and even had a wonderful massage at Novotel Manila Araneta Center!
I began the day — it was a Sunday — with a relaxing drive in a Volkswagen Polo Hatchback through the quiet streets of Metro Manila. I had no plans for an out-of-town trip so I drove to Novotel, Araneta Center for lunch and a soothing massage after.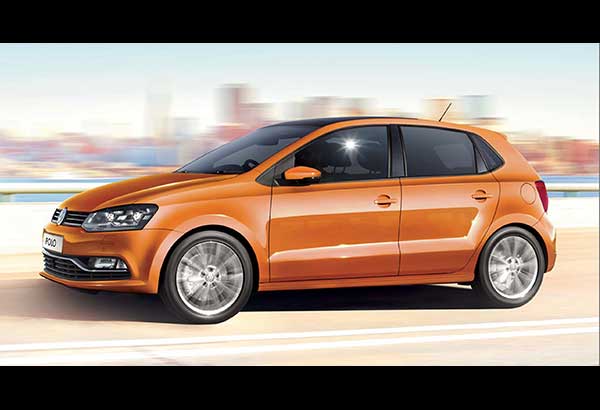 My drive: The Volkswagen Polo Hatchback
Drive on
I have always liked Volkswagen's Polo Hatchbach because of its looks and more so because it's a joy to drive. Matter of fact, the VW Polo Hatchback is what I would call "perfect" for the streets and parking areas of Metro Manila because of its nifty size.
Of course, I must add, that being equipped with the ever-efficient German engineering is what completes the VW Polo Hatchback.
For starters, as one steps into the cockpit, one is met with a tilt/telescopic three-spoke, flat-bottomed steering wheel in front and center of the driver. The leather-wrapped tiller is joined by high-quality fabric seats with the rears having a split-folding mechanism for increased cargo flexibility. The comfort-oriented nature of the Polo Hatchback is further made cooler by its audio system that features a full array of audio inputs, including Bluetooth connectivity. This audio system connects to a high-clarity four-speaker system.
Then there's the engine, a 1.6-liter gasoline engine, which is a Euro 4-compliant engine. It is equipped with a six-speed automatic transmission — ensuring one stays in full control no matter the road conditions.
And the oh-so -mportant stopping power is provided by front discs and rear drums with ABS. The safety equipment is joined by dual airbags, three-point seatbelts for all occupants and rear parking sensors.
I had so much fun driving from north to south and then back north again to my destination, Novotel Araneta Center, on that sunny Sunday noon.
Truly, I loved driving the VW Polo Hatchback and the destination, too!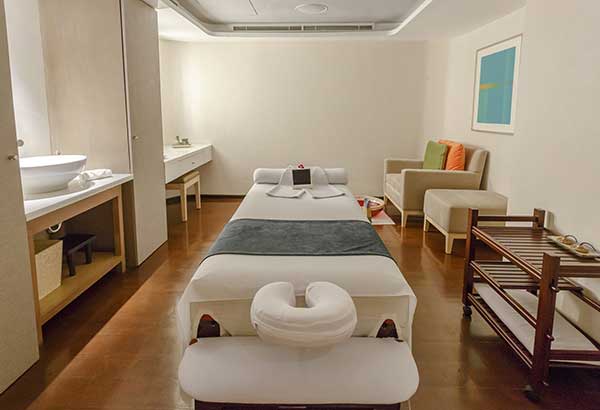 Spa-cial treat: The clean and relaxing room at In Balance Spa
A spa-cial sunday at Novotel
I parked the VW Polo Hatchback in the very spacious basement parking of Novotel and was looking forward to the rest of the afternoon and night at the hotel.
Novotel Manila Araneta Center is located in the heart of Quezon City's premier business and leisure district. It is a place where shopping, entertainment and trade meet. As I drove into the parking lot, I noticed that a few steps from the hotel are major transit stations, the Gateway Mall and Smart Araneta Coliseum. I thought it would be a perfect place to spend the night if there was an all-important concert or basketball game that I wanted to catch at the Coliseum.
But this Sunday was for a spa getaway and I had my mind and body set for a long-needed massage.
I had a late lunch when I got to Novotel. My massage was scheduled at Novotel's In Balance Spa at 8 p.m.
I cooled my heels, rather my bare feet, at a suite on the 23rd floor where I got a lovely view of Metro Manila. But the smog did not escape my notice.
While I waited for massage time, I read through the various treatments Novotel's In Balance Spa has to offer.
"A massage can be a powerful tool to help you take charge of your health and well-being. See if it's right for you," is what the brochure I was reading said.
Did you know that the Mayo Clinic Staff has said, "Massage is no longer available only through luxury spas and upscale health clubs. Today, massage therapy is offered in businesses, clinics, hospitals, and even airports. If you've never tried massage, learn about its possible health benefits and what to expect during a massage therapy session."
At In Balance, you're spoiled for choice as to the types of massage offered. There's the Swedish or Combination Massage and the In Balance Signature Massage. My therapist told me that the signature massage is a fusion of Thai, Hawaiian and deep tissue massage techniques. I was also told that there is an aromatherapy massage with choices like Sigla to uplift and boost one's energy or Hulay to calm the overall being.
In Balance Spa also offers Signature Body Scrubs that use salt and aloe vera as well as other natural ingredients, too.
It is a no-brainer: I opted for the In Balance Signature massage.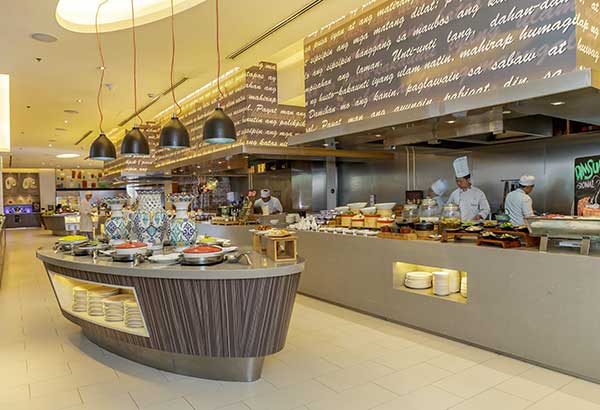 Eat's time to binge: The tempting buffet at Food Exchange Manila
It's time
I have often believed that a massage is part of complementary or even good as alternative medicine. Massages are increasingly being offered, along with standard treatments for a wide range of medical conditions and situations.
My Signature massage lasted about 90 minutes. It is not what I would call relaxing massage since it was one of those deep-tissue massages. Also, my therapist told me that my muscles were so tight and needed to be kneaded really well.
For the next 90 minutes, I put my mind on hold and enjoyed the pressure of the much-needed massage. I was not disappointed — I found the massage to be a powerful tool to help soften my overused muscles. Perfect!
* * *
For information, call Novotel Manila Araneta Center at 990-7888.