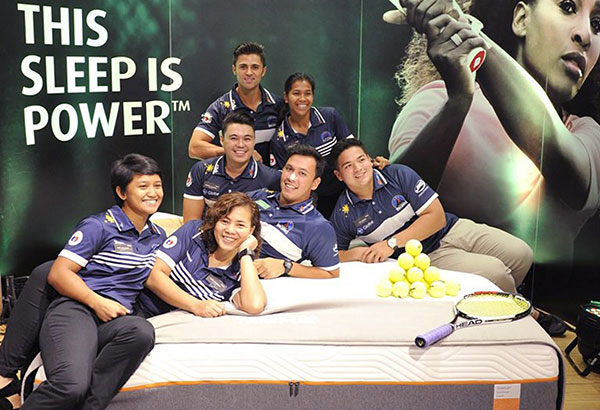 Bedded bliss: The Volcanoes — Acee San Juan, Aye Honoras, Christopher Bird, Manuel Olondriz, Kai Stroem, Steven Near, and Rara Sales — relax on their Tempur mattress.
How important is a good night's sleep to Christine Jacob-Sandejas, Chris Tiu, and the Volcanoes?
How many of us can really say we get a good night's sleep every day?
Well, Christine Jacob-Sandejas, Olympic swimmer, TV anchor, and mom to five, says she does. New dad and hardcourt heartthrob Chris Tiu and our rugby hotties, the Volcanoes, say they do, too!
"We can now believe our parents when they tell us we have to sleep early, don't stay up late," affirms Christine Jacob-Sandejas. "Sleep is one thing we take for granted, everybody sleeps. But apparently, there's now a science to it. When you do sleep, it actually helps you lose weight. I discovered only lately that the better sleep you get, the better it is for your hormones."
The fit and fab Christine adds, "And it helps my husband to be a more pleasant person the next day. If he doesn't sleep well, our whole house is in chaos. And one thing I'd like to share with you is as we age, we should pay more importance to posture. We have to make sure our back is comfortable, we don't get any stiff neck, and that's the only way we can be happier the next day. I know that if my posture is not right when I sleep, I develop aches and pains the next day. And my husband can attest to that because he wants to wear his wallet on one side and all of a sudden, he'd have lower back pains."
Christine's perfect bedmate
Obviously, Christine has discovered the perfect bedmate. And so have Chris Tiu and The Volcanoes. And they're happy to share the secret to their bedded bliss: Tempur!
"Tempur is many things. First of all, it's a material, a high-performance foam first developed by NASA and featured in all the products they create," says Simon Walsh, SVP for Asia-Pacific, Tempur Sealy, who flew in from Singapore for the opening of the Tempur store at Ayala Malls the 30th in Pasig.
Tempur, made of viscoelastic foam, was developed by NASA for astronauts in the early 1970s to cushion and support aircraft seats and prevent accidents during lift-off, as the pressure-absorbing material evenly distributed the astronauts' body weights. A decade later, a Swedish company and a Danish company collaborated on improving the NASA creation, perfecting the Tempur material for use in mattresses.
"It's more than a memory foam, and without this groundbreaking material, the Tempur brand would not have been born," Simon stresses. "Today, Tempur has grown with a strong association to medical professionals to become the biggest-selling and most recommended mattress brand in 90 countries worldwide. But there's more to Tempur than that — it's a feeling, it's a completely supported night's sleep, it's a sensation of weightlessness using materials with the ability to conform, adapt, and relieve pressure for each individual body; and it's a promise of exceptional quality. And for those considering a Tempur mattress, it's a guarantee of something made with a passion — the design, detail that would last for years and years, often longer than many of our competitors' mattresses."
Serena: Sleep is power
Tempur has found a global endorser in Serena Williams, probably the greatest female tennis player of all time. "Pressure I feel it every day, but at night, it's the last thing on my mind. My Tempur has adjusted to my weight and shape, relieving pressure from head to toe. So I sleep deeply, feel light, and when I wake up, I'm ready to perform. Tempur, your sleep is power," declares Serena.
Jake Robrigado Letts, who's been with the Philippine Volcanoes for 12 years as a player and is now also the national team head, agrees with Serena 100 percent. "Athletes need their rest... We're healed by sleep, so it is a key moment for all of us. We need to be sure that our bodies are ready for the games. It's the quality of sleep that's more important," says Jake.
Lady Volcanoes Hilla Indigne, Rara Sales, and Aye Honoras talk about their rigorous training schedules and how sleep helps them give their best performance. They share, "Normally, nights before the tournament, we're tired, agitated, and anxious. Our Tempur Travel Kit and accessories help us relax while we travel."Rara gives a sweet and brief confession, "For me, sleep is life!"
Aye has a back problem and sleeps whenever she can, even on flight layovers.
A Lady Volcano complains, "Our beds in camp are overused."
Chris Tiu: New dad, new lifestyle
A hands-on dad, Chris Tiu relates that when he was a new dad, he had to wake up every two to three hours to help feed the baby. "I felt the difference of not having enough sleep," he confesses. "It can really affect your performance not just physically, when in training for the sport, but also mentally; when you go to office and you didn't have enough sleep, you can't think straight, you can't think clearly. So sleep is really important in my lifestyle and I guess in everybody's lifestyle. The Tempur mattress and pillow really solved the problem. Now that the baby is a bit older and sleeps in the other room, I sleep long enough."
Chris further recounts, "The first time I tried Tempur was with the pillow, it was a gift during our wedding five years ago and we really felt the difference. Before, I would have stiff necks when I wake up because of the improper posture, but now, because the shape and contour (of the Tempur pillow) naturally adjust to the shape of my body, it relieves the pain and I wake up fresh, ready to go."
Clarice Patrimonio, 23, tennis silver medalist at the 2017 SEA Games, stays on top of her game by getting the best sleep she needs, thanks to her Tempur Symphony mattress and (jolly good) pillows. She says, "When I sleep well, I feel recharged the next day."
Steve Sy, Tempur partner in the Philippines, actually came across this Danish product through a friend. They were having dinner 13 years ago when his friend told him, "Steve, I have the perfect product for you." Steve tells us, "He told me it would be a perfect fit for the producs I sell. My friend has sleep apnea and snores at night. His sleep disorder was instantly solved when he bought a Tempur mattress (because your body weight is evenly distributed, the air waves in your lungs are not restrained). I went to the US and looked for a Tempur store. My wife bought a pillow and she loved it. When we got back, I got an email saying they were looking for a partner. I said I would try their mattress first and if I liked it, I would represent them. They sent me a mattress and paid for the air freight. I had a good night's sleep. I got the original Tempur that's a little more firm. Some people like it very soft, some like it firmer. But once you sleep with a Tempur, you won't sleep with anything else. Your body will look for it."
And so, to bed! Have a good night's zzzleep everyone!
* * *
Tempur has stores at Ayala Malls the 30th, Shangri-La Mall, Bonifacio High Street, Greenbelt 5, Design Center of Cebu in Cebu, and Vertis North.