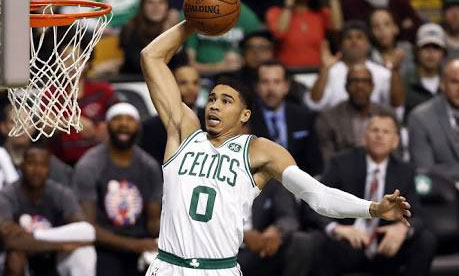 Boston Celtic Jason Tatum shoots for the stars.

Jason Tatum dreams of becoming rookie of the year
The Boston Celtics are one of the revered franchises in the NBA, and they are looking to take it up another notch this season, hoping for another title, and they are very excited about their chances with rookie Jayson Tatum in the fold.
Tatum was highly recruited for college and he ended up in Duke University. After one year, he declared for the NBA draft and was selected third overall by the Celtics.
When Gordon Hayward went down in their very first game this season, expectations were tempered somewhat, but the quick transition of Tatum to the pros has helped ease the pain because he has turned out to a gem of a player.
The STAR had a chat with him, together with members of the international media.
PHILIPPINE STAR: How do you see your position now as an NBA player?
JASON TATUM: I think it's been going pretty well so far. Just continue to get better, soak up as much information and learn as much as I can each and every day to try to get better, help the team out.
What was the biggest adjustment from college to the NBA game, and did you expect to be so effective shooting from the three-point line?
No, I didn't. I've been working on it a lot, but I didn't think I would shoot it this well. And the biggest adjustment is just we play so many more games than we do in college, so you've got to really take care of your body.
Is the Rookie of the Year award among your goals for this season?
Yeah, that's always been one of my goals, to win that award. But I think just focusing on team goals first, and if we keep winning, the rest will take care of itself.
Why do you think you had a good transition into the NBA after only one year in college?
I think playing for coach K and Duke prepared me. I just carried that over to this season. Just come in every day and work hard and just try to get better.
Your team has adjusted very well with the loss of Gordon to injury. Should Brad Stevens get Coach of the Year?
Obviously, when Gordon went down, it was tough. Basically, everybody had to do more on the offensive end and defensive end. We had to come together and still find ways to be effective and win games, and we really triggered in on defense.
We have the best record in the East, and obviously Brad is one of the best coaches in the league. Hopefully we keep winning, and we'll see what happens.
Did you honestly expect the success of this team?
No, I didn't. Obviously, when Gordon got hurt, people got more playing time and got more opportunities, and guys just had to step up. From that being the first game of the season, we had to catch on quick.
* * *
Follow me on Twitter and Instagram @anthonysuntay, and like my Facebook page: Anthony Suntay.