MJ Lastimosa on an experience of a lifetime and more!
During that awkward moment with the other contestants who didn't make the final five for the title of Ms. Universe, Mary Jean Lastimosa made her way backstage where the other eliminated contestants were crying and hugging one another. When "Philippines" wasn't called out as one of the final five women, the 27-year-old lass from North Cotobato felt sad and hurt.
"I had to dig deep into my life's lessons and not let any negative emotions overcome me," she recalled. "It isn't just me but for all of us – we had to maintain our composure and smile. I thought to myself, 'Is this it? Is the journey over?'"
As she made her way backstage, some of the other contestants came over and hugged her.
"MJ! I can't believe you didn't make it," cried Ms. Gabon, Maggaly Nguema, who had become close to the Filipina in their time in Doral. MJ, who didn't cry at all, smiled and gave her friend a hug. Then she wrapped her arms around the other girls and consoled those who were in tears."
But who consoles those who need some consoling as well?
Ever since she was a young girl, Lastimosa had to deal with adversity and stay strong no matter what the circumstances.
"I was born in Saudi Arabia but moved to the Philippines at a young age," she related. "I grew up without my parents who remained in Saudi Arabia and that was difficult that first as I stayed with an uncle in North Cotobato who I didn't know right away. Living in North Cotobato… there was constant gunfire and explosions. We always had a getaway bag – clothes and food – ready in case we needed to evacuate because of the fighting between government troops and Muslim rebels. There were always gunshots and dead bodies all over the place that for a while I wondered if this was normal. My uncle taught my sister Maricar and I to be strong and composed."
When there wasn't a gun battle raging nearby, the sisters were told that under no circumstances should they entertain any suitors but to concentrate on their studies. That didn't stop the young MJ from getting love letters from admirers. "But that was it," she smiled at the memory. "We had to remain focused on our studies."
Living in Mindanao, she was used to a simple life that her dream was to work and own and live in a nice house with a garden. "Maybe that was a product of my upbringing that I didn't know there was a bigger life that existed beyond where I was. Coming to Manila opened my eyes to more possibilities."
When MJ first joined the Bb. Pilipinas beauty pageant, it took her three tries before she won the pageant and the right to represent the Philippines in the Ms. Universe competition.
"Ups and downs are a part of life," she remarked. "You have to remain focused and not give up. The problems and setbacks? They toughened me up."
Despite the previous four Filipina bets in the competition making the final five of the Ms. Universe, she didn't feel pressure. During the weeks that preceded the pageant, one of the other contestants said that she was a shoo-in to make the last cut. MJ admitted to being surprised by the remark. "No," she laughingly protested to her colleagues. "Nothing is a given. You have to work for it."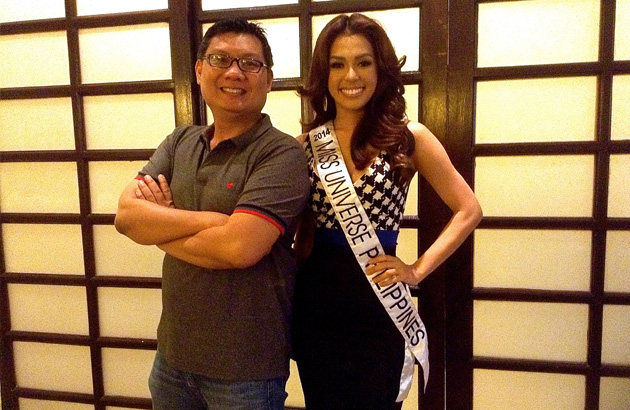 MJ Lastimosa with the author
Prior to her departure for Florida, she was warned about how the competition can be cutthroat with others deliberately sabotaging another's make up kit or dresses. She kept that in mind but she was certainly pleased to say that there were no untoward incidents.
"No horror stories at all!" she laughed. "I think that this batch bonded quite well. We all helped one another all throughout."
Lastimosa and Ms. Poland, Marcela Chmielowska, who were next to one another in line, always helped each other out with their hair, make up, and clothing among others.
One thing she learned during the pageant was how different countries view the pageant.
"One of the girls – Ms. Netherlands, Yasmin Verheijen, said that whenever she is interviewed, she is always asked about her boyfriend Khalid Boulahrouz (who used to play for Chelsea Football Club as a defender and is now playing for Dutch team Feyenoord). We chatted the other day and she told me that there were all these media waiting for her at the airport and for the first time in her life, they didn't ask questions about her boyfriend. That was funny but that girl deserves to get the attention."
"Each country really has its own culture and how they view the pageant. They didn't know that the Ms. Universe is a big deal in the Philippines. Some of the girls were surprised that I could do my make up and hair quick while they had trouble with theirs. So I helped out."
Lastimosa received a lot of support from Filipinos who either lived in Florida or flew in from out of state or from other countries. She always had flowers, stuffed toys, and chocolates waiting for her at the lobby.
"One of the things we bonded over quite well," she recounted. "Chocolates. One time, everyone was stressed out because we were getting very little sleep and the competition was getting tougher. I asked, 'Anyone want chocolates?' They all said, 'Give it here, girl.' Everyone needed that sugar rush. So throughout the pageant, we had our chocolate time where we would all sit around, nibble on the chocolates, and tell our stories."
When the pageant ended, she took the long flight back home by herself and with a lot of time for reflection. "No posse," she joked. "I was by myself."
Before the competition, she had to deal with the death of her uncle Sergio who raised her during her younger years in Mindanao. "He was like a father to me and he was the one who molded me into who I am today."
For the first time in the interview, her voice cracked. She reverted to her non-beauty queen self. "During the pageant, I grieved for a moment but had to compose myself. It was what my uncle would tell me to do. There was a job to do and that was important. One the flight home, I thought of him and everything that had just occurred."
"Inside the plane, I was quiet and kept to myself because I didn't want to come across as being fresh. I felt I had let my countrymen down," MJ confided. "Now there were these Filipinos who tracked my flight and my stopovers. I thought it was sweet that they'd come up to me at the airport just to greet me and offer some good words. Inside the plane, they started going up and giving me hugs and more encouraging words. And the moms – they were terrific. That helped ease the pain."
Mary Jean Lastimosa didn't come home without a top five finish or the tiara that is placed above the head of the declared Ms. Universe. "The Top 10 finish? I wish I did better but on a stage with all those talented and beautiful women and the whole world watching, it's not so bad," she said. "I brought home this wonderful experience that I will treasure forever. And I am proud to represent the country. I have also made some new friends and that is priceless. I grew up facing adversity. I never had anything handed to me on a silver platter and had to work for things. Some of the things they teach and tell you all the time during the pageant are to be confident and stay positive. I'll be taking those lessons to my next endeavor."
And those chocolates?
MJ Lastimosa flashed that vivacious smile and laughed, "Yes, and the power of bonding over chocolates."