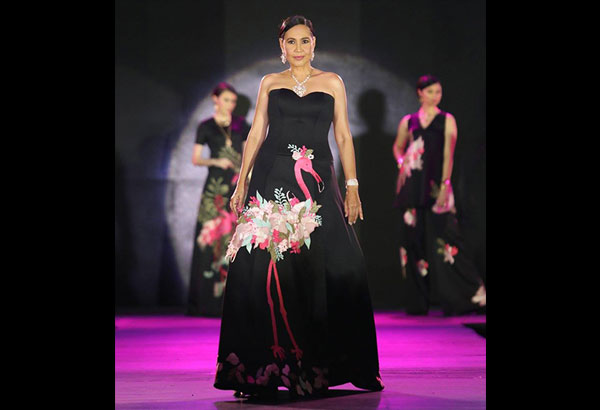 Arcy Gayatin's muse Merce Abellana
Celebrating 50 years of Oro China
The homegrown Cebuano jewelry brand Oro China was established in 1967 and its success is largely attributed to its work ethic of honesty, hard work, integrity and a high level of dedication to the company.
Now in its 50th year, Oro China celebrated the significant milestone with a gala dinner at Radisson Blu Cebu. The ladies came in their lovely evening gowns, while the gentlemen wore perfectly tailored dark suits or embroidered barong Tagalog.
The by-invitation-only event highlighted the occasion with a fashion show that featured the creations of Cebuano designers Jun Escario, Arcy Gayatin, Philip Rodriguez and Cary Santiago, each presenting a five-piece collection, as did Manila designers Rajo Laurel, Francis Libiran and Randy Ortiz.
The event also presented Oro China Jewelry brand ambassadors Chesca Garcia-Kramer, Isabelle Daza and Gloria Diaz. The three lovely ladies, together with the equally gorgeous and statuesque models, glided on the runway wearing the designers' fabulous masterpieces.
Oro China's ladies' jewelry collection included multilayered necklaces, bracelets and earrings in a variety of shapes, sizes and textures.
This brought to mind that the best rule to follow when wearing statement jewelry is to simply select one piece to wear at a time. Once you have this, then you can choose matching pieces that are simple, but still complement the chosen statement item, such as a pair of diamond or pear studs.