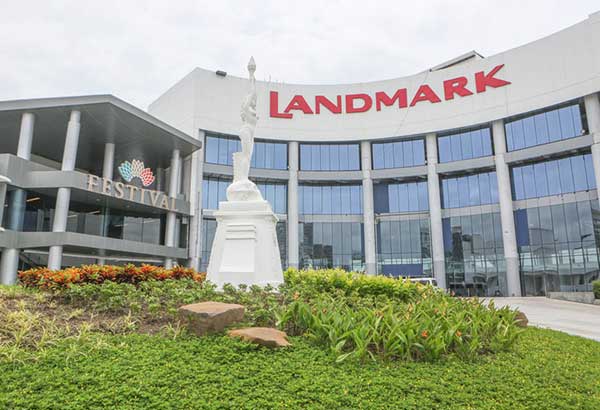 Good news for the south: The Landmark Alabang supermarket is fully operational while the department store will open within the fourth quarter of 2017.
A new Landmark rises in the South
Landmark Alabang is the best Landmark yet, and it is the best supermarket in Alabang," founder and chief operating officer Teddy Keng assures The STAR on the jovial occasion of the four-storey department store's ribbon cutting.
Teddy's excitement is shared by good friends, suppliers and business partners as well as residents of the surrounding areas who seized bueno mano deals and discounts. After all, this is an internationally-awarded supermarket brand in terms of retail design and green practices, well-loved for the widest range of local and imported merchandise and excellent service, all at the best prices.
Landmark Alabang anchors the new wing of Festival Supermall. The supermarket and food court are now functionally complete. "Whatever board ups you see are attachments to the department store area, which will carry more choices for apparel, shoes, bags, accessories, furniture and home décor, cosmetics and personal care, appliances, stationery, and more. We are planning to open three months from now, during the fourth quarter of 2017," says executive assistant to the vice president Kenneth Keng.
Location, location, location
"Landmark completes the mixed-use offerings of Filinvest City. Expanding our footprint means improving our products and services. It's part of our commitment to deliver the master-planned community and mixed-use development to enhance the experience of our customers, occupants, and residents," Filinvest City SVP for retail Joy Polloso agrees.
One of the reasons behind Landmark's success is it's always so accessible to everyone. Alabang has been in Teddy's expansion plans, a strategic decision to be able to service not only the surrounding Muntinlupa, Las Piñas, and Parañaque areas, but also Laguna, Batangas, and Cavite. Being in Filinvest City, Landmark is also accessible via public transportation through the South Station Terminal for buses, PUVs, and jeepneys. Having Landmark Alabang means one less reason to have to brave Metro Manila traffic — not to mention those toll gate and expressway fees.
Filinvest City is the largest central business district in the south with office and residential components as well as a hospital and hotels. Far Eastern University will open in 2018. Walkable accessibility is made possible by a foliaged covered walkway called the Green Spine and a bike lane slated to be completed by next year in line with the award-winning developer's vision of decreasing vehicular traffic for a healthier and greener lifestyle. But for those who insist on driving, Landmark has underground parking for free until Aug. 28.
Landmark Alabang is the first Landmark in the south and the third in the country — a timely opening as Landmark turns 30 next year, along with a string of openings in the coming years in Santa Rosa, Laguna, Entertainment City, Paranaque, and Cebu.
Bigger and more upscale
The supermarket can be accessed through the new Festival Mall, past a walkway that's neon-lit at dusk and bound to be Instagram bait, but it's really when approaching the glass-walled facade from the elevated driveway on tree-lined Civic Drive that you can see what Teddy means.
"We chose to wait until the opening of the Festival Mall expansion to be able to make use of a more open space," says Teddy. He worked with Seattle-based design firm MADesign in a concept that complements Festival Mall's expansion project. Utilizing a gross floor area of 60,000 square meters, the look is contemporary as natural and outdoor elements are incorporated, with floor-to-ceiling windows and cuts meant to draw and maximize natural light where possible.
Hugh A. Boyd Architects, the same New Jersey-based firm responsible for the Makati and TriNoma supermarkets, took it up the notch in the Alabang supermarket where they have a total of 5,500 square meters (the selling area is 3,200 and checkout area is 351), smaller than the first two, but going around, the space even feels more spacious.
A mix of triangular and circular cutout ceilings create the illusion of even more ceiling height, waving through wrap-around, floating kiosks, gondola shelving, slick display cases, and wide aisles that flow just beneath them. Energy-efficient metal halide and fluorescent light fixtures theatrically spotlights a wider variety of the freshest produce as well as imported and local merchandise. Glass and hidden perimeter lighting in vertical shapes create the illusion of windows (although one does discreetly conceal the meat-cutting area behind it), with botanical tile art on the walls.
"We figured for this area, there are a lot of big families who enjoy hosting gatherings at home rather than dining out. We've expanded the deli section, the cheeses, and meats," Kenneth explains the merchandising. "The wine and alcohol selection here is bigger," he says, referring to the jewel-like glass enclosed area just outside of the supermarket.
"We've made market adjustments [for the more upscale Alabang and Filinvest City demographic], but the space helps to be able to make room for more higher-end items and updated creative displays with an airy and park-like feel," says Kenneth.
In the 970-sqm. food court (long-time Landmark concessionaire Via Mare will also be here), the ceiling treatment also employs the same visual tricks with wide linear cutouts, smaller rectangular lamps hanging within them, drawing the eye to the windows. The seating capacity is 949 people, with partitions creating intimacy in solid acrylic whites that match the tables and chairs, all shiny and sleek so as to not take away from the view.
The floor-to-ceiling windows look out to a flowing water garden surrounded by fountain terraces and landscaped pocket gardens. Hanging lights set the trees aglow at night. Perfect for relaxing Sundays with the family — counting in our furry friends — after the supermarket chores are leisurely done. Festival Mall's new wing al fresco area, allotted for dining concepts, is on the other side.
More to come for home and fashion
The department store, also accessible through the food court, will open just in time for the yuletide season and Landmark CEO Elizabeth Cheng assures that there's more to look forward to in each 7,000 sqm. floor: "We are bringing to Alabang beautiful bed linens that are unique and exclusive for Landmark. We will showcase Christmas items. Our theme is Holiday Romance which will go with various motifs of homes in all subdivisions in the South."
"I am a foodie and shopaholic. I enjoy buying gadgets used for cooking and serving food, and thanks to our capable merchandisers, I now can get them at the store instead of having to buy them whenever I get a chance to travel. I am also a frustrated interior designer, I am constantly on the lookout for decorative things that would enhance living spaces," she says, echoing the sentiments of Landmark's loyal shoppers who have made the home and appliances sections the country's best-kept interior designer secrets with its high quality offerings at competitive price points.
Senior VP for merchandising Linda Keng isn't much of a shopaholic, but when she does need new items to update her look, she goes straight to the department store's apparel and personal care section and it's not just because of proximity. She says, "Whenever I try to shop elsewhere, I always discover that our prices are always better." And she's not alone. Celebrity stylists are known to source accessories at the Makati store for their clients, and beauty lovers know Landmark carries Asian Beauty brands as well as professional products previously only available online in Manila.
South people have been known to make the trip to Makati for these deals, but now, they don't have to. They can now enjoy that Landmark signature of giving you the best value for your money, made even better with the laidback Alabang lifestyle.
* * *
The supermarket at Landmark Alabang is open from 9 a.m. to 9 p.m. Landmark Alabang is at the new wing of Festival Mall, Civic Drive, Filinvest City, Alabang, Muntinlupa.