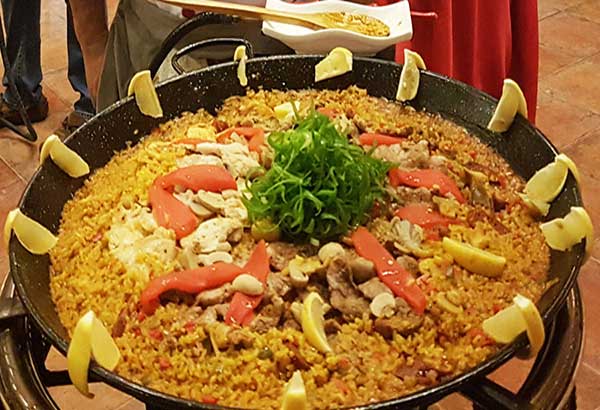 Paella de Carnes Variadas
The Casino Español De Cebu, being proud of its traditions, recently celebrated the Dia De Santiago or feast of Saint James, the patron saint of the Spanish people, with an art exhibit, sporting events and promotions of Spanish wines, food and products.
One of the highlights of the week-long activities was a cooking demonstration of paella. From very humble beginnings in Valencia, Eastern Spain, this dish has spread around the world to become one of the most popular global rice dishes. With variations limited only by imagination, even within Spain, three Cebuano culinary artists and one Spanish guest chef created their version of the most known Spanish paellas.
Restaurateur David Ugarte prepared Paella Negra, Casino Español chef Rico Villarante interpreted Paella de Carnesvariadas, cuisinier Alfonso Martinez presented Paella Valenciana, and Spanish chef Pablo Pardo created Paella Parellada.
The colorful paella gets its name from the pan it is cooked in. The dish draws upon a variety of possible ingredients — lobster, prawns, clams, mussels, squid, chorizo sausage, chicken, rabbit, beans, peas and red peppers. Only olive oil, rice and saffron, which provides the yellow glow — are used.
Paella Negra, a Valenciana and Catalan dish, is similar to seafood paella. This calls for squid ink, cuttlefish or squid, white rice, garlic, green peppers, sweet paprika, olive oil and seafood broth. However, many cooks add other seafood such as crab and shrimp.
Paella Parellada, sometimes called the rich man's rice, can be cooked or baked. It is different because everything is peeled and all the meat is boneless to make dining more convenient and enjoyable.
A truly typical Paella Valeciana would include seafood, rabbit and snails in addition to chicken. It also has white beans that are hard to find outside of Spain.
One rule that a paella purist will insist upon is not to stir the rice as it is the key to paella's flavor. Not stirring allows the dish to achieve a crispy golden brown crust known as socarrat that forms at the bottom and is the most desired part of paella.
Enjoying the exceptional Spanish gastronomic feast were club president Paco Jarque, members of the board Anton Perdices and Eduard Loop, general manager May Ocaba and members of the Casino Español.