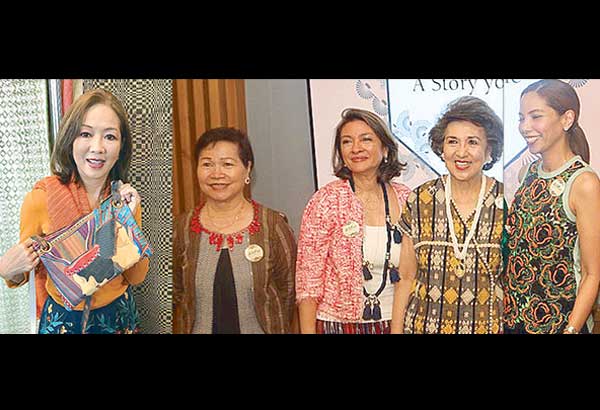 ArteFino organizers Cedie Lopez-Vargas (with a pouch by Olive Tree), Mita Rufino, Susan Quiros, Maritess Pineda and Mel Francisco Photos by JOEY VIDUYA
LOCAL IS COOL: ArteFino brings local artisanal products to the people
MANILA, Philippines — ArteFino, which made its debut at the 8 Rockwell Penthouse last Aug. 25 to 27, thrust into the spotlight the quiet revolution that was previously only known to insiders and the social media savvy: Filipino craftsmanship has evolved in style, and we have long waited for a venue like ArteFino to bring these products closer to us. The success of ArteFino lies in how it has affirmed this fact to the mainstream market, and moreover, in how the three-day event opened more doors for local artisans.
Over 70 retailers, curated by visual and furniture designer Ito Kish, redefined the concept of the artisan craft fair by bringing their unique products. Finally, they had a venue through which to present their work — the Rockwell community has always encouraged its residents to explore the modern Filipino lifestyle, and with ArteFino, it showed its support for the artisans.
Creative director for ArteFino Finds, jewelry designer and supporter of local crafts, Wynn Wynn Ong devoted her choices to craftsmen who are capable of breaking into the larger retail market. She encouraged artists to present out of the box pieces and laid them out in special displays.
ArteFino prime mover Cedie Vargas acknowledged that it has achieved its goal, sharing that the fair allowed the vendor, buyer, craftsmen and artisan to interact, and support and sustain traditions. She added that the general vibe of the fair brought in a wider age group, affirming that Filipino products are now part of the thriving local design scene. Standout exhibitors include: Tatsulok (a collaboration between Al Valenciano of Balay Niatong, Len Cabili of Filipinna, and Natalya Lagdameo), which won Stilo ArteFino Best Booth and Lexus Manila Most Innovative Brand; and Halo Halo Store (Rocco Sumabat, Cara Sumabat-Limjap and Marco Limjap), which won Stilo ArteFino Best Product/Collection.
"What we feel strongly about and are committed to is showcasing the best of what we see in the Philippines. Even now, we feel that we're only scratching the surface. There's a lot. We also try to find artisans that are poised to and have the discipline to meet the demands of a platform like this. You have to educate your buyers; you can't just sell. That defeats the purpose of ArteFino, which aims to educate, enlighten and create that growing awareness for patronizing what is truly Filipino. The exhibitors have to be able to talk to their buyers and explain their products and process, and the stories behind their products." She adds, "We intend to grow ArteFino as a movement, and be able to engage other artisans to help us move this towards creating a sustainable ecosystem of artisans, designers, producers and communities that create the kind of products that find their way back to ArteFino."
ArteFino mainly benefits living traditions — artisans in far-flung provinces who continue in their craft, and those who support and enable them to develop and evolve sustainable business, and hip, marketable products. This won't be the last time we'll hear of it, too. Rockwell has committed to be a partner of ArteFino for years to come.