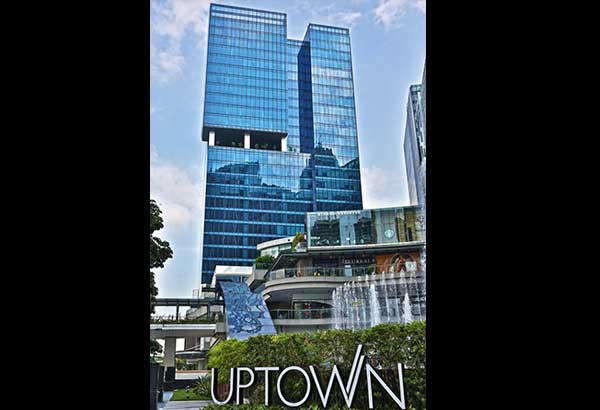 The new Megaworld corporate headquarters is in Alliance Global Tower, a 30-storey, glass-clad green office development that has a direct connection to the award-winning Uptown Mall located in the property giant's 15.4-hectare Uptown Bonifacio township. Photos by WALTER BOLLOZOS
Billionaire Andrew Tan works, chills and bonds with his 3,500 employees in this beautiful tower
Everyone is given the opportunity to participate in the process of developing ideas and setting goals for the company."
Words of Dr. Andrew L. Tan, chairman and chief executive officer of Alliance Global Group and Megaworld Corporation, are embossed on the entrance of The Great Hall, the expansive dining facility inside Alliance Global Tower, Megaworld's brand-new corporate headquarters.
There are more motivational wallpapers on every floor, but working within the 30-storey, glass-clad green office development is inspiring itself. Every floor gets sweeping views of the metro all the way to Antipolo and Laguna Bay as far as the eyes can see. Located in the company's bustling 15.4-hectare Uptown Bonifacio township, it is a study on how office design reflects a company's culture and values — and how it can make it thrive.
"The building has been carefully planned so we can achieve maximum efficiency in all our operations. Before, our departments were all over the place. It was difficult to establish synergy. Now, we purposely designed it in the way we operate our business," says Alliance Global executive director and senior vice president Kevin Tan.
After a three- to four-year construction period opened just in time for the property giant's 28th year, Kevin, together with Megaworld executives including chief operating officer Lourdes Gutierrez-Alfonso, walked a select group of media friends on a tour led by Megaworld senior assistant vice president and head for public relations and media affairs Harold Geronimo.
Tan notes the layout of the building and how it relates to the workflow: on the 18th floor, in the middle of it all, is the executive floor and the Chairman's Boardroom. It can accommodate 54 people — and more, remotely, with high-tech conferencing features. Above it (and accessible through flights of stairs to lessen elevator traffic delays and a healthier lifestyle) are the Megaworld corporate offices until the 25th floor; on the 17th floor is the accounts management office, just behind the customers' lounge. On the floors below, subsidiaries Empire East Land Holdings, First Oceanic Property Management, and Global-Estate Resorts Inc.
Around 3,500 office employees were scattered throughout different buildings in Megaworld township Eastwood and around Makati. Now all under one green roof: there is a 445-square meter sky garden at the roof deck, the layout reflecting the compact efficiency of their townships. Boracay, McKinley Hill — these are not just the locales of Megaworld's townships but also two of over 100 conference room names.
Work-life balance
A cursory look at the conglomerates' diverse portfolio includes liquor and entertainment — and entertain Andrew Tan does well with a fully stocked bar of Emperador and Fundador brandy, as well as Dalmore whisky. By his work desk is a landscape by Juvenal Sanso. We also spot his portrait gifted to him by an employee. Behind a discreet entrance is his private relaxation room, a recluse for a few minutes of peace and quiet where the tycoon can sit back in a plush brown La-Z-Boy.
Lourdes, on the other hand, requested for a meditation area in her room, and she gets it in a corner tucked behind a beam with a plush armchair and a tiny fountain, but not so much to de-stress. She tells me, "Creativity is an important approach to solving problems."
Both executive offices have direct access to the Skygarden, a 300-square meter landscaped deck which looks out to the township rising and expanding beneath their feet. Four residential condominium towers with retail spaces on its lower floors are under construction, and they are building one more office tower, World Commerce Center on 11th Avenue.
Megaworld's office floors have wide working spaces, including training and testing rooms, spanning across 2,100 square meters per floor. Each floor features an open office layout to encourage corporate transparency among its employees.
In line with the goal to synergize operations, Kevin says, "It was important to have areas for all employees to converge." Each floor features employee lounges: the Wellness Lounges are equipped with ellipticals, treadmills and showers while the Creativity Lounges are mini libraries with hardbound volumes on leadership, business, and creative thinking. Each lounge also has a pantry with tables and chairs, as well as coffee facilities.
"Being on top of Uptown Mall — just an elevator ride away through the 4th floor connected to Uptown Mall's Food Hall — makes it more fun for the employees," he adds. Also accessible through the mall is Uptown Mall's chapel park.
Come lunchtime, however, employees still pack into The Great Hall on the 26th floor. As with each floor, here, they have a panoramic view of the metro, best enjoyed with a delicious lunch set for as low as P40 with a McFloat on the side (Alliance Global is its exclusive Philippine franchisee).
Feng Shui approved?
The younger Tan's office has yet to be completed on the top floor. "My office faces east. I'm personally more into feng shui, and it is generally good to face where the sun rises," says Kevin. "I have an office in Eastwood and I don't want to give that up because we have good feng shui there."
Feng shui is by definition akin to the goals of estate development: creating harmony in a space. Is the Alliance Global Tower feng shui approved? "To a certain extent," he answers with a grin.
What's certain is that the Alliance Global Tower is a LEED-certified office building. The building's façade is made of double-glazed glass curtain wall, allowing natural light to penetrate the building but with less thermal heat and good sound insulation for highly efficient energy consumption. There are water-efficient landscapes as well as bike racks. The building uses non-to-low toxic green cleaning products and pest control strategies.
An integrated Destination Operator Panel (DOP) and keycard access system is in place for its elevators, allowing smooth in-and-out traffic of elevator passengers and for efficient security monitoring. Aside from the regular toilets for employees and guests, each floor also has its own toilet for persons with disabilities (PWDs).
Last May, the building won the Best Office Development award at the 2017 Philippine Property Awards.
A few days ago, the Alliance Global Tower also received the Outstanding Sustainable Development for Office award from the International Real Estate Federation (FIABCI Philippines) during the 2017 Property and Real Estate Excellence Awards.
With a good workplace conducive for inspiration and work-life balance, plus a bit of good fung shui, we are right to expect only bigger things from Megaworld.
* * *
Megaworld is at the Alliance Global Tower, 36th Street corner 11th Avenue, Fort Bonifacio. It can also be accessed through Uptown Mall via the Uptown Mall Food Hall.