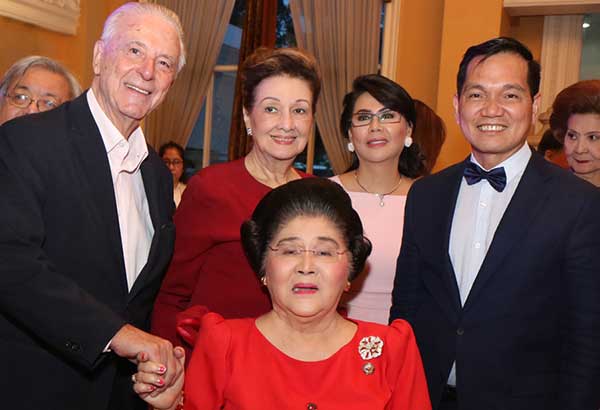 Guest of honor Ilocos Norte Second District Congresswoman Imelda Marcos; with (standing) Caruso Ristorante Italiano owner Emilio Mina, Dr. Ingrid Santamaria, Cheloy Ignacio and Muebles Italiano president and CEO Noel Gonzales
Muebles Italiano president and CEO Noel Gonzales hosted a soirée in honor of Ilocos Norte second District Representative Imelda Marcos. Attended by the former First Lady's friends from the government, diplomatic, business and social circles, the party was a true celebration of life and friendship. The guests enjoyed a sumptuous spread of Filipino and Asian dishes, while some gamely performed a few of madam Imelda's favorite songs. A fun, unforgettable evening was had by all.
Overcoming obstacles
Philippine Reclamation Authority chairman lawyer Alberto Agra was recently named president of Pilipinas Obstacle Sports Federation (POSF), the national sports association on obstacle sports and recognized by the Philippine Sports Commission. Aside from leading POSF, Al also actively competes and trains — he has joined several obstacle course races so far and has plans to join more in the future. Just six months since its formation, POSF has organized countless events to promote this new fitness craze. On Nov. 12, it will sponsor the first ever Gymnasium Obstacle Sports Challenge at the Blue Eagle Gym in Ateneo de Manila University, Quezon City.