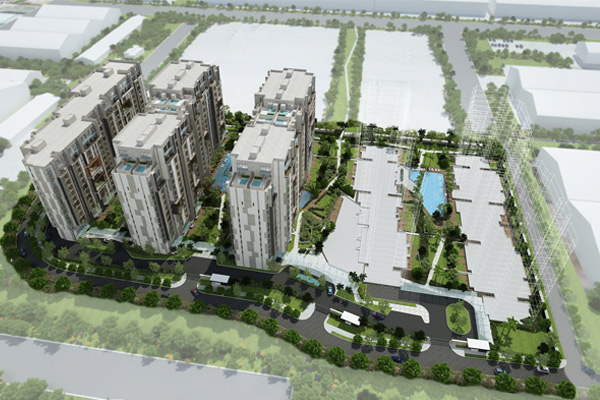 Visitors to Ayala Land Premier's latest showroom for Arbor Lanes have likened the experience to entering an art gallery or modern museum.
Ayala Land Premier/Released
First of its kind showroom gives Filipinos an engaging experience
(philstar.com) - October 11, 2017 - 10:15am
MANILA, Philippines — From merely seeing a model unit, Filipinos can now have an engaging experience at Ayala Land Premier's newly opened showroom, which houses the Philippines' first fixed installation of projection mapping for an estate development.
Located at Greenbelt 5, the 528-square meter showroom for Arbor Lanes calibrates, warps, stitches and programs layers of animated files projected on a scale model of Arca South where the property will rise.
Arca South is Ayala Land's 74-hectare mixed-use estate rising from a portion of the former Food Terminal Inc. in Taguig City. This bustling business and lifestyle district will have prominent residential blocks right next to an office and commercial area. Sixty percent of the district will be surrounded by greenery.
To communicate the estate's vision, five projectors interact with one another and create a visual narrative. Some eight months of planning, research and testing went into video mapping the estate in partnership with Immrsv Asia. The company had previously done individual mapping projects but not for a development of this scale, and not as a fixed installation.
Spotlight on Arbor Lanes
The spotlight then turns to Arbor Lanes, a premium mid-rise residence comprised of five blocks. It is currently Ayala Land Premier's top-selling project this year with 74 percent of units in the first three residential blocks already sold.
Guests move to see the Arbor Lanes scale model featured in another room that continues the presentation's narrative. Finally, the experience culminates with a tour of a 3-BR model unit of Arbor Lanes. The residence was tastefully designed by renowned architect and interior designer J. Antonio Mendoza.
Visitors to Ayala Land Premier's latest showroom have likened the experience to entering an art gallery or modern museum. A signature scent specifically created for Ayala Land Premier permeates the showroom. Screens on mirrored walls play stylish project videos. The lighting is subdued as natural light flows from the glass facade and shows off views of the bright Greenbelt skyline.
At the center of the room is a sprawling scale model of Metro Manila with built-in lighting that highlights different Ayala Land estates and the Ayala Land Premier projects in them. These specific luxury residences light up in gold. Property specialists use the light controls to help clients visualize their location.
"We want to provide them with a unique experience that engages all their senses. This immersive showroom allows us to better share our vision of the property, while also establishing the brand's identity. Ayala Land Premier is constantly in search of new and innovative ways of exciting the luxury market," said Mike Jugo, Ayala Land Premier Managing Director.
In fact, ALP ensures that its digital assets stay updated with the latest technology to improve clients' experience. Its website now utilizes Accelerated Mobile Pages to further boost its speed and deliver content faster.
"We know that on mobile, speed matters above all else and AMP helps businesses deliver their content quickly. It's great to see Ayala Land Premier offer their clients a fast and convenient AMP-powered service, which is a first in the real estate industry," affirms Ken Lingan, Google Philippines country manager.
Ayala Land Premier aims to always provide its clients with these unique and distinctive experiences whether in the showroom or any of its touch points.
Visit the Arbor Lanes showroom at the fourth floor of Greenbelt 5, Makati between 11 am to 9 pm.