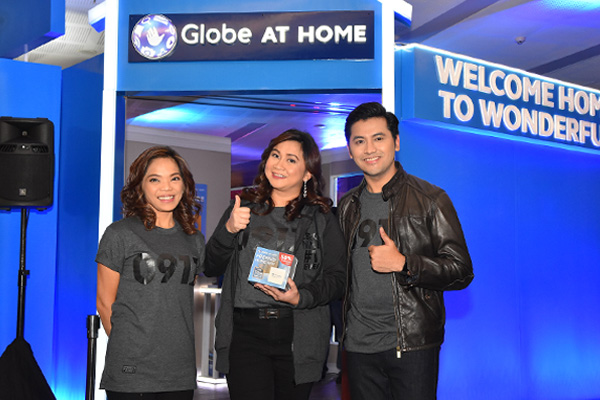 Globe At Home vice president for Marketing Barbie Dapul, senior vice president for Broadband Martha Sazon and head of Acquisitions Winsley Bangit.
Globe/Released
Globe redefines the digital experience at home
(philstar.com) - October 13, 2017 - 12:00pm
MANILA, Philippines — In the Philippines, 87 percent of households remains without access to Internet. Tapping into this opportunity, Globe aims to disrupt the home broadband landscape by putting fresh investments into fixed wireline connectivity.
Globe does this with Globe At Home, which is envisioned to capture the home by giving Filipinos more affordable data, exclusive content and innovative services.
"The time is ripe to disrupt the market and break the barriers of getting a broadband plan through accessibility and ease of application. We are committed to provide fast and reliable home connectivity to more Filipinos, nationwide," says Globe At Home senior vice president Martha Sazon.
Globe At Home introduces its latest innovative offers for its prepaid and postpaid customers that will change the way families watch, listen, play, share, and learn.
No lock up plans for only P499
Today, customers no longer need to worry about committing to a lock-up period to get a postpaid broadband plan. Globe At Home introduces no lock up-plans that can be availed without the usual 24-month contract.
Customers can avail of any Fiber or DSL lines with speeds of up to 50 Mbps for only P499 for the first three months, and then try their chosen plan without lock up or commitment. It comes with free installation and requires no documents other than one valid ID for processing. Customers just need to pay a one-time modem fee.
After the three-month trial, customers can choose to maintain their initially selected plan or choose another. Available plans are Plan 1299 for 5 Mbps and 400GB of data; Plan 1599 for 10 Mbps and 500 GB of data and Plan 1899 for 50 Mbps and 600 GB of data.
Those who prefer to discontinue their subscription within the first 15 days will get a 100-percent refund of their modem fee upon the return of all devices installed in their home.
Complementing this is the introduction of the Globe At Home Tech Squad. They are a team of experts best equipped to assist customers in setting up a connected home. They will provide end-to-end support from installation to trouble shooting to enhancing the broadband experience to maximize one's Globe At Home connection.
The new Globe At Home app allows you to monitor your Prepaid Home WIFI usage. Available on the Google Playstore and App Store by October 15. Globe/Released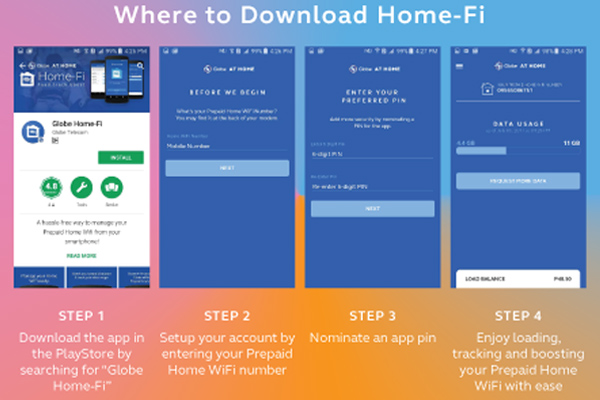 The new Globe At Home app allows you to monitor your Prepaid Home WIFI usage. Available on the Google Playstore and App Store by October 15. Globe/Released
Prepaid broadband levels up
Leveraging on the strength of its mobile expertise, Globe back in February launched the Globe At Home Prepaid WIFI to connect more Filipino families. It is easy to install and has 50 percent stronger WIFI coverage versus myfi. Best of all, there is no need to commit to a fixed monthly rate so one can better control their budget.
Besides being extremely convenient, it is also easy on the pocket. Globe At Home introduces the most affordable 1GB data promo ever at just P15 with HomeSURF. Users can enjoy this offer on top of their existing GoSURF50 subscription. Heavier data users can also enjoy bigger data allocations, like 10GB of data for P349 valid for 10 days, and an extra 15GB of data for P599 valid for 30 days. It is exclusively available through the Globe At Home App.
This app will help users load credits charged to any Globe mobile number, track total data usage consumed by those who connected to the device, as well as boost data allocation through easy registration to promos. The app notifies users once their data allocation has been consumed. It is easy to set-up just by entering the Prepaid Home WIFI number and preferred PIN.
It will be available for download on the Google Playstore and the App Store by October 15.
Since the expansion of its footprint and the deployment of leading edge network technology, the Akamai State of the Internet Connectivity Report revealed that the first quarter of 2017 showed that the Philippines experienced significant improvements in broadband speed and adoption. The country's average fixed broadband speed increased by 5Mbps or 57 percent year on year, while the country registered the strongest growth in terms of adoption in Asia Pacific with a 111 percent growth year on year.
With all these innovations in place, the vision of Globe at Home to connect two million homes by 2020 through high-speed internet and provide affordable world-class entertainment, is well on its way to become a reality.
For more information on the new Globe at Home plans, visit the website at https://shop.globe.com.ph/broadband, call the Globe hotline at 730-1010, or visit any Globe Store.