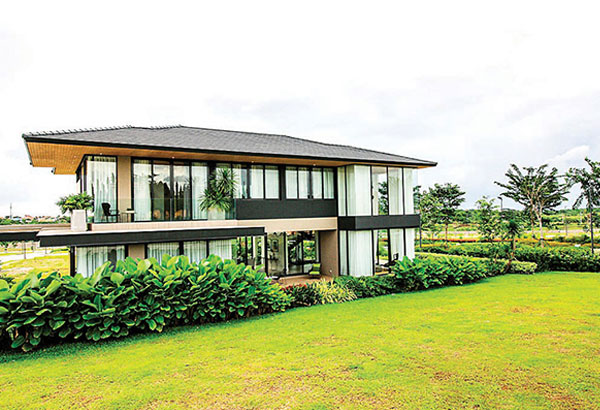 The Enclave Alabang offers optimal-sized lots in a verdant environment that puts a premium on open, green spaces.
Luxury living at The Enclave Alabang
Abby Rebong
(The Philippine Star) - November 10, 2017 - 4:00pm
MANILA, Philippines — A quaint, exclusive property that captures the tranquil charm of a refined lifestyle, The Enclave Alabang has a distinctive modern architectural design theme which is the result of a collaboration between award-winning architectural firm H1 Architecture, renowned landscape planner AECOM, and design giant BUDJI+ROYAL Architecture+Design, promising residents ultimate luxury.
"Design is a way of life. It is something that you live with daily," shares Budji Layug. "Whether it's with your home or any part of your life, design is very important to us. It spells individuality, sophistication, and enjoyment. The most important thing about our design is the enjoyment part of it; for our clients and for us, too, in the whole team."
Elegance, unmatched attention to details, and premium quality are all synonymous with The Enclave Alabang — from its striking main entrance along the upscale section of Daang Hari Road to its stunning Limited Edition Designer Residences, to its well-designed facilities.
As open spaces are fast becoming a precious commodity in the metro, The Enclave Alabang puts a premium on breathing spaces—forty percent of the development is dedicated to expansive greeneries. At the heart of this is the Central Park, an environment conducive to recharging the mind and energizing the body. The Enclave Alabang's Central Park has a verdant flora, an impressive mini man-made lagoon with calming waters, a children's playground and a watchtower. With its well-thought out structure, the Central Park encourages residents to engage with nature — a feature offered in only the most gracious of villages.
"For high-end projects, it is important to have a communal space that has all the amenities required by the community. And you want people to engage," explains AECOM Design Planning and Economics director Dodo Casibang. "Some people think a park is a park. It's green — that's about it. But a park is really an opportunity for the community to come together and for it to be effective, it has to be designed properly with the proper amenities, circulation, access, greenery versus hardscape," he adds.
"Working with Filigree for The Enclave Alabang, we realized they are willing to invest on things that matter. We were able to develop a design vernacular that's truly unique," Casibang continues.
The Enclave Alabang also boasts of a 1,500-square meter Clubhouse, which serves as the centerpiece of its amenity area. Interior designed by BUDJI+ROYAL Architecture+Design, it showcases an iconic design execution — naturalist and modernist in approach.
"When we were tapped to do this project with H1 Architecture and AECOM, we were very excited," shares Architect Royal Pineda. "For this, we wanted to achieve a sense of tranquility and tropicality to bring out that organic feeling, taking in the beauty of the surroundings and the openness of the sky."
Set amid lush greenery, the Clubhouse has a tropical resort-feel that residents may enjoy. The lap pool, well-equipped fitness center, and game room all promote relaxation, an escape from the busy life at the metro.
The Clubhouse's main function hall can accommodate 100 persons making it perfect for special occasions. The two function rooms, meanwhile, can accommodate 50 persons each, and are suitable for intimate gatherings.
Also available for residents are the Limited Edition Designer Residences, pre-designed homes with smart floor plans and are reflective of The Enclave Alabang's tropical modern architectural design theme. These luxurious homes provide residents convenience without forgoing quality and sophistication.
"The important thing is the experience of having openness, lightness, and the functions of daily living are actually very in sync inside and outside," states Layug.
As a luxurious, low-density horizontal development, The Enclave Alabang only has a limited number of lots available. Ranging from 300 to over 500 square meters, prospective residents can choose from a selection of generous lot sizes — the Main Avenue Through Lots, Parkview Lots, Corner Lots, Fortune Lots, and Premier Lots. All these are strategically situated in key phases of the development.
The Enclave Alabang is located along primary Daang Hari Road, one of the most enviable locations in Metro South, resulting in ease of accessibility via major thoroughfares like the SLEX, Skyway, and the Muntinlupa-Cavite Expressway or MCX. It is in close proximity to top educational institutions, shopping and leisure centers, first-rate medical facilities, and the premier garden CBD in the South, Filinvest City.
From its superb architectural designs down to its outstanding facilities, The Enclave Alabang truly personifies what Filigree stands for: craftsmanship like no other.
Only a few lots are available at The Enclave Alabang. To see why it is a cut above the rest, The Enclave Alabang's doors are open for viewing of its luxe model homes. For more details, contact (0977) 8080-TEA(832) or visit the website www.enclavealabang.com and Facebook page www.facebook.com/TheEnclaveAlabangOfficial.