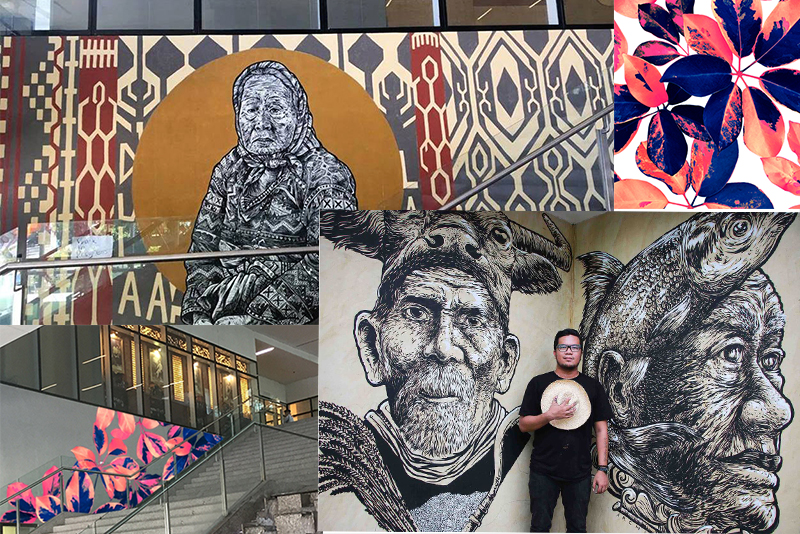 Artworks by independent artists like Mercedes Olondriz and Archie Oclos now adorn the public areas of a mall in Bonifacio Global City. Photo release
Malls now turning into art museums
MANILA, Philippines — Since he has been living in the Philippines for only the past five years, Filipino-Polynesian artist Dee Jae Pa'este knows he has a lot to catch up to trace his Filipino roots.
But to learn more about Filipino culture, Dee Jae does not have to rummage through the archives or to travel far. Even shopping malls, such as SM North Edsa and SM Aura Premier, are turning into public art galleries, where independent artists like Dee Jae can express themselves, and where mall goers can discover more about Filipino heritage through art.
SM Aura Premier recently tapped young artists Anina Rubio, the Kapwa Group's Archie Oclos and Mercedes Olondriz to create larger-than-life murals in the grand staircase area beginning April 30.
The initiative, called "Art in Aura," aims to highlight SM Aura Premier not only as a retail and dining destination, but also as a proponent of "art with a purpose" or art that aims to create a thriving community of artists and art lovers.
"Good art can uplift you," said Oclos, who graduated from the University of the Philippines Diliman with a Bachelor's Degree in Fine Arts Painting.
A street artist by heart, he has received multiple awards in national art competitions and participated in group exhibits over the last few years.
Archie's mural, "National Treasure," puts emphasis on the Philippine's rich culture and heritage. His work celebrates two of the country's "national treasures": Whang Od, the legendary tattoo artist from Kalinga (north) and Lang Dulay, the T'nalak weaving master of the T'boli cloth. For this, he incorporates the elements of the tribal tattoos and the T'boli cloth in his design.
"I look at a lot of faces every day. So, I enjoy exploring symmetry and a lot of faces into my works," he explained.
A freelance visual artist who takes the inspiration from nature and her travels, Rubio said her works are a clear reflection of her love for the outdoors as well as her mantras in life. She teaches calligraphy and painting, and does murals. She is also a co-producer and painted artworks for the 2016 independent film, "Sakaling Hindi Makarating."
Her "Art in Aura" mural is called "Through the Cracks," in which the design revolves around concrete plants and basic backyard weeds which are neglected, but shows similar characteristics to Filipinos, such as resiliency and adaptability. Illustrated line art of waves flow through all the walls to give a sense of nature as well.
Meanwhile, Olondriz has been heavily influenced by her upbringing, in Asia and Europe. She aims to evoke some kind of cognitive reflection in the context of human locale, the natural world, the environment, and her surroundings.
Her "Art in Aura" masterpiece, "Flaura," is about the Philippine Schefflera plant. Her idea is to bring nature and organic elements back into places within the urban landscape.
Besides murals, "Art in Aura" features weekend art markets and free live performances by Filipino independent musicians.