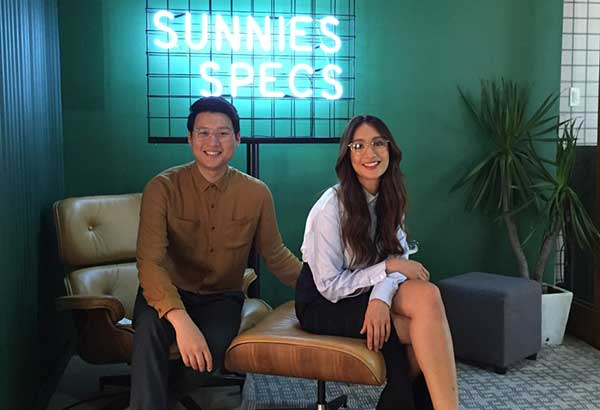 How do Eric and Bea make running the Sunnies Studios empire and being hands-on parents seem so easy and effortless? With a lot of love!
Sunnies side up with Eric & Bea Dee
(The Philippine Star) - August 12, 2017 - 4:00pm
Sunnies In Numbers:
63: number of Sunnies and Specs stores and stalls, with 17 more opening this year
440: current number of Sunnies staff (they were only five when they started in 2013)
900: number of Sunnies styles to date
8: number of awards Sunnies Studios has won, including Ayala Store of the Year and Most
Promising Retailer from PRA and DTI
There was a storm that day and they had called off work for their employees, but here they were at 7 p.m., for a food tasting at Sunnies Café, with their father, restaurateur Rikki Dee, and their two-year old son Braeden in tow. How do Eric Dee and Bea Soriano Dee make running the Sunnies Studios empire and being hands-on parents seem so easy and effortless?
Here are 10 things you might want to know about this power couple.
1. Because of their first official date, they failed a Theology orals exam back in college.
Eric and Bea met in Ateneo de Manila University, where he was taking up Interdisciplinary Studies, and she was taking up BS Psychology. But it wasn't until they became classmates during their last semester in college that they grew closer.
"We watched Bride Wars at 12 noon," Bea recalls. "That was right before class, and we wanted to watch a movie. But we had a major orals exam at 4:30. After the movie, we said, 'Okay, we have to prepare now,'" Eric says. "And we both flunked it!" Bea admitted. "But we were always studying together."
After around five months of dating, they officially got together. And yes, they graduated together in 2009.
2. They had only been together for two years as boyfriend and girlfriend when they started a business together—Charlie.
"When you're young, you don't really think of it in that way. I just wanted to do my passion project. I wasn't really thinking about the consequences, which could have turned out really bad, but luckily, we were so good at working together," Bea recalls. "If I was a bit older, I'd probably be thinking twice about partnering with a boyfriend."
"It's not meant for everyone. It's very difficult. But up until today, we've always seen eye to eye. All our decisions are in sync," Eric reveals.
Charlie was a retail brand that carried apparel, bags, shoes, and accessories, and when they were just starting, Eric and Bea had to source everything. "I remember we would have to go to the fabric warehouses in Rizal at 5:30 a.m. We were competing with 50 other people, climbing up fabric. 'Okay we got one!' Then Bea was there, blocking off other people. It was an experience! It helped us become who we are now. We understood the business from the ground up," Eric shares.
"We opened five stores, and we were very happy with the performance. But a few months after that, Forever 21 came in, and all the other brands started to come in. That's when we stumbled upon sunglasses," Eric recalls. "It was in one cube in the store, but it did around 30 percent of our sales," Bea shares. "We saw it was a good pivot of how we wanted to expand the business," he adds.
"If we didn't have Charlie, we would have all the failures in Sunnies," Bea says. "That was our master's degree," Eric says. "A very expensive learning experience, according to my dad," Bea laughs.
3. "We're a firm believer in: If you don't know how to do it, you can't delegate it," Eric confesses.
On their biggest learning from Charlie that they brought to Sunnies: "A lot to do with the day-to-day operations, and managing costs and finances," Bea shares. She serves as Sunnies' operations director while Eric is the company's CEO and finance director. "Also, identifying the right people to put into place. When we started, we were doing everything. But when we were growing, we identified which tasks to delegate and we hired key people," Eric explains. "But it's so good that we went through each and every position that we are trying to fill in right now," Bea adds.
"Up until today, every time a store opens, we set up 'til around 5 a.m. People keep saying it can't be done, but how come based on experience, it can be? So don't give me an excuse," Eric says with a smile.
4. On creating Sunnies Studios: "We realized that people were buying into a lifestyle. We couldn't sell just sunglasses anymore," Bea says.
"We had to expand to other opportunities. With Specs, it was a natural progression that from sunglasses, you go into optical. Next was the café. It made the brand come alive. If you come here, you get the brand right away," she adds.
The couple, along with partners Martine Cajucom, (creative director), and Georgina Wilson, (marketing director), all love to travel, and they admit they also take these opportunities to research. "We call it 'feeding of the eyes.' We look at a lot of Scandanavian brands, a lot of Japanese references, and a lot of LA influence," they share.
5. Eric, on the most valuable business advice from his dad: "He always expresses that we should save for the rainy days."
"And it's so applicable to sunglasses because of its seasonality!" Eric's father, veteran restaurateur Rikki Dee, known for Kai, Cerveceria, Mesa and foreign franchises Tim Ho Wan and Todd English Food Hall, is still very hands-on in helping Eric and Bea, especially with the café. "And I still report my financials to my dad," Eric reveals.
"My aggressiveness comes from knowing that I have a safety net," Eric bares. "It might not be the best thing, but that alone gave me the opportunity to push myself forward." While we could assume that living up to his father's name is a daunting task, Eric sees it differently. "It's been so much easier because of the access. But it is hard in the sense that you always have to prove yourself. We've grown very aggressively for the past three years, but everything is put back into expanding the business.
"And my dad is a family guy. He always expresses how important it is to spend time with family," he adds. "Which really works for me!" Bea laughs.
6. "People say, he's the fox and I'm the hedgehog. Why are you the fox?" Bea teases Eric.
Eric, on Bea as a boss: "She's very detail-oriented, and when she talks to her team, she asks the most surprising questions, so you need to be prepared."
Bea, on Eric as a boss: "He's involved with every single aspect of the business, be it creative, marketing, or operations. He really inspires people to be the best that they can be."
What people don't know about Eric: "He is the biggest shopper! Sometimes he comes home and randomly goes, I bought you this, and this. Or for example I go to the cashier, before I pay, he's like, 'Can I see it first?'"
What people don't know about Bea: "She is a student of life. Every single night she would research on random things. Today it's about babies, tomorrow it's about building a business. Her thirst for learning is always there."
On his biggest pet peeve with her: "A paper bag here, a pair of pants that have been on the rack for a week that should be in the laundry, it gets to me," he says. ("I'll clean it tonight!" Bea says laughing.)
On her biggest pet peeve with him: "The toothpaste! He doesn't know how to properly squeeze it! And hanging his towel back to the towel rack."
7. They were preparing to launch Sunnies Specs when Bea gave birth to their firstborn Braeden: "When Braeden would sleep, I would do Kangaroo care, and I'd be on the computer, working," Bea recalls.
"She was in the office up until the week she gave birth, and six weeks after giving birth, she was back. After she had just given birth, when I would leave for the office, she would have an agenda for me, 'This is what you do, I already emailed and gave instructions, you just have to follow up,'" Eric recalls.
"Eric bought me a desktop for the room. I really wanted to stay with the baby, I was a first-time mom and there was so much to learn," Bea shares. "There was no sleep for sure. I had no choice. The business was growing, the baby was growing. I lost a lot of time for myself."
"You know, at that time, I didn't feel she was having a hard time. But now looking back, I wonder how you did it!" Eric says, in awe of his wife, who is due to give birth to their second child next month.
8. Eric and Bea are firm believers in the power of breastfeeding.
"When they cry, boob. When they're sleepy, boob," Bea laughs. "I just stopped nursing last June when Braeden turned two! The doctor said I had to stop because it can cause contractions," she adds. "We had an end goal, just how we approach everything in business, two years," Eric smiles. "I would have gone for three if I wasn't pregnant!" Bea reveals.
"The first time we left Braeden to travel, he was eight months old. I would carry the pump bag, the cooler, and we'd have to stop every two or three hours because she would have to pump, and I would label the milk bags. We would ask the hotel staff to put the ice packs in the freezer, and we'd explain that it had to be frozen because we were going to bring the milk home. The funny thing about it is when we came back, they lost the luggage. With the milk," Eric shares. "I cried so hard!" Bea recalls. "I have so much respect for women who breastfeed," Eric says.
9. They're together 24/7: "We don't even know how to text each other anymore."
"We're so used to being together, that every time we message each other, it feels so weird," Eric shares. "I'm with him all the time, but a whole day could go by without us talking to each other. Sometimes, in the middle of the day, I'd hug him and say, I miss you," Bea says.
They've been a couple for eight years, working together for six years, married for two years, and together every day. How do they find time for "Me Time"? "I don't like 'Me Time,'" Eric reveals. "I get lonely. I like being around my family," he adds. "I love 'Me Time,'" Bea shrieks. "When he's asleep, which is early, around 9 p.m., that's when I read books or watch a series. I watched seasons 1 to 6 of Game of Thrones without him knowing," she laughs.
10. On what they believe has been the key to the success of Sunnies: "Focus and discipline. Knowing the ins and outs of the business. Setting our vision for the company."
On the belief that you shouldn't work with friends or partners: "If you're willing to put in the effort, I don't think it will be a problem. You need that mutual respect, and you need to set boundaries in terms of what you can and cannot do," Eric says. "Also, if it works, it works. There are just some people who are meant to work together and some who are not," Bea adds.
On the saying that you should never bring work home: "We talk about work 24/7! It's part of our lives," Bea says. "We have the same dreams and the same goals and we work towards that, every day," Eric explains.
* * *
The Dees share this piece of advice about achieving that work-life balance: "Committing to the time allotted for family is key. It's easy to schedule the day, but it's not so easy to stick to that planned schedule. If you commit and make sure that time dedicated for family is given importance, then it'll happen."
* * *
Message the author @iamsuperbianca.