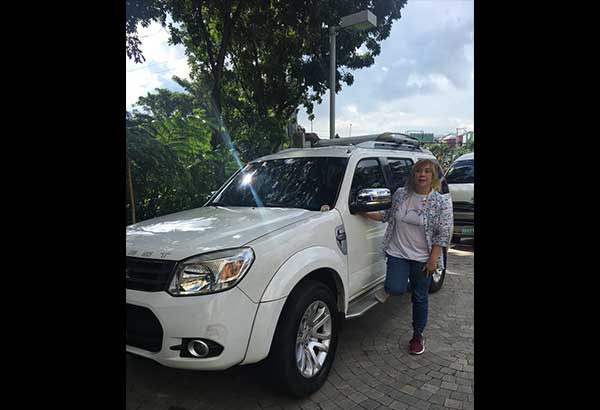 Your Uber is here: Author Kathy Moran with Uber Black ride for the day
Kathy Moran
(The Philippine Star) - October 21, 2017 - 4:00pm
MANILA, Philippines — I got the chance to experience what it's like to be an Uber driver for two afternoons — and was luckier still that among my passengers were three accomplished millennials who were patient enough to answer my nonstop questions. The drive to their destinations became very enjoyable as they shared personal stories from their lives.
My Uber experience began with a briefing on how to become a driver, such as the various documentary requirements, and how to use the app. This included a video presentation of the steps that one has to complete in order to become Uber-ready, and a step-by-step procedure on how to use the app.
"Uber is a smartphone application that connects riders with drivers like you," the video begins.
When an Uber driver is ready to go online for the day, the process is pretty easy: 1) Sign in; 2) Select the vehicle that you will use; 3) Go online (once online, the driver becomes eligible to take requests).
A driver only has 25 seconds to accept a request. The nearest driver is the only one who receives the request. There is no bidding for requests; to accept, just press the screen once, the request is accepted and the location of the rider appears on the map. You will only know the destination of the rider/s after you pick them up and start the trip. Ask for their preferred route if they have one; if none, use Waze.
Easy, I thought to myself.
I asked about the recent suspension of Uber and how it affected the entire Uber community. I was told that the people most affected by the suspension were those whose livelihoods relied on it. As Uber bounces back from the suspension, I was informed that they introduced new features in the driver app, which are more favorable to their drivers and aim to make driving simpler, easier, and more convenient than ever before.
These new features reflect the comments and suggestions from Uber drivers throughout the years. Uber has built a reputation for being very responsive to rider comments, and those that come from their own drivers are no different.
The new features include:
• Increased driver tokens. The current driver app enables drivers to set their destination twice a day, so that for those two trips, it will be certain that they can get a trip on the way to their desired place. Now, drivers can set it up to four times a day, so they have more control over their drives.
• Friendlier Ratings. Drivers take pride in their ratings, and with ratings protection, they will be protected from instances that are beyond their control, such as surge pricing and other app-related issues.
• Not Right Now Button. Whenever a request comes in, drivers hear a constant beeping until he clicks on his screen to accept the request. With the Not Right Now Button, drivers will no longer have to wait for the request to time out before declining; they can just click this button if, for example, they need to take a break from driving.
• Cancellation Timer. With this, drivers are now equipped with a countdown that lets them know when they have been waiting for a rider for too long. This lets them know when it's okay to cancel a trip.
As part of my orientation, I was given a rundown of the various Uber options:
UberX — The most popular service that Uber has to offer. It's commonly referred to as the "low-cost option" for riders.
UberXL — If you need a more spacious ride, such as when going to the airport or out with a group of friends, UberXL is the most practical choice.
Uber Pool — Share the ride, split the cost. It matches you with riders headed your way, so you get the convenience and comfort of Uber at a price that fits the every day.
Uber Black — It is essentially the luxury version of today's UberX. With this ride option, you can arrive at your destination in style with a black-on-black luxury sedan (or SUV, if you're lucky).
Uber Hop — This is a new product that enables riders heading in the same direction to share a ride during rush hour for a flat fare. By sharing your journey to and from work, you can help reduce congestion and pollution in Metro Manila.
Time to get driving.
Disclaimer: I did not accept any payment for these trips.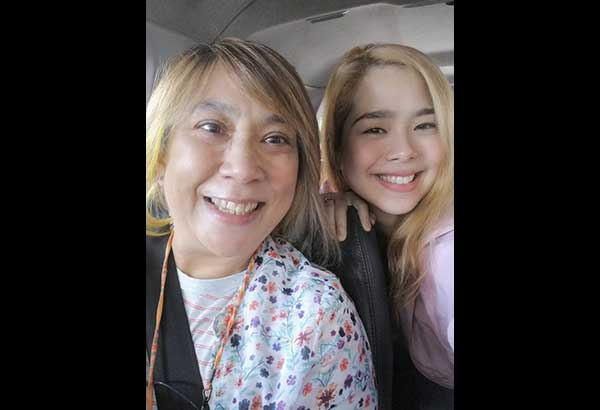 Talking about pregnancy and pets with Saab Magalona
First passenger, Saab Magalona: From Eastwood to Pasig
My first passenger is Saab Magalona, actress, singer, photographer and blogger. I know her as the daughter of the late Francis Magalona and Pia Magalona, sister of Maxene Magalona, Frank Magalona and Elmo Magalona.
She and husband Jim Bacarro are members of the seven-member band Cheats.
Saab has been married for almost three years. In September, Saab announced on Twitter that she and Jim were expecting twins.
Saab is also a dog lover. She has a five-year old Pomeranian named Joey Bear.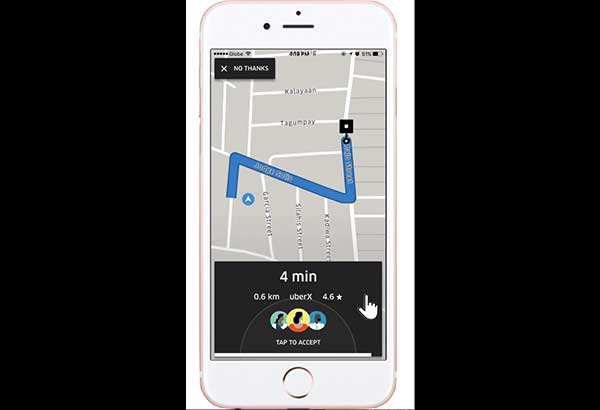 The Drive
I stop at the pickup point in Eastwood and notice that my first Uber passenger for the afternoon is Saab Magalona.
KATHY MORAN: Where are we going?
SAAB MAGALONA: I have been running a few errands and I am ready to go home to Pasig.
Do you normally take Uber?
Yes, I really do because I gave up my car. When my husband, Jim Bacarro, and I moved to our home we only had one parking slot. It was so hard to find a parking slot for a second car, so I sent my car back to my mom. It is actually her car, which she let me use.
Was it a good move?
It helped me save a lot not to have a second car because I learned to manage without a personal driver. It also helped me become more organized in planning my day.
So now you Uber everywhere?
There are days when I ride with my husband. But when I have personal shoots or errands to run, I either borrow the car from my mom or go by Uber.
Do people recognize you?
Sometimes. It's fun because the drivers seem to think they know me. But I change my hairstyle a lot; they like to guess who I am. But more often than not, they figure out who I am. I guess because I am no longer that visible on TV.
I read that you are pregnant with twins.
Yes, although I don't know the genders yet. I will know their gender by next month.
Were you surprised?
Yes, I was. We weren't actively trying to have kids, although we have been married for almost three years now.
How did you find out?
We did a home test first and it was positive. But when we went for the actual ultrasound, it was a double surprise that greeted us, because we found out they are twins. When I got married, I was 26. At the time people presumed I was pregnant, but I wasn't. But, at the time, we really just decided to get married.
How has your married life been?
When we got married we were young. Although we talked about raising a family, we weren't in a hurry. We both decided that we wanted to do a lot of stuff — just the two of us.
Perfect timing?
It is good that even if we did not plan the pregnancy — even if we weren't trying — it has come at a perfect time, because, after three years, we have done a lot of things as a couple — with our families, with our friends, with the band. And I think I won't be missing life onstage.
Now that you are pregnant, is there anything you miss?
Funny, recently my husband asked me, "Do you miss alcohol?" I answered him with, "Actually, not at all." Since we are in a band we would take alcohol after a gig to unwind — so it was very much a part of our lifestyle. Not to say that they go hand in hand. It was just a good way to unwind after a long, hard day.
Now that I feel like my body is working double-time, I want to wake up refreshed and I don't want to wake up groggy like I used to feel when I would drink after a gig.
Have you been craving for anything?
I have been craving for pomelo; good na lang it's healthy. Thankfully I haven't had to deal with morning sickness. I only threw up twice — apparently when one has twins, morning sickness can be really bad.
Does your Pomeranian Joey know you are pregnant?
I think so. I think she found out even before I did. She became very, very malambing. She likes to do belly-to-belly with me. She puts her belly on my belly. I feel like there is a connection there. I am so excited and also very scared that they won't get along. But I have been researching on how to get Joey and the future twins to become best friends.
How did you get Joey?
Funny story: I never had a dog of my own. I asked Max if I could babysit her dog for a week. I just felt like doing it, and after a week she wanted her dog back — it broke my heart.
It was our birthday week, because Max and I share the same birthday. Although we are not twins, we are like twins. She surprised me by giving me a dog of my own. It has been the best gift ever. I think having Joey has trained me to become a mom. Super.
Do twins run in your family?
Yes, my dad Francis has twin siblings, a boy and a girl.
What is the best Uber ride so far?
One time I came from World Trade Center and then the Uber driver was playing my dad's album. He didn't notice me or seem to know who I was. The CD played on and then when I was about to get off the cab, I said, "Hey, you have really good taste in music." And then he realized when he looked at me that I am the daughter of Francis M. He asked for a photo with me. That was really nice.
What keeps you busy, a new album?
We held back the launch because one of our members is a futsal player who qualified for the Philippine team. The title of the album is "Before the Babies." Updates will be on cheatsmusic.com and they can also pre-order albums there.
We're also looking for a buyer for our condo because we are looking for a house. There is the wedding of Maxene to Robby where I am the matron of honor, so I have been helping her. I'm also busy with my blog.
Don't you also have a coffee shop?
We have a café called Cup Fiction in White Plains. We sell coffee, rice meals and desserts. We also sell a lot of local comics to support Filipino artists.
How did you feel when Uber was asked to stop operating?
I normally take an Uber X — Uber Xs are nice. I am in a very privileged position because my husband has a car and we can just drive together. But for a lot of people who have no other means of transportation, it is not a joke to just say you can take the MRT or LRT — we all know how it is here. I know how it affected people. And it was all of a sudden pa.
Does Joey get to ride Uber?
My dog always rides Uber. I am so happy because I expect the driver to say bawal but 90 percent of the time they say it's fine. I text the driver and let them know what I have a small dog with me and I promise them that my dog is toilet-trained and will behave.
They say okay.
Before Saab gets out of the car she looks at the rearview mirror and asks me, "Are you a real Uber driver? Because you look like a writer for pets in The Philippine STAR. Aren't you Kathy Moran?"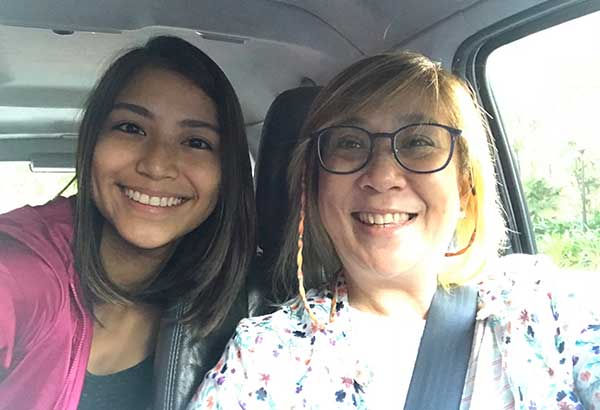 Learning more about local films from future screenwriter Issa Abello
Second Passenger, Issa Abello: From grove to Rockwell Makati
I pick up my second Uber passenger at Starbucks in The Grove. She is Issa Abello, 24, born and raised in Metro Manila. "I've always wanted to learn more about the film industry while taking an undergrad degree in De La Salle University," she begins. "Upon graduating, I worked at a PR firm where I was able to discover more of my strengths and eventually save up to be able to study Screenwriting and Filmmaking in New York Film Academy."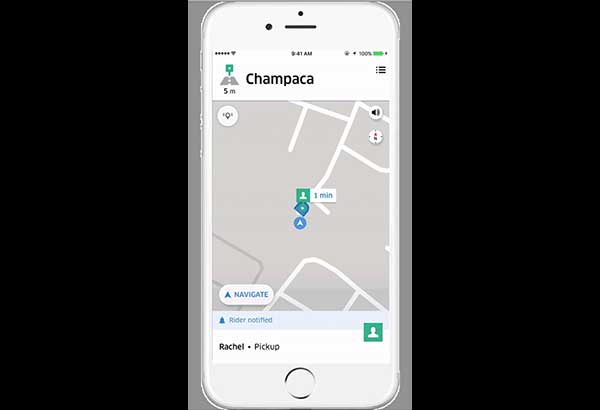 The Drive
What do you do? Are you working?
ISSA ABELLO: Since I came back from New York six months ago I have been freelancing as a nightlife photographer and currently working on a screenplay. I am also a writer and co-founder of Tagalikha (tagalikhablog.wordpress.com), a community of creatives in New York City. I am also job-hunting.
What do you think of Philippine cinema?
Actually there are a lot of movies that are being shown now, like those of Star Cinema which are very interesting. I liked the movie Seven Sundays. It's a family movie and I super enjoyed it because it hit the spot at certain points because it's about a family that doesn't see each other often. Like me, I'm the eldest and I was able to identify with the role of Aga Muhlach in the movie. I also have that responsibility that all my siblings get along. I also liked the dialogues, and although there were some cliché lines used, they were perfect for the script.
So, today, I am going to watch Blade Runner.
Is it a good movie?
I think it was one of the first sci-fi movies of the '80s. The first Blade Runner movie had good cinematography and styling. It was way ahead of its time. When I was studying we dissected some scenes of Blade Runner in school.
Are you a regular Uber rider?
Since I have come back, I have been taking Uber every day. The other day, I had a really good driver. I came from The Fort. The driver was very chatty and nice. It was late at night and I was really tired. He asked me how my day was and he listened to my answers. It was such a refreshing conversation. When I got to the village where I live in the south, it was quite dark, but I felt safe with my Uber driver and this is a good thing.
Did you take Uber in New York?
Yes. And some of the drivers are also chatty. A lot of them do shifts, so at night sometimes the driver would have just started his drive turn — these ones can be more chatty. And, like here, most of them own the cars they are driving.
Do the drivers in New York dress up?
Yes, most of them are in dress shirts when they are on duty. There was one time I rode an Audi Uber in New York, and I had loads of fun.
Is riding Uber here the same as riding in New York?
Yes, very much similar. The only difference is the price and the traffic.
Any interesting stories about your Uber drivers in the States?
One driver told me about a time he picked up a woman he had to take to the hospital because she was about to give birth. Good thing they made it to the hospital just in time. But the driver said he was freaking out because she could have given birth in the car — and it was rush hour at the time in NY.
Here in Manila, I was riding an Uber and my friend, who is a singer, was rehearsing her song. The driver asked me who she was. I told him to guess. And then he decided to turn on the radio and just at that moment her song was playing: it was Moira de la Torre.
Are your parents okay that you take Uber all over the place?
Yes. They know I am safe.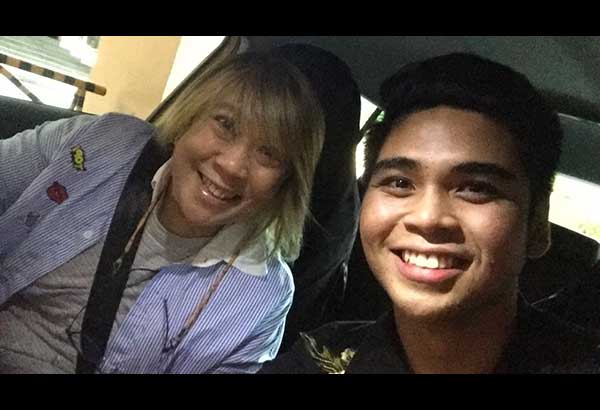 Shooting lots of questions to photographer Je Villaroman
Third Passenger, Je Villaroman: From Greenbelt to Mandaluyong
Je Villaroman is a 23-year-old freelance fashion photographer who graduated from De La Salle University in 2016 and pursued his education at the International Center of Photography in Manhattan, New York.
He has done various stints with the world's top modeling agencies, namely Wilhelmina Models, The Society New York, and New York Model Management. He is currently based in Manila and is associated with the country's leading public relations firm.
The Drive
What do you do for a living?
JE VILLAROMAN: I do what I like to call PR shoots, but what I believe I am good at is editorial and fashion photography. I also like to take photos of dogs because they are so cute. It's also because I have a French Bulldog; he is two years old and his name is Taco. I always take photos of him during Christmas — he is my Christmas card.
Are you a regular Uber rider?
Yes, I like that the Uber rides are normally on time. I usually take Uber X. But if I can't find an X, I go for a black — only if I am running late.
How did you get into photography?
I have always taken pictures because I like taking photos of memories. I like seeing things. My mom bought me my first point-and-shoot when I was in grade school. And then when I got into college in La Salle, we had a course in photography. It was just a general course for advertising photography; it covered food, fashion, portraiture and I fell in love with the portrait. So, when my friend lent me a lens that made everything in the background blurry and focused only on the faces, I fell in love with photography then.
Latest work?
Estée Lauder asked me to shoot their breast cancer awareness campaign. They blasted it out on Instagram. It was a shot of 250 people in three days. That was a lot. I would have to take five frames per person. And, being the photographer that I am, I made sure that I communicated with each of my subjects. I wanted to make sure that they were comfortable on set because if they are not comfy on set it is going to look bad in the pictures.
But if it is an editorial kind of pictorial I can probably do three models with three layouts each.
How do you know if you have a good photo?
I believe that a photo is not just a picture of a face; rather, it is a connection between the subject and me. In fashion photography the directors always have to make the clothes look good. But as a photographer I have to make the relationship between the person shooting and the person being shot come out.
If the clothes look good but the facial expression is not, then the photo will not be good. A good photo for me is when my subject and me connect. No matter what the person might look like.
What was it like living in New York?
It was like just rushing everything because staying in New York can break your mind, soul and body.
Most famous person you've shot?
Jake Cuenca. I shot him for an advertorial campaign.
Worst shoot?
I do have stories like that and it is crazy. There are some ladies in a shoot who are part of an awareness campaign and not the cover of Vogue in September. It is a problem when the models are so maarte.
Who are your favorite photographers?
BJ Pascual and Mark Nicdao are probably the best photographers in the Philippines. When I finally got into photography and did research on the photographs I had kept from magazines as I was growing up, I noticed I had a lot of Mark Nicdao and Patrick Demarchelier photos. So, I figured that I actually did like photography even at a young age — I just didn't know it.
What else do you like taking photos of?
Dogs. I love taking photos of my dog. When we stop I want to show you the photos of Taco.
As Je is getting off, I stop for a bit so I can take a look at his cute French Bulldog Taco.
"I notice that you are fond of pets, and you look like the writer of pets from The Philippine STAR. Also, you ask too many questions to be an Uber driver by profession."