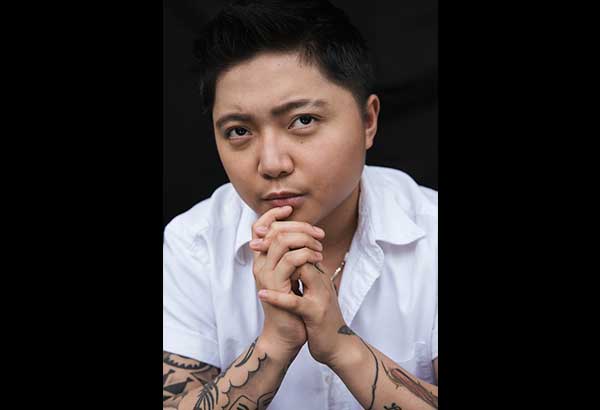 Jake Zyrus clears some things up as he prepares for his concert on October 6. Photo by JOSEPH PASCUAL
Gabbie Tatad
(The Philippine Star) - September 8, 2017 - 4:00pm
MANILA, Philippines — Something about Charice Pempengco didn't quite fit. She was this little girl with enormous talent, but there was something about her that had an air of discomfort. She charted in worldwide Top 40s, appeared on some of the higher-rating episodes of the TV show Glee, and had a professional relationship with Oprah Winfrey herself. But even though her smile was big and her energy in her performances was great, she always looked a little bit out of place in her own skin. There was something about the way she exuded confidence that seemed to not land, almost like she was overcompensating for something. It would take several years before clarity would come, and when it did, it appeared in the shape of a man named Jake Zyrus.
One of the reasons it took so long was that Zyrus didn't truly understand what he himself was going through. His initial ideas of gender were understandably narrow, coming from a more conservative upbringing without much exposure to the actual range that exists, and so initially he thought perhaps he was simply a lesbian. It didn't feel like an exact fit, and it wasn't until he saw his first-ever live transgender male, Chaz Bono, that things really made sense. Zyrus had assumed that Bono was just another butch lesbian, until a foreign ex-girlfriend of Zyrus corrected him and said, "No, Chaz Bono is transgender."
Zyrus, befuddled, looked into what transgender actually meant. The concept of being born into the wrong body, of knowing deep down that he wasn't who his body said he was, allowed something to click inside of Zyrus. What he had always felt deep inside had finally been given a name, and suddenly the path was clear. There was, however, fear in the beginning of how the news might be received, given the society we live in that mocks that which it fears and maybe doesn't understand. He continued on as Charice for a while, first coming out as a lesbian. "I was way too scared na mag-come out as trans ako tapos hindi nila maintindihan. Paranoid ako, lagi kong iniisip yung iniisip ng ibang tao."
But the weight of knowing who he was and trying to pretend that Charice was still an identity that fit began to take its toll on Zyrus, so much that his love for music began to suffer. "Lagi akong naba-bother noon. Lagi kong iniisip na hindi ko dapat nararamdaman 'to kasi mahal ko 'to, mahal ko yung music. Mawala na lahat sa mundo, pero yung pagkanta naandun parin, kasi passion ko yun. Kaya dumating sa point na lagi akong namimis-understand na masungit at mayabang." Zyrus recounts, "'Halimbawa, may guesting ako sa TV or something, waiting for the song na ibibigay sayo… okay yung kanta eh. Pero alam mo deep inside na, ito nanaman. Syempre hindi pwede na hindi ako bibirit dito, syempre hindi pwede na hindi ka makikipagsabayan. And you know sa sarili mo na hindi 'yun yung gusto mo." Zyrus says this began to kill his appreciation for music he knew was beautiful, and it was one of the things that made him decide that enough was enough.
Making the transition
His transition began in March of 2017, beginning with a surgery that removed his breasts and commencing with hormone replacement therapy. "Sabi ko, hindi ko na kaya lumabas ng TV, hindi ko na kayang lumabas ng public kung hindi pa nila talaga alam kung ano yung identity ko… I also didn't want to end up hating myself kasi alam kong hindi ako yun." He began to look through names, to try and see which ones fit. He went through several, and he said none really gave him the sort of kilig that the name Jake did. It was a name that, when someone called it out, would make him want to look.
He ran it past his manager and close confidante Carl Cabral. The second they agreed that it was a great idea, as a personal landmark, Zyrus changed his name on social media. What he failed to realize was how many eyes were actually on his social media handle when he made the switch. Almost immediately, international news media outlets were banging down Cabral's proverbial door, asking for some kind of explanation. To Zyrus, though, the frenzy brought a kind of joy in that it made him see how ready he was to start over, to let the world know him as he had always known himself.
He says so far that the fan reception has been great, and that while some fans have drifted, there are infinitely more who have shown love and support. He also has an admirable response to those who are less than thrilled by this major life change. "Kung tutuusin, pag nakikita ko yan ngayon, nabo-bore ako. Kasi parang paulit ulit yung sinasabi na just to hurt you. Mas masasaktan ako if yung nagba-bash sa akin close to my heart, but if hindi ko kilala, iintindihin ko yun. You ignore it and you (understand) na hindi worth it. If they can't respect you, respect mo na lang sila. Ayoko yung pinipilit ko yung sarili ko sa kanila kung hindi nila (iintindihin)."
The clearest thing about Zyrus is that he doesn't fuss over the acceptance of others because he has first accepted himself, and is truly just thrilled to be living in his own skin. He's not trying to be the flag bearer for LGBTQIA, even if he does hope that the change will be inspiring to those in similar circumstances. He sees equality as accepting the good with the bad, and accepting that life comes with a certain amount of criticism, that certain people will always have something to say. He has so many other priorities that he doesn't want to be defined by his gender or his sexual orientation. Zyrus says, quite clearly, "Yes, I am transgender, but I am also just a man."
Starting Over
Following the release of his first single, Hiling, Zyrus finds himself gearing up for a concert on the Oct. 6 at Music Museum. It's a challenge that has amplified his rediscovery of the changes in his voice. His comfort with his original range had given him a preternatural understanding of what songs would work best for him just by listening; a luxury which no longer exists. Right now, he's enduring a new kind of escalated puberty due to his testosterone therapy, and his voice is still being broken in before settling into its final state. Still, he welcomes the challenge of having to work harder and learning more about himself musically, which has allowed him to fall in love once again with his craft. "I still sing pop songs. Syempre dati kung yung mga kinakanta ko big Whitney Houston songs, ano yung parang ganun na panlalaki (yung range)? So like Michael Bolton or Eric Santos; I listen to their songs now." Zyrus says with a laugh, "And natatawa ako kasi nung yung range ko mataas pa, para sa akin ang dali dali lang noon kantahin. Ngayon, sinabi ko kay Kuya Eric, 'Ang hirap pala kantahin ng kanta mo!' Pero kumbaga, ngayon, yun na yung parang 'birit' ko."
And while international success is a part of Zyrus' past, he says that the achievement he really wanted was being able to gain the approval of Philippine audiences. He says that because Filipinos are a musical people, the standards are higher and harder to please. He wanted to gain support not because he had garnered international acclaim and therefore had become somewhat more noticeable, but simply because fellow Filipinos appreciated and understood his talent. He also says that his most popular track as Charice, Pyramid, got more radio play abroad, whereas Hiling has been in the local top 10 for several weeks — a feat Charice never managed to accomplish before. "I'm starting all over again, and it's in the right direction na dito muna, kasi dito ako nanggaling. This is my idea of success na hindi biglaan, hindi pinipilit. Gusto ko yung step by step talaga, (and) if you really want success, you have to start from the bottom. I'm not ashamed of that. In fact, mas masaya ako ngayon na alam kong nag-uumpisa ako nang maayos." Produced by KARA ORTIGA