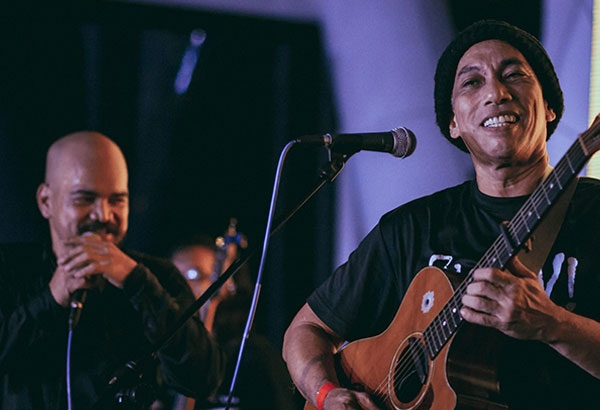 Joey Ayala at Ang Mga Bagong Lumad with Dong Abay honor the crowd with their performance.Photos by Charles Villaruz
(The Philippine Star) - December 1, 2017 - 4:00pm
MANILA, Philippines — Despite the #exposdt scandals that targeted the local music scene recently, "The Rest is Noise Year-end," which cancelled some acts due to sexual misconduct allegations that surfaced online, pushed through. And the result was an event that proved to be louder and more significant than ever.
For three consecutive years, "The Rest Is Noise" has showcased some of the best local music acts, and their 2017 Year-end Party proves to be the best one yet. The event was held last Nov. 25 at the Century City Mall Events Place, joined by Joey Ayala at Ang Mga Bagong Lumad with Dong Abay — whose live set still lingers in my memory. Orange and Lemons brought me back to my high school jamming days. Heads were banged and fists were raised during BLKD's performance as he spat words of activism against the dirty realities that we face today. The crowd sang along to Shirebound and Busking's Waltz of Four Left Feet. IV of Spades, Cheats, Oh! Flamingo, and Moonwlk got us all dancing. And at 3 a.m., everyone was still awake and bopping to Autotelic's Gising.
The room brimmed with respect and admiration as performers expressed their own opinions about the recent issues onstage, creating a space where both fans and musicians could air their disappointments while still celebrating the art of music. The promoters of the Rest Is Noise withdrew their invitation to bands Poor Taste and Jensen and the Flips a few weeks back when allegations against the two started to spread online, saying "We are reaffirming our position: We do not and will not condone, tolerate, or enable any vile or reprehensible behavior that exploits and abuses women."
Hearing the artists take a stand against the abuse was important. "This should not persist… I think a good thing to do is to continuously talk about it… sabay-sabay nating resolbahan ang sexual harassment," expressed Shirebound and Busking during his performance.