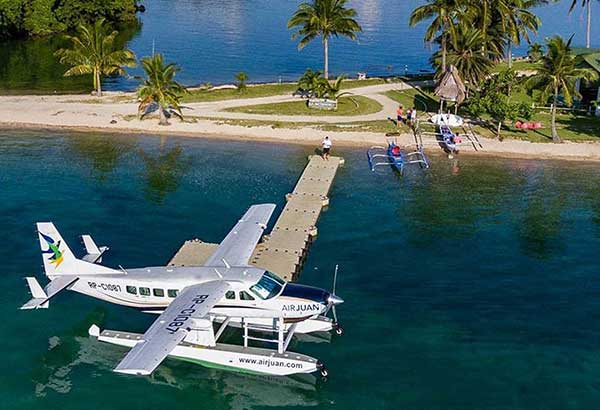 An Air Juan flight arrives at Puerto Galera in Mindoro.
Air Juan: Getting there faster
MANILA, Philippines — You might be surprised to learn there are planes landing on the waters of Manila Bay, right behind the Folk Arts Theater in the Cultural Center of the Philippines Complex.
Air Juan, the first seaplane operator in the country, has been growing steadily since it started as a charter company in 2012 and added in seaplane operations in 2014. "When we started out, we only had one flight," says marketing head Paolo Misa.
Now, Air Juan flies to numerous destinations including Subic, Baler in Quezon province, Puerto Galera (Mindoro), Marinduque, Busuanga (Palawan), Caticlan (Aklan), landing directly at resorts like Two Seasons, Huma and Club Paradise, among others. In fact, the demand for Air Juan's services has grown so much that the company recently launched a new hub in Cebu.
Air Juan's fleet consists of six Cessna Grand Caravans, four of which are amphibious, which also makes it the biggest seaplane operator in Southeast Asia.
President John Gutierrez is particularly proud of the safety of Air Juan's planes. All of their aircraft are brand new and are only 3 to 4 years old. Planes are built to last, Gutierrez points out, especially if they are well-maintained. Their first-class equipment is complemented by top-notch personnel.
"We're not a budget airline," Gutierrez is quick to point out. However, he highlights Air Juan's unique advantage: "We put a premium on travelers' time, so they can enjoy their vacations more, so they can go to their meeting or function in better shape."
Misa adds, "The goal of Air Juan is really to take you from point A to point B the fastest way possible." They are able to do this by avoiding much of the hassles that travelers encounter when taking bigger commercial airlines. "We try to eliminate all of the challenges of air travel," says Misa.
Gutierrez does the travel math: With a regular flight to Boracay, for example, you would have to be at the airport about an hour before the flight; take an hour-long flight; spend at least 30 minutes at the airport – more if you have check-in baggage; about 30 minutes at the seaport waiting for your boat to leave; and about 30 minutes in Boracay traffic going to the hotel. Factoring in a 30-minute delay, that's four hours spent traveling.
With the Air Juan experience, you arrive at the dock lounge 30 minutes before your flight – and skip all of the airport congestion; then take a one-hour, 10-minute flight directly to Boracay beach. "Our service will cut travel time by at least half," says Gutierrez. "You cannot put a price on a person's time."
He adds, taking Air Juan will also help executives get to their out of town meetings and negotiations more refreshed – consider being on the road to Subic for hours versus arriving on a 20-minute flight.
Misa says they are working on growing their seaplane service, especially in their newest hub in Cebu. The company is also planning to acquire bigger planes, but Gutierrez says they will limit their aircraft to those with a 19-passenger capacity so they can continue to service routes where bigger planes cannot reach and destinations without infrastructure for bigger planes.
Air Juan's current market is 70 percent foreign tourists, those who have already spent days traveling from their home countries. "They don't want to spend another 24 hours getting to their destination," says Gutierrez.
But both he and Misa are positive that the local market will soon see the value of convenient, time-saving air travel so they can spend more time enjoying their vacation instead of wasting precious time trying to get there.