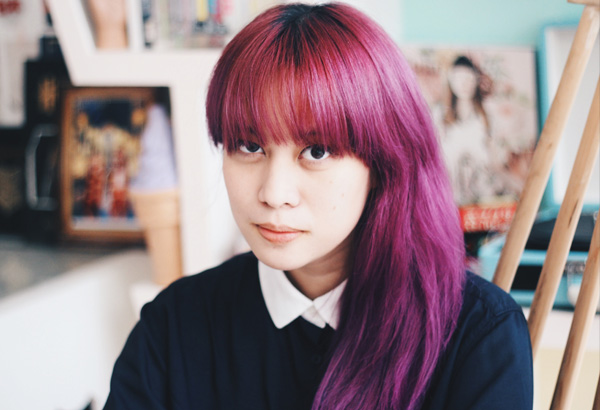 DIY and Dye: 24-year-old collage artist Reese Lansangan explores the world of collections in her first exhibit "The Gathering Season." Photo by MAINE MANALANSAN
MANILA, Philippines - Most religions scorn the idea of collecting material objects and your parents will tell you that self-indulgence is bad for you. But it's clear to see that, as wonderfully evil as he was, Voldemort's collection of horcruxes — ordinary objects that his soul was spliced into — bought him quite a lot of time (seven Harry Potter books' worth, in fact). Going beyond the literal properties of horcruxes, it isn't hard to see how J.K. Rowling took inspiration from the way humans attach themselves to their possessions, how the act of collecting gives back to the collector just as much as she puts into it. And it is here where sits the most current art of up-and-comer Reese Lansangan.
"It's been my hunch that the reason people collect things is (that) we just have this insatiable need to latch feeling and memory onto things that will outlive us," muses the multi-hyphenated virtuosa Lansangan, as she claws into the seams of her first solo show, "The Gathering Season." Adding another notch to her graphic designer-cum-musician-cum-fashion student status, Reese made her debut as a standalone visual artist with a carefully pieced collection of mixed-media collages at the Heima Brixton, collages of bits and bobs that, ironically, distilled the immateriality of the real people that collect them.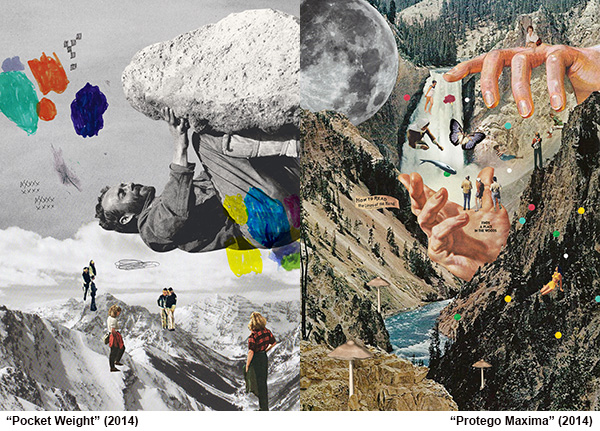 These proxy portraits came about from Reese's desire to ground her art, to "give the audience a tool to trace back the collages to the objects and collectors from which they were inspired, but without giving the connection away so easily." Bent on complicating the curious spectator's experience just a tiny bit more, Reese used a coded catalogue system that linked the collector to her and his collected by way of letters and numbers. In this way, those diligent enough to look a little bit closer for a little bit longer are rewarded by having a tangible visual to unearth in their squints and glances. Says the artist, "My primary goal with my works is to teach, to inform, to tell stories — to fulfill a function that goes beyond aesthetic/looking good."
Arguably, it's the human core of her pieces that is the exhibit's most interesting feature. A close (and still related) second is the method by which she created them. In place of having her subjects sit still or photographed, as in traditional portraiture, Reese probed them for their insights into their affinities to gathering objects. A resounding number of them looked to sentimentality — the schmaltzy dust collected by their things over time from their own blood, sweat and tears — and Reese can't help but agree.
"We like to be reminded of special moments in between routine and the daily chagrin. There are so many things in our lives that we don't want to forget, and attaching those thoughts onto objects help us recall. Collecting things allows our memories to take shape and have a tangible form. Isn't it interesting how the word 'recollect' — which means to remember — takes its root from the word 'collect'? Even etymology agrees!"
It is through this that, despite the mechanical staleness of the hoarded physical object at face value, there exists an underlying romanticism to the person-object relationship. Reese posits that "It's true that so many things we hold dear are just trinkets of mass production, and are almost never just uniquely ours. But I guess the romance in this comes from the fact that we once possessed these objects — they've passed through our hands and have been kept in places we've determined for them."
Viewing the collection of collections in its entirety undeniably shows the exacting hand that both the collector and the artist has placed in cultivating these objects, in adding layers to their own selves. This erasure of the accidental goes even further to beg the rumination: in today's post-postmodern world, where the concept of originality is but a stockpile of swan songs, is collecting the new art form?
Reese isn't sure. What she is sure of is that she revels in the idea of collecting, especially when "a superior logic of organization" is injected into the act. And it's through her exhibit that she highlights how the desire fulfilled by the act can be just as elemental as any human need. It's an uncompelled act, heavily contingent upon laborious investment, that has the ability to speak volumes about someone who doesn't have the words or the capacity to make the same insight about herself.
"For a collector of postcards, travel is important. For a collector of watches, time. The act of gathering and collecting is beautiful and complex, not at all a trivial activity to be attributed to human quirk. And I hope that my exhibit gave the act a bit of justice."
* * *
Check out Reese Lansangan's solo exhibit at Heima Brixton (3 Brixton St., Brgy. Kapitolyo, Pasig) until Nov. 15.