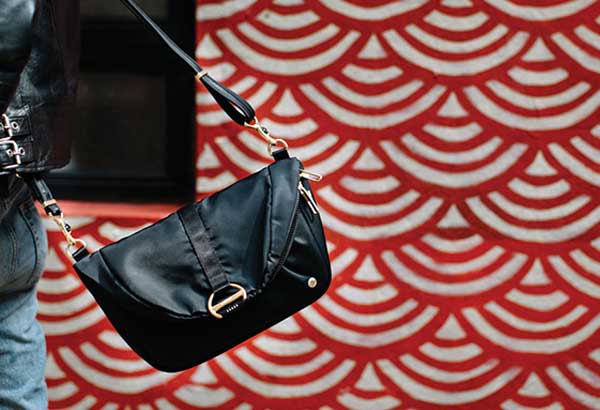 Space saver: The PacSafe Convertible Backpack collapses into a nifty crossbody bag for when you don't need all that extra storage.
CHECKOUT COUNTER:Safety and the city
Tin Sartorio
(The Philippine Star) - August 10, 2017 - 4:00pm
MANILA, Philippines - Getting around the city isn't as enjoyable as we'd like it to be. The anxiety is real: we tend to walk fast and check on our belongings every now and then. But the daily commute is part of our everyday lives and surely, there's something that can be done to make us feel more at ease.
Enter the PacSafe Citysafe CX Collection. Each bag comes with Turn & Lock or Snap & Lock mechanism, as well as zip clips and tabs that keep zippers unmoved. It even keeps your valuables safe from bag-cutters thanks to the slashguards all over. The pockets are also RFIDsafe, meaning your credit cards and IDs can't be scanned, keeping you safe from digital identity theft. Not only that, there are seven designs making up the newest collection. That said, what kind of city traveler are you and which PacSafe bag is perfect for you?
The Tiny Packer
Some people tend to gravitate to the same small, cute purse. But these days, being aesthetic isn't enough. The PacSafe Crossbody, though, is cute enough to bring on a date and — more importantly — secure enough to carry around on a night out. There's also a Convertible Crossbody with an expandable flap — perfect for when your friends start asking to put their stuff in with yours. Congrats! You're the group's favorite person now.
The Go-Getter
The thing about going shopping and running errands is you never really know just how much stuff you're going to have to carry with, like, your hands and arms. Save yourself that hassle: bring your own backpack instead. The PacSafe Convertible Backpack collapses into a nifty crossbody bag for when you don't need all that extra storage just yet. Plus points for saving the environment, too.
The Minimalist
Whether you're off for a quick coffee run or at dinner with the fam, there's a certain freedom that comes with just carrying the essentials: money, cards, IDs and your phone. But at the same time, you can't help but feel a little too exposed, right? Lucky for us, PacSafe brings the sexy back to the wristlet with their Anti-Theft Wristlet Wallet.
The Bring-it-all
Bringing gym stuff to work is almost like a workout on its own. It also often brings you too much (unwanted) attention when you walk into the office door. When it comes to keeping it profesh, a sleek but spacious bag is what you need, kinda like the CX Hobo. If you're bringing an exercise mat, the CX Tote has front straps that can hold and save it from being left behind.
The Professional Backpacker
How does a yuppie commute with a laptop in his backpack without looking like a college kid? Your trusty bag may have served you well during hell week, but it's time for a much-needed upgrade and the CX Backpack is perfect. It's a bonus that you can carry it as a handbag for that professional lewk, but the real highlights are the clean design and the internal compartments that make organizing easy. And yup, it can fit your 13-inch laptop perfectly and securely.
* * *
The PacSafe Citysafe CX collection is currently available in all Travel Club branches, PACSAFE stores, Urbanize, Rustan's branches, and Fashion Rack NAIA 3 and Duty Free.