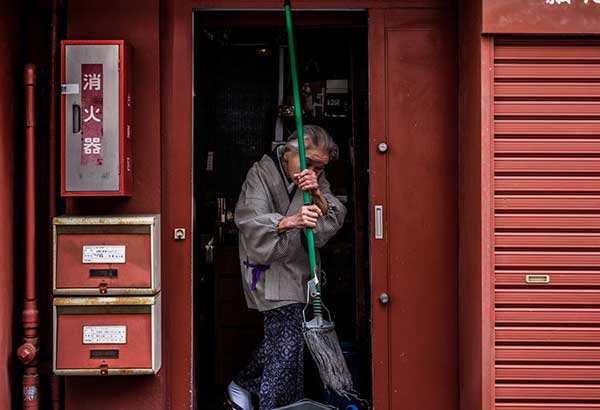 Going through the motions: Xyza honed her photography skills on her days off as a domestic worker in Hong Kong.
MANILA, Philippines — We often hear about the plight of Filipinos working overseas, but it isn't very often that we actually see them. We always see how they contribute to the economy when the news shows the peso gaining value during the Christmas season, and on TV specials when they show a new house that's the product of blood, sweat and tears worked abroad. But what else do we know about them, beyond these numbers and pictures?
This is exactly what Xyza Bacani wants to show you. Xyza's mother was a domestic worker in Hong Kong, where Xyza herself followed in her mother's footsteps. But Xyza's photography career began when she picked up a camera with a loan from her boss in 2009. She wanted to show Hong Kong to her mother, who didn't get to go out much. She took photos of the streets and of interesting people, some eye-catching, some just going through the motions. When I ask her over email what catches her eye, she simply says, "Good light and gesture."
It sounds awfully familiar, this story: Xyza's path draws many comparisons to Vivian Maier, who worked as a nanny for 40 years in Chicago, taking photos of the streets in her spare time. However, in several interviews, Xyza dismisses the comparison, wanting her photos to stand on her own. "I want to be me," she told The New York Times' Lens blog, "I want people to see my images and say, 'Oh, that's Xyza's photo.'" It was this interview with Lens in 2014 that effectively catapulted her into the international consciousness.
She moved on to photographing other domestic workers like herself in Hong Kong, capturing their plight and exposing the abuse that they go through on a daily basis. Her growing body of work on migrant workers caught the attention of the highly prestigious Magnum Foundation, which awarded Xyza with a Human Rights Fellowship in 2015. This allowed her to go to New York City and study at the New York University's Tisch School of the Arts. Although this was a highly coveted fellowship that many photographers can only dream of, Xyza was apprehensive. "I was excited and scared," she writes, "Scared to lose my job because my family's income would be lost."
But it was a risk that eventually paid off, and is still paying off until today. Xyza is currently working on a book with a grant from the WMA Commission, an organization in Hong Kong that looks for artists and photographers to "create new research-based photography work" in the territory. Apart from that, she was also named a Fujifilm X-Photographer ambassador, a title she was excited about since she actually uses their cameras in her work, favoring them for their ease of use. For Xyza, "a camera that lets you focus on creation is a great camera."
Despite all this success, Xyza doesn't let herself get distracted from her advocacy. As a former migrant worker, Xyza's overarching goal is to "maybe change the system that allows exploitation among our migrant workers." When she was in New York, she worked on a series that captured the struggle of victims of human trafficking in the States. She's done the same in several other countries, traveling around Asia, telling stories of hardship, hope and redemption.
If there's anything to learn from Xyza, it's that experience is necessary to become an effective storyteller. Being immersed allows you to understand situations with more depth, helping you to zero in with nuance and understanding, rather than just feeling like an outsider. When Xyza recalls the community she worked with in Hong Kong, she writes fondly, "The community is very active and supportive of each other." What Xyza does with her photos reveals the humanity in these individuals who work hard night and day to support their families back home, and now, with her work, we get to see them with our own eyes, beyond the numbers.